Every four years the Olympic Games arrives at a city across the world. Since 1896, there have been 28 summer Olympic Games held in 23 cities and although a year later than first anticipated, the Summer Olympics rolls onto the South East Asian shores of Tokyo, becoming the first city and country within the continent to host the event twice. The first of which came in 1964, a time shrouded in Beatles mania, the uprise and first world title of one of boxing's greats – Cassius Clay – now known as Muhammed Ali, and the inaugural setting for Asia's first holding of the games.

The setting of Tokyo's cityscape has come full span since 1964. Challenged through a global pandemic of the past 18 months, transitioning life from video calls to face–to–face meet ups, internet to communal activities, Tokyo 2020 has now been given the green light, a year later than expected. From 1964 to 2021, SEVENSTORE move through the years to explore the fashion behind the games, and which designers and brands have made their firm stance on the Olympic podium.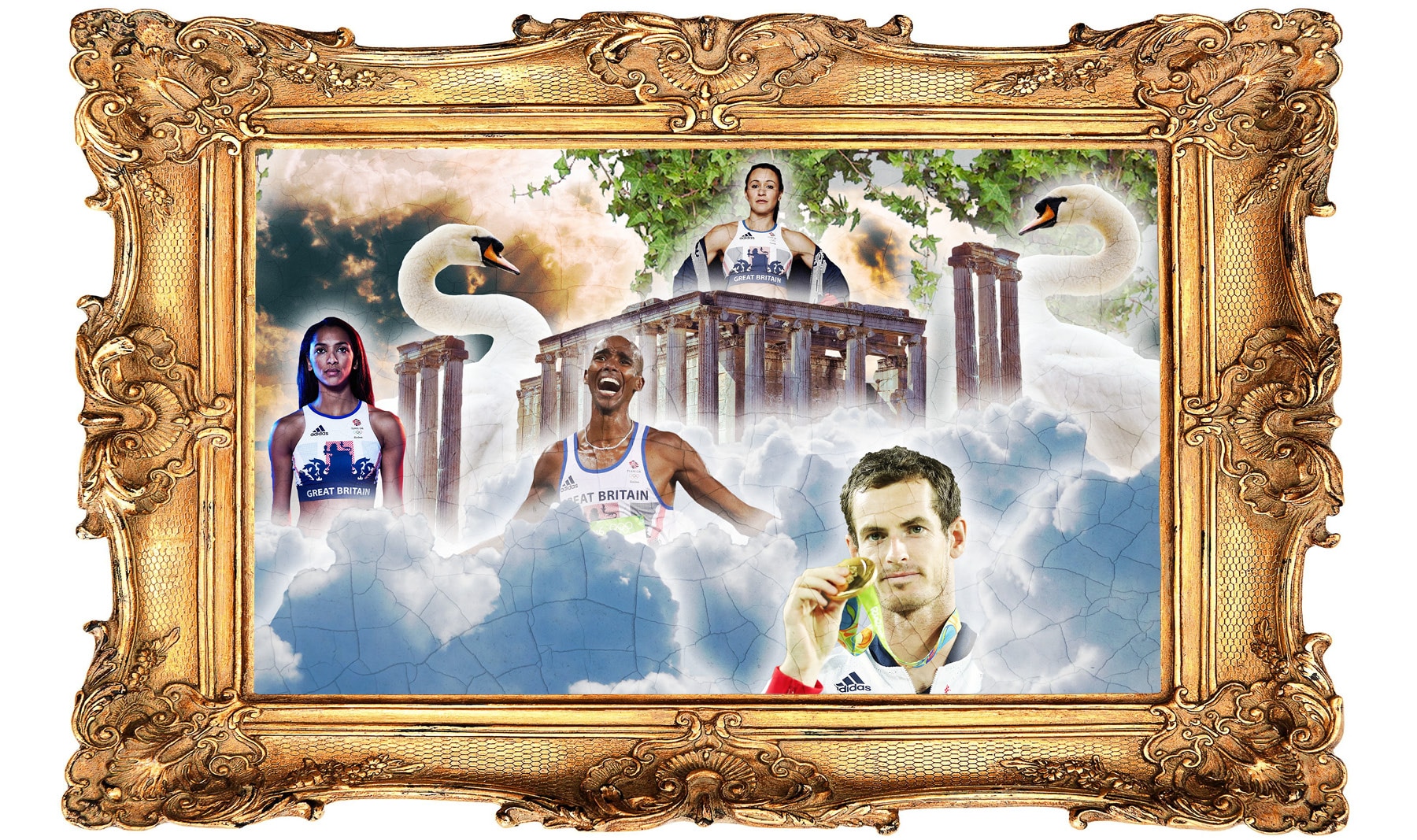 At the first modern Olympic Games which was held in 1896, athletes and teams wore their own clothes or uniforms which represented their own athletics clubs, it was nothing like it is now. As time proceeded through the 20th century, Olympic teams were becoming more associated to their own culture through the use of uniforms, colours and designs, which slowly but surely opened the door and turned heads towards brands and designers that would soon be taking the world of fashion to the Olympic stage.
As the Montreal Olympic Games in 1976 arrived, the foot was already in the door with Team USA's first inkling of this fashion–olympic collaboration. American fashion designer, Halston, best known for his minimalist, clean designs adorned in mid–70's nightclubs became a phenomenon and placed him as 'one of the most visible designers on the global stage' at that time. He was at the top of his game, it was followed by being enlisted to create uniforms for both Team USA's summer and winter Olympic games that year. For the summer games, Halston shied away from the red, white and blue that symbolised the American nation and opted for a more minimal approach such as white t–shirts, zip jackets and dark blue trousers, much to the divided opinion of the media who turned their noses up at his basic approach.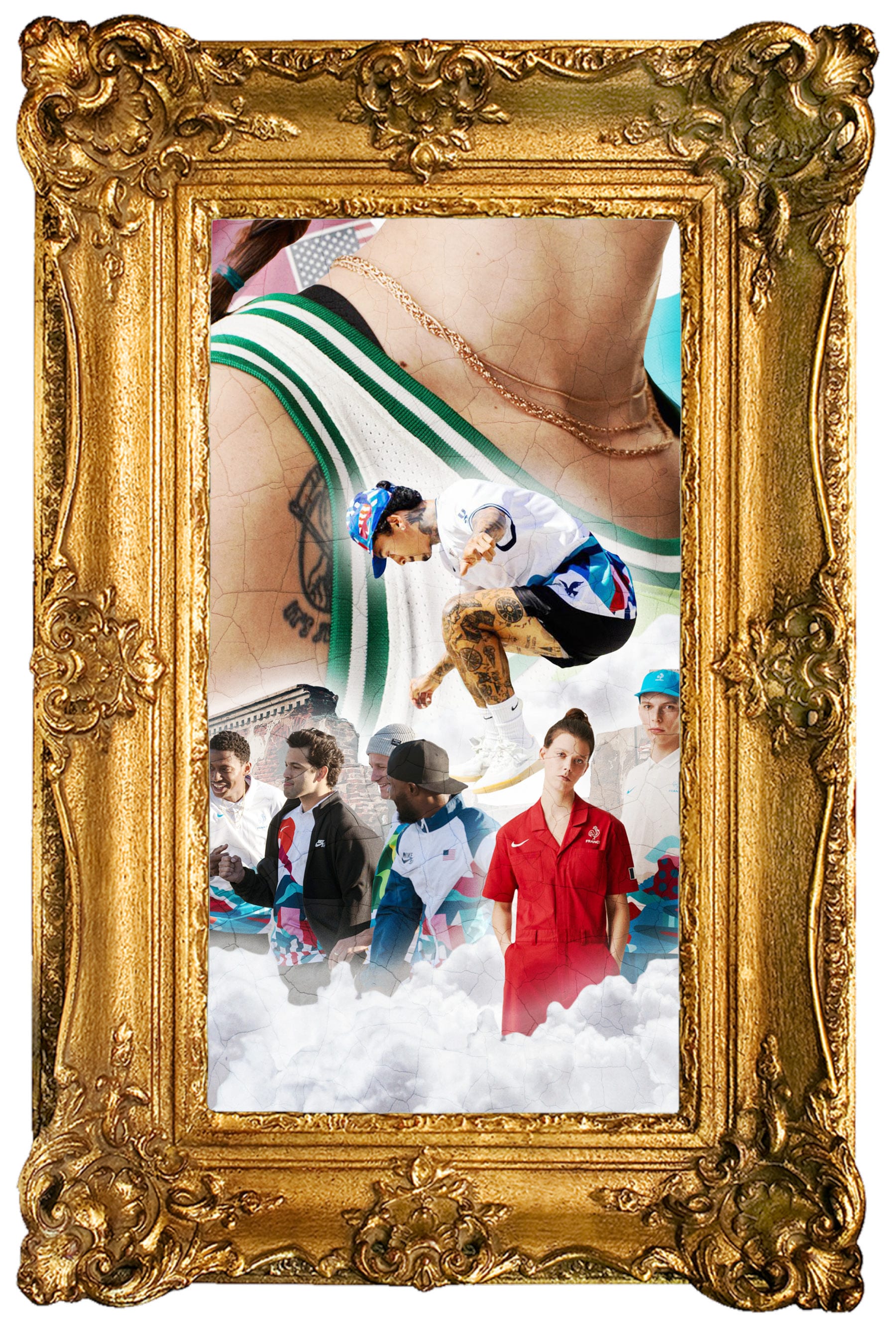 1980 was the turn of the first–ever Olympic games to be held in Eastern Europe with 80 nations making the trip to Moscow, the smallest number since 1956. Led by the United States, 66 countries boycotted the games because of the Soviet–Afghan War. Although, they never turned up for the summer games, the team were planning on being dressed by leading American denim manufacturer, Levis Strauss and Co. Enriched in a sense of American history, provoking national pride, the uniforms created were a showcase of the 'Great Out West'. Complete with shearling jackets, gloves, plaid shirts and cowboy hats, it was deemed a lot better than its predecessor, Halston. As well as producing something new, never–seen–before in the Olympian world, Levis Strauss and Co. had pledged to distribute 17,000 pairs of jeans and t–shirts to ticket holders and ground workers for the games, bringing together the community pride deeply threaded in Olympic history.

Imbued by the nation four years previous, the western inspired trend continued with Team USA at the winter games. With the mood of minimalistic Halston very much a past thought, the summer Olympics for the American's produced a more casual outing, again courtesy of Levis Strauss and Co. They adopted what Halston didn't in 1976 by choosing the colours red, white and blue zip jackets, track pants and baseball caps for a relaxed, comforting approach. Less layering, shearling jackets, more elasticated waists and striping was the feature, which would start to envelope the fitness craze of the 1980's.

As brand partnerships, collaborations with team uniforms and sponsorships started to infiltrate the Olympian marketplace, individual athletes were making fashion stances on their own to get the world talking. American track and field athlete, Ed Moses notched up 122 consecutive races between 1977 and 1987, of which he won 107 consecutive finals and he held world record for 400m hurdles four times. Beyond his sporting talent, his trademark were his dark sunglasses he wore during most of his races – a somewhat good luck charm. Seoul in 1988, where Moses won bronze, he wore iconic Aviator style sunglasses paired with various gold chains. A far cry away from modern day athletics, where personal style isn't so prominent on the athletics track or even in the rules these days.

As attention for the Olympics grew, the use of brands throughout each sporting event was gaining momentum year-after-year. From kitting out teams, sponsoring events and providing equipment, the branded guise has blossomed into a foundation for such events to take place with the objective to meet the needs of organisers and most importantly, the athletes involved. Step forward world record sprinter, Michael Johnson – a multi gold-medallist for Team USA who used the power of his iconic Nike Track spikes to get the world talking and ultimately, achieve. Johnson wanted all the lightweight, stable, functionality that track spikes bring, but recalled that he 'wanted it to look very cool' too. To take on Johnson's request, Nike enlisted innovative designer Tobie Hatfield, brother of famed Air Max 95 designer, Tinker Hatfield to the case. Purposeful, minimalist design was at the centrefold with an overriding approach to style. The golden track shoes were a statement of his era on the track, placing him into the renowned TIME magazine, connecting the world's of sport, fashion and design onto a global scale.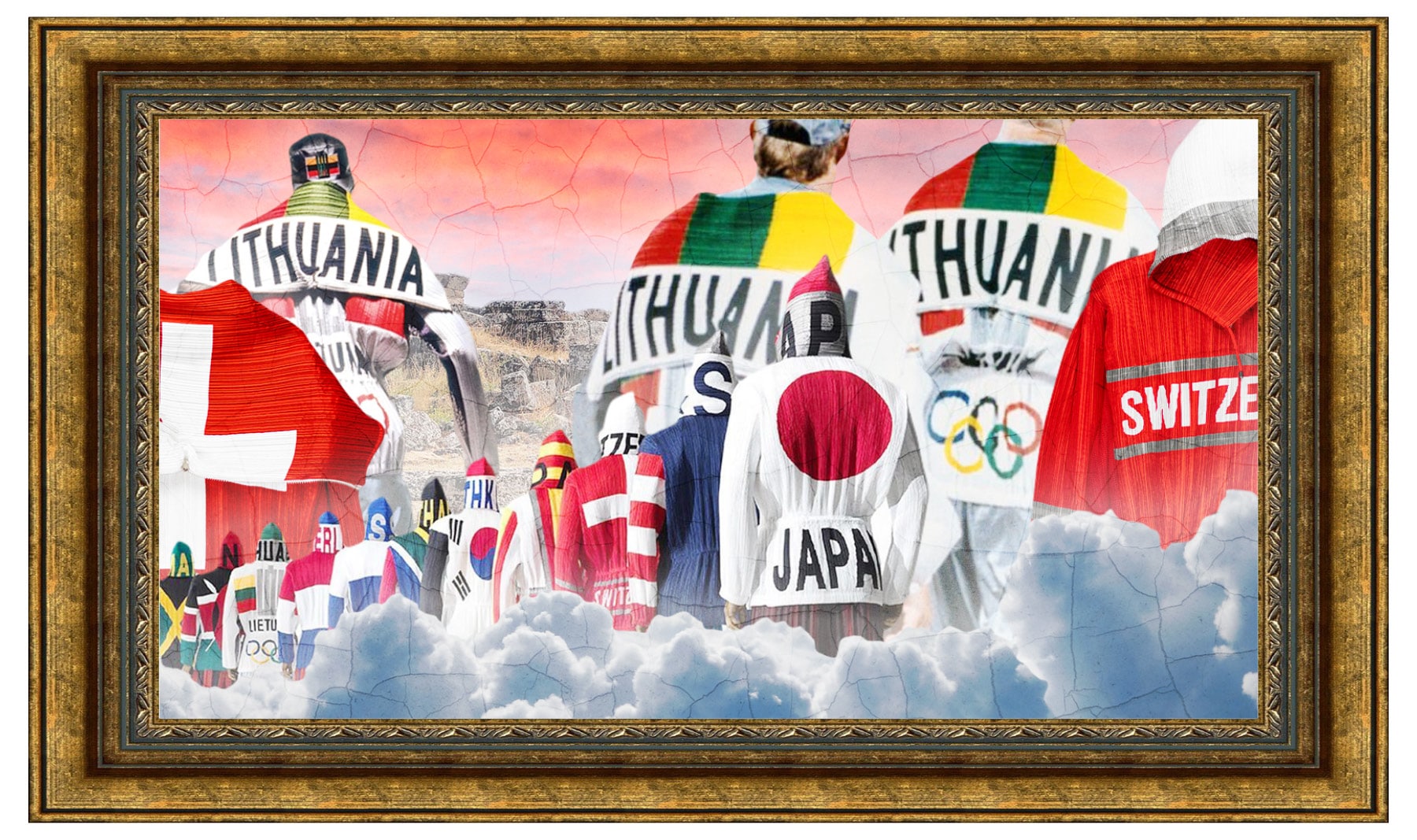 From then on in, fashion became instrumental within the Olympics. Barcelona 1992 was a true sense a cross pollination between sport and those who occupied the fashion world. The playing field was set for two Japanese designers – Issey Miyake and Hanae Mori to see which of the national uniforms they had designed best captured the spirit of contemporary Japanese culture. Issey Miyake created something new, futuristic and basic at the same time for the Lithuania team. A craft of cleverness that represented the colours of a nation first free from the Soviet Union, competing in their inaugural Olympics. Hanae Mori cloaked her design with a devotion to the traditions of her native Japan. The main inspiration for her uniform was the Hinomaru – Japan's national flag, with a large red disk and white background. Easily recognisable, clean and simple - the collection was a mirror image devoted to business-like suits for both men and women use.
As Japan is a topic of conversation, let's touch on one of Japan's most influential exports - Rei Kawakubo. Kawakubo graduated in 1964, the year the Olympics touched down in Tokyo for the first time, in tandem with the games she has grown into a leading authority within the industry with her early work looking towards the aforementioned Hanae Mori as a source of inspiration. Following in the footsteps of her Japanese counterpart, Rei Kawakubo and her brand,
Comme des Garçons
worked alongside Speedo to develop a one of a kind look for Team USA featuring their favourable red, white and blue colours. Kawakubo's touch of visionary design joined metallic calligraphy, painted by artist Inoue Yu-ichi evoking 'Kokoro' - representative of the heart, spirit and mind. Originally announced in 2008, the patriotic touches of Kawakubo's project led to world record achievements and gold medals at the Beijing games as well as being regarded as the "fastest swimsuit out there" by U.S Olympic Gold Medalist, Natalie Coughlin.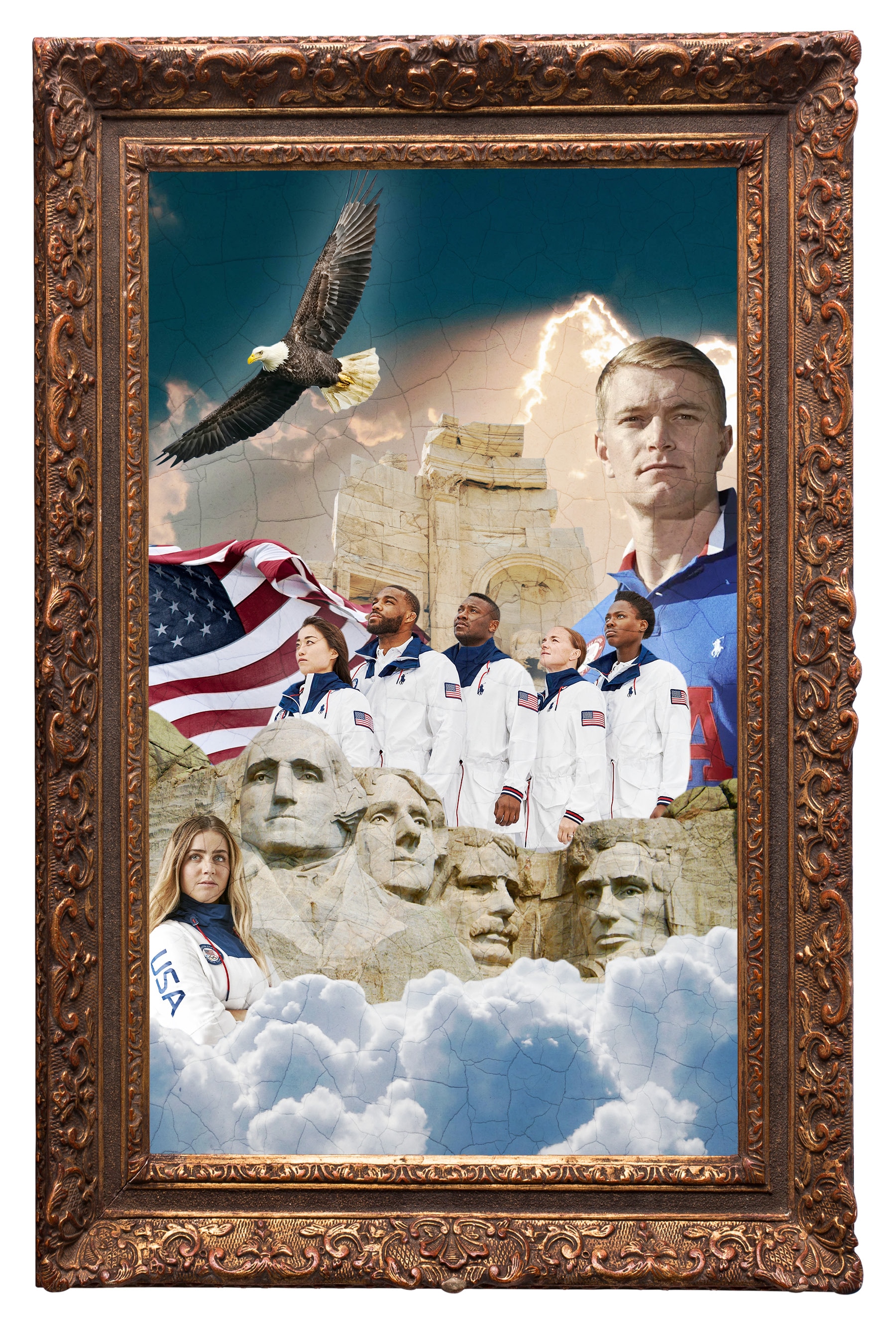 In 2012, London was the first city to host the modern games three times, as well as being the first where every sport had female competitors - setting the precedent and becoming a blueprint for future Olympics. The motto 'Inspire a Generation' was embellished in the lead up to the games when it was announced Stella McCartney would design kits for Team GB, making her the first time anyone from the world of couture had designed a full team kit. Her collaboration with
adidas
, who she had worked with before on her own brand was set out from the start to capture what makes Britain British, breaking down the iconic image of the union jack and turning it into something more contemporary and fashionable.
Throughout the longstanding history of the late 1990's, several brands took the torch of responsibility to design the Team USA uniforms. American fashion designer,
Ralph Lauren
has been instrumental in this, putting the nation on top of the global Olympics fashion conversation since 2008 and continuing to do so to this day. Unisex looks outfitted with caps, navy blazers and white trousers began his first years in 2008, with much the same colouration paying the way through 2012, 2016 and now into 2021. This year, the go-to preppy styling of Ralph Lauren was ever present with sustainability the key focus. Pre-treated dyeing processes, plant-based materials and agricultural biproducts are set to make up the collection which will be adorned in closing and opening ceremonies. All made within the US, the athletes are said be to ambassadors for American style, culture and sportsmanship through the lens of Ralph Lauren's sustainable vision for the games.
The connection between the Olympics and fashion has been something which has transpired more so than ever within the 21st century - more and more names are beginning partnerships with teams globally and creating this lineage between the two. Apart from the names already mentioned, there has been a multitude of other names which fall in line with the Olympics dress code. Lacoste for France, Gorgio Armani for Italy and Christian Louboutin for Cuba, all made appearances at Rio in 2016. Taking sportswear, Italian fashion stalwarts and French footwear design from the Brazilian capital to the rest of the world, via the games.
Ahead of this year's Olympics in Tokyo, Nike unveiled a collaborations project in 2020 at its Future Sport Forum. Taking place during New York Fashion Week, the sportswear giants partnered with Jun Takahashi's
Undercover
, Chitose Abe's Sacai, Yoon Ahn's AMBUSH as well as Virgil Abloh's
Off-White
and Matthew M. Williams of
1017 ALYX 9SM
. All of which designed a distinct sport-infused collection to highlight the unification of sport, creating new expressions to accompany the upcoming games. Each collection honed in on their unique interpretations of sports while building from their own design codes with their respective brands. Virgil Abloh energized one of Nike's signature sport performance lines with graffiti-inspired graphics and a stark yellow and black colour palette, whilst Yoon's Nike X AMBUSH collection tapped into the vibrancy of colour with Japan's famous anime culture.
Along with Nike's five leading collaborators for their Future Sports Forum, they continue to be at the core of the games. This year at Tokyo, Nike will sponsor skateboarding, a sport which will be involved in the Olympics for the very first time. From building itself up through underground roots, favourable names such as Tony Hawk and
Fucking Awesome's
Jason Dill helped propel the skating world into the mainstream eye and out of its subcultural significance. Nike's sponsor will be housed on the kits of Team USA, France and Brazil with design and art direction being produced by their long-time collaborator, Piet
Parra
. Known for his distinct art disciplines within his own brand, Parra's unique approach to colouration, pop-art imagery and regular spots in Nike's collaborative chain have brought him to the forefront. A regular skater from 1988 onwards, his early years influenced by skating brought him on a journey of art and into fashion. Nike and skateboarding are two entities grown together through Nike SB, and to have them connected on the main stage with a skater and collaborator, all fits together like the perfect jigsaw puzzle.
Where Team USA are a dominant force in the history of Olympics, smaller teams have yet to make their mark in sporting merit. The West African country of Liberia is a nation who have sent athletes to the Olympics games since 1956 without winning a single medal. Could Tokyo be their year? To help guide them to their first podium place, Telfar Clemens - Liberian-American fashion designer, DJ and founder of the brand TELFAR will be striking for gold with the design of the Liberian uniforms for this summer. After being approached by Liberian sprinter, Emmanuel Matadi, Clemens and his team have made around 70 items for the games – spanning from leggings, sweats, travel bags, track spikes and unitards. The collection features Telfar's signature details, unisex approach and strategically placed stars of the nations flag. This, for Clemens, is his first foray into sportwear and is a chance to showcase a patriotic runway swathed in a proud sense of heritage and style.
From the Olympic games' incarnation in 1984, through the 20th century and up until this present day, the sartorial injection into this sporting realm has flourished into new dimensions. With an ever-growing line of sportswear brands surrounding team jerseys, uniforms and sponsorships, it has now taken on a new lease of life in the form of fashion. Starting off with Team USA's Halston, Levis Strauss and Co. to couture interjections from
Issey Miyake
, Stella McCartney and onto future projects from Nike, AMBUSH and
Virgil Abloh's Off-White
, it seems that the Olympics is more than just sport, but more of a patriotic message of design, culture and a cross junction of new art disciplines on a global scale.
Artwork by
Henry Spiers