HERON PRESTON: FROM FLICKR TO THE FUTURE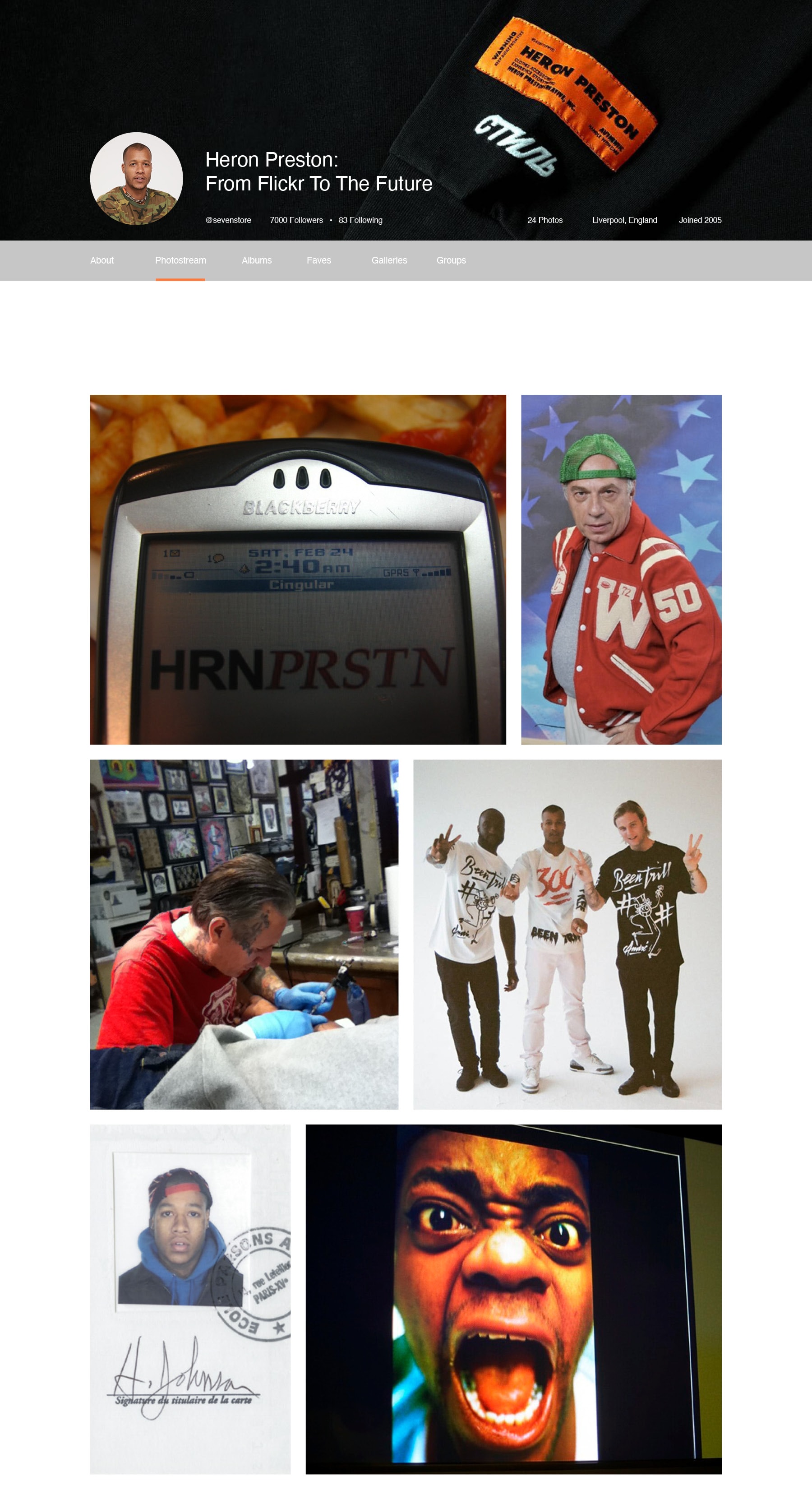 Heron Preston
is more than Virgil Abloh's mate. Before Been Trill, his collective with the
Off-White
founder,
1017 ALYX 9SM's
Matthew M. Williams and JJJound's Justin Saunders, Preston was busy making moves on the East Coast.
Armed with a camera in one hand and a skateboard in the other, Preston relocated from California to study in the Big Apple in 2004, where he began to document the streets, style and students in and around Brooklyn. What started as a blog in the early days of Flickr, quickly garnered a cult following and Preston's brainchild was soon taken from HTML to hardback; 'The Young and The Banging' was born.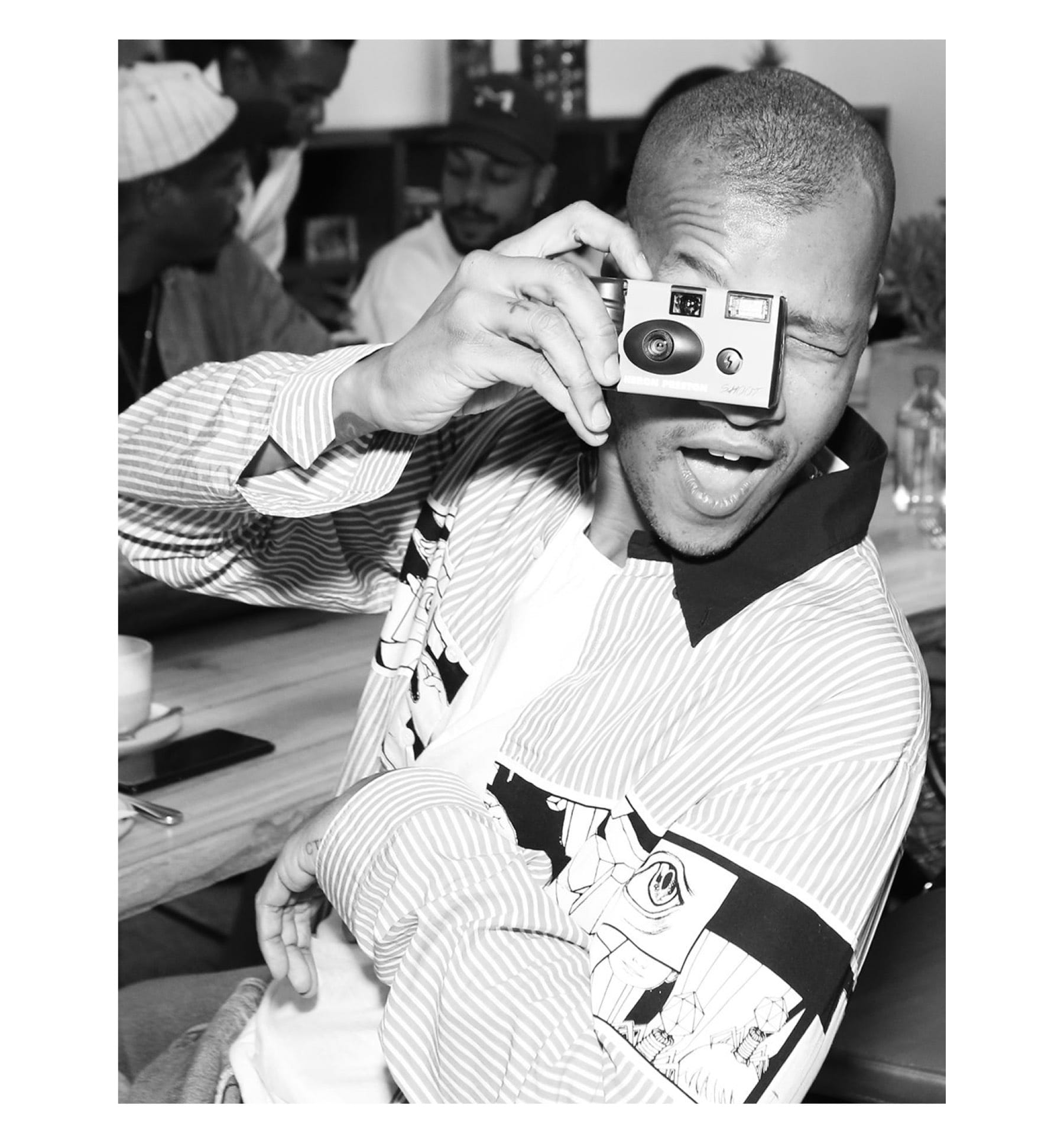 By day, the now defunct hub of 255 Elizabeth Street was an invite only NikeiD Design Studio. A mecca for sneaker stalwarts, designer led customisation sessions and exclusive drops engraved the discrete downtown space into the history of New York's streetwear scene. By night, it became the setting for the launch of the book that would catalyse Preston's emergence into the global industry, having captured the keen eye and subsequent sponsorship of Nike's Julian Cahn.
Aided by
Nike's
mentorship, 'The Young and The Banging' is Preston's love letter to streetwear, spawned from a "fascination with people". Featuring hundreds of polaroid scans of Brat Pack cliques and the styles of real New Yorkers, "the nerds, the weirdos and the skaters" are celebrated. Branded with Preston's signature orange hue, faces from the likes of art schools Parsons and Pratt Institute, as well as Preston's own friends, sit alongside snaps of the favourite restaurants of locals, to personal essays and interviews.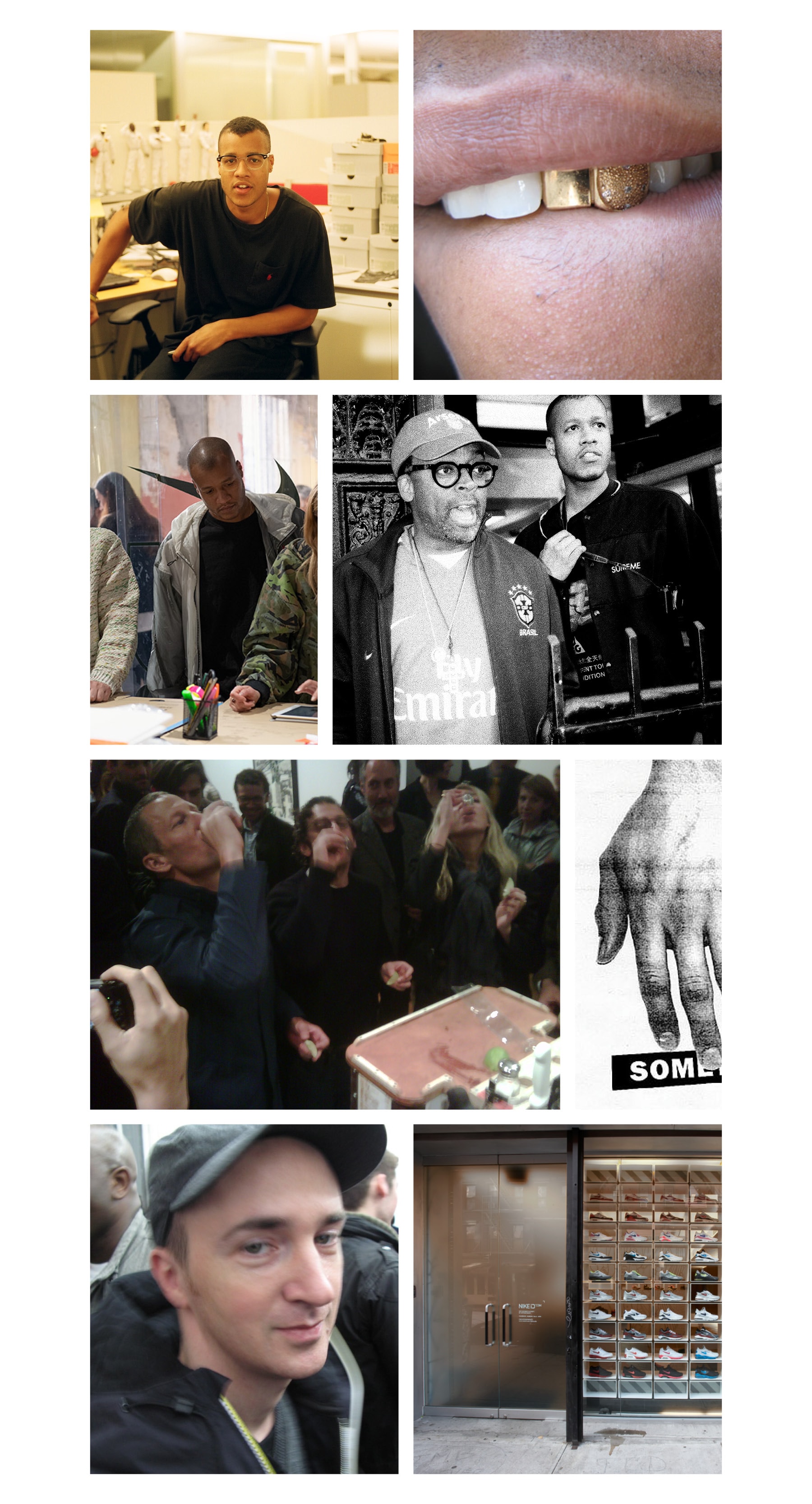 Within a sea of yearbook portraits and scribbled chalkboards, launch attendee's branded Preston "the Founder of Coolness," with supermodel Ruby Aldridge, photographer Ryan McGinley and Opening Ceremony's Dylan Kawahara amongst the extensive roster of guests. United by Preston's desire to capture where "living in Downtown feels like a big kid's high school... where restaurants are like cafeterias and the streets, our hallways" transformative school years are honed with one event, and one book, providing solace for outsiders. Gossip on the bleachers, deface your locker, flirt in the halls; where school provided community for discovering subculture and likeminded people, 'The Young and The Banging' wished to ignite the same.
Brooklyn provided the perfect proving ground for Preston, where his upcoming venture with DJ collective Been Trill would further catalyse his position on the international stage. Alongside the next generation of East Coast creatives, merchandise and DJ sets were spawned from a collective fascination with low-fi visuals and hi-fi sound. Within the early Internet boom, Been Trill married mix tapes, GIFs and early rendering with vintage advertising, resulting in a hotchpotch of traditional American values, with a modern global outlook. For Preston and Been Trill's fellow founders, this view persists in their current ventures, with the likes of
Off-White
, JJJound and 1017 ALYX 9SM still influencing the streetwear zeitgeist over a decade later.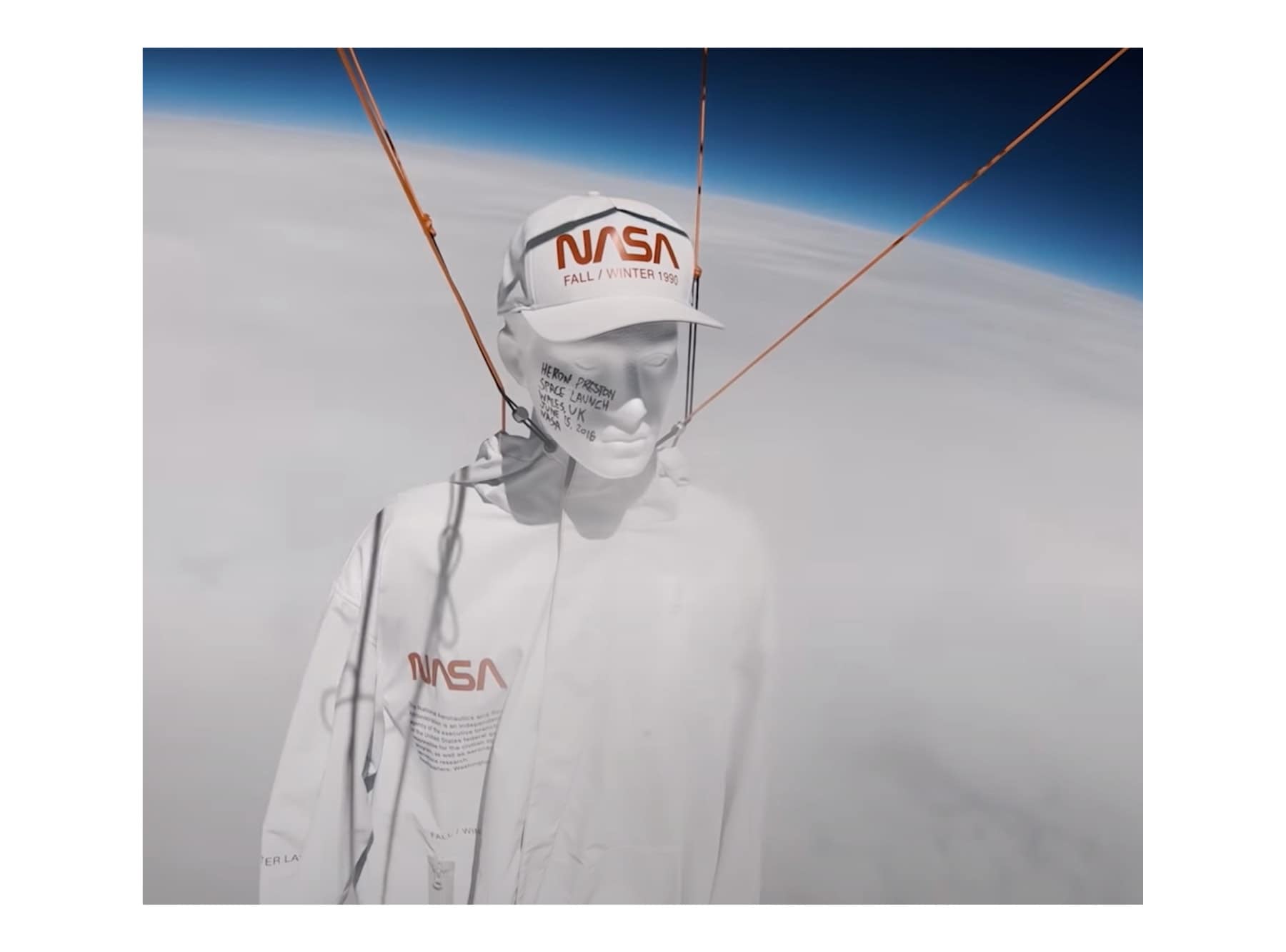 Preston's blog is now defunct, but its legacy for the brand, immutable. What was born on Brooklyn's streets, has now reached stratospheric heights since its initial launch in 2017. Citing his notable collaboration with NASA, Preston's championing of technology is cyclical. 'Streetwear for outer space' elevated apparel inspired by Brooklyn, to the cosmos – literally – where, as such in all of Preston's collaborative projects, pragmatic, artisanal product remains uncompromised. Partnerships with the likes of Calvin Klein and Levis Strauss & Co, extend Preston's desire to root experimentation in production, where 'works in progress' surpass mistakes and unorthodox details take precedence over methodical rule.
Underlined by utilitarian staples, Preston's sartorial aesthetic is as much practical as it is a maxim of contemporary luxury. His context of reinvented workwear features a marriage of apparel, for work and for play - New York hustle with finesse. A subsequent collaboration with
Carhartt WIP
extended this notion, where famed silhouettes such as the Double Knee Pant and the Payton Vest were stamped with Preston's Cyrillic signature and distinct citric tags. Its launch event and workshop in Tokyo in 2018, affirmed Preston's international vision, yet one that doesn't forget that communities and making them first inspired him. Citing that the future lies in 'giving people the power to make things their own,' these collaborations are intrinsic to his ethos, acting as further intersections of function and luxury, streetwear and workwear. However, despite the undeniable growth of his brand, the early message of 'The Young and The Banging' still boasts the same integral ethos, one centred around personalisation, production and people.
Noted by his orange branding tags, the prevalence of
Preston's
trademark hue transcends merely as an aesthetic choice, acting as a connection between his label's future and its initial roots in New York. The orange Sixth Avenue Metro line runs through the heart of Brooklyn, crowned by an orange stripe on the city's flag. Orange has been integral to Preston's vision since the birth of his label, as has his experimentation with technology and community, first spawned in the primitive days of 'The Young and The Banging.'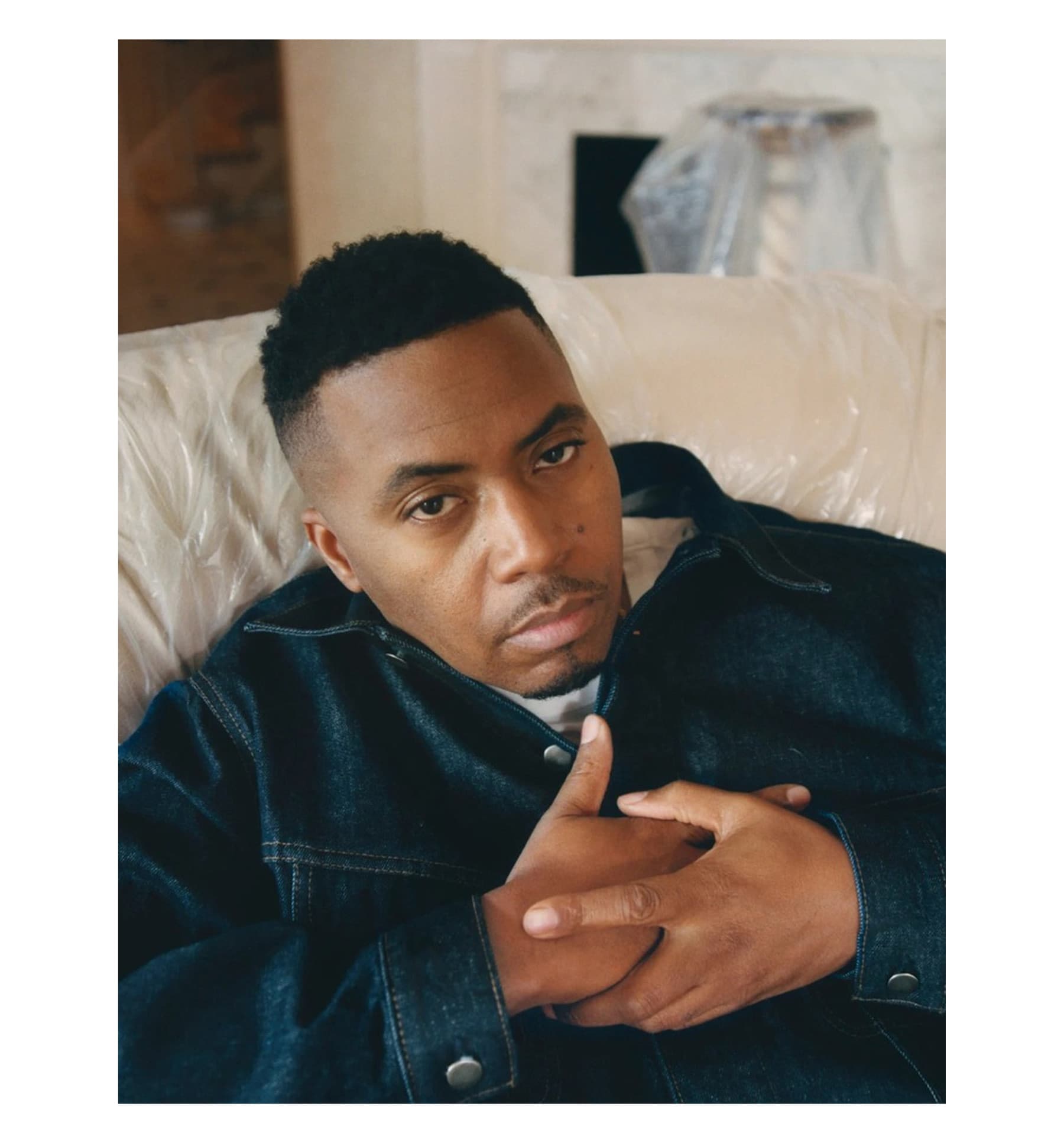 Over a decade on from the launch at 255 Elizabeth Street, Preston's innate wild child streak persists. Painted orange wall scrawling's encouraged disruptive calls to action, an attitude that propelled the designer from the basements of Brooklyn's sneaker stores to the forefront of New York's streetwear scene. A product of the social media age, Preston's early Flickr tag line comes full circle, conveying his desire to innovate and summarising his fruitful career succinctly: "Hi my name is Heron and I believe in side hustles."
The latest collection of Heron Preston is available in-store and
online now.
Artwork by
Henry Spiers