CASABLANCA'S CHARAF TAJER: LOOKING AT THE BEAUTY OF THE WORLD
The North West is often associated with a drowning of unfortunate weather and today is no different. It's mid-September, the summer days have finally escaped us, and the momentum of Autumn/Winter 21 is in full motion. As we wait for our Zoom meeting to connect, it's easy to picture life beyond these shores; crisp white beaches, translucent oceans and breath-taking architecture. A short summary synonymous with not only the beauty of the world, but with one brand -
Casablanca.
As the Zoom meeting starts, Charaf Tajer – Founder and Creative Director of
Casablanca
- is on the other side of the line. A self-confessed lover of travel and exploration, it's easy to assume he is somewhere hotter than we are - which is noted from the trickling of sunlight in his backdrop. Not an easy man to get a hold of, let alone spend 30 minutes chatting, Tajer and Casablanca have been non-stop since the brand's fruition back in 2018. Three years have passed since their inaugural SS19 show and the Parisian-based brand have hit a niche in the market with an enchanting aura of leisure and luxury to which Tajer connotes as 'après-sport'. The uprise of Casablanca hasn't gone unnoticed, and 2020 was dazzled in a multitude of nominations; from a LVMH final nomination, the International Woolmark Prize and ANDAM Fashion Award, the brand's existence has been relatively short-lived, but a one that has already made a mark.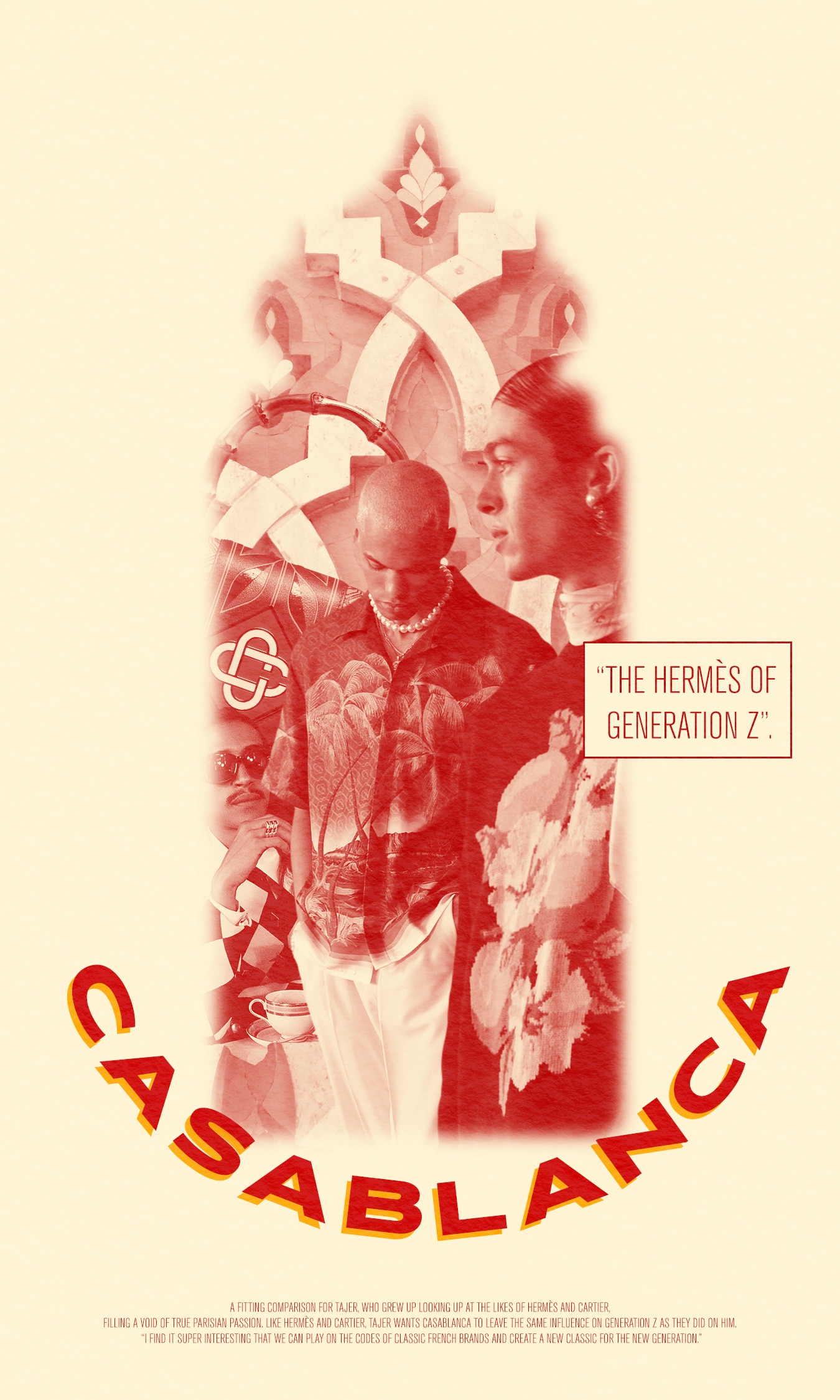 On the inside, the idea for the brand has always been on the mind of Tajer. Recalling the first instances, Tajer opens, "It is the result of some many years of collecting clothes and fancying sort of lifestyles and all of that. But it's true, the name of Casablanca came later, but the idea of the brand was in my mind, but I didn't know there was a place for it in the market. So, I was dreaming more and looking for those clothes, but I didn't really find them the way I wanted them." A hallmark for the years of work that has gone on behind closed doors for Tajer and his team. Work on creative thinking, taking in inspiration and finding the correct time to introduce Casablanca into the world was paramount to its swift ascendency and well-deserved accolades.
Those years leading up to Casablanca's execution, Tajer amassed a wealth of experience that would later prove pivotal in his brand's life cycle. Parisian-born to Moroccan parents, Tajer grew up in the French capital shrouded by influence in a vivacious melting pot of culture. "I think it was interesting because when we were younger, we didn't know we were outsiders, but by growing we learnt that we were. But what was important was the position I learned to have when I was younger and clothing-wise, it was important as we dressed to position ourselves in a certain way - a bit rebellious, but in classy clothes and I think that has stayed with me until now." This interpretation on fashion and clothes gave Tajer an outsiders view from a young age, while feeling a sense of differentiation from others who surrounded him in Paris. Dressing inversely and adapting to this society was a lesson he nurtured. This acclimatisation led to a world of creativity; firstly within architecture, then onto fashion, where he really staked his claim. Working for the likes of renowned streetwear brand Pigalle, collaborating with
Off-White
and consulting for Supreme, Tajer's ascendency mirrored the quick lifespan of Casablanca. This succession proved positive and created a marking point for him, placing his foot firmly through the fashion door.
Growing up in Paris - a haven of global arts and culture, with a rich 19
th
century cityscape – seemed to inspire Tajer. Elegant hotels, classic and international music, and a deep love for French architecture is what spawned the foundation to Tajer's design. From an early age, the sense of place and its enthusing beauty has remained a present fixture in his life. Casablanca acts as a portal for Tajer to showcase this eloquent representation and its lifestyle, referred to as 'idealism'. "All of this, on my travels and the cultures of my staff members. All the ideas and experiences we have, we put it in the brand and give something new", says Tajer. The face of Casablanca is rooted in place, with each collection dedicated to specific cities, events and lifestyles. The DNA of the brand is very much influenced by experience and travel, and why shouldn't it be? Casablanca is a personal channel for Tajer's creative expression.
From AW20 to the latest AW21, Casablanca have championed this certain sense of place. AW20 swam the crystal-clear waters of Italy's Lake Garda, and as the pandemic started to take over the world, Tajer landed in Hawaii. A tropic state, surf-paradise and nucleus for the idea behind the Casablanca SS21 – "After the Rain Comes the Rainbow" collection – amply named to take a positive swing on the surroundings of the world, the capsule was an offering of light accentuated in all of Casablanca's exuberant glory. For AW21, Casablanca encapsulated it all; place, events and lifestyle into one collection. Taking inspiration from the picturesque city of Monaco, the Grand Prix, casinos, late night glamour and luxurious backdrops of the French Riviera, this season is a dream of a bygone era. The collection combines the daytime aesthetic of sportswear with late-night luxury of casinos: tracksuits to tuxedos, racing to gambling.
"You know if you want to simplify the brand Casablanca in one sentence it would be – "looking at the beauty of the world". That's kind of our slogan, if you will. I think we live in a world full of beauty and super amazing cultures, and super strong codes around the world. I'm having fun playing with those codes. We love using them, this is the biggest inspiration. Look at the beauty of the world, how it is and have our take on the codes that the world has. Which is super amazing, you know. There is so many things to see and explore. I think for me the brand is a window for looking at the beauty at the world." – Charaf Tajer, Casablanca.
Tajer has made Casablanca a vehicle, showing a new audience the world from his point of view. Highlighting this notion for a new consumer is something which plays on his mind, "For the new generation it is important to point these things at them. In pop culture of today it's not necessarily the place. It's so interesting to point the great designers, great architects and the nature of the world through the brand. It is a good reason for the brand to exist." Taking himself into the shoes of a new generation, Tajer alludes to what he wants from a consumers view. Thinking of both, his perspective and his audience conjures an interpretation of art, with influence from all over the world.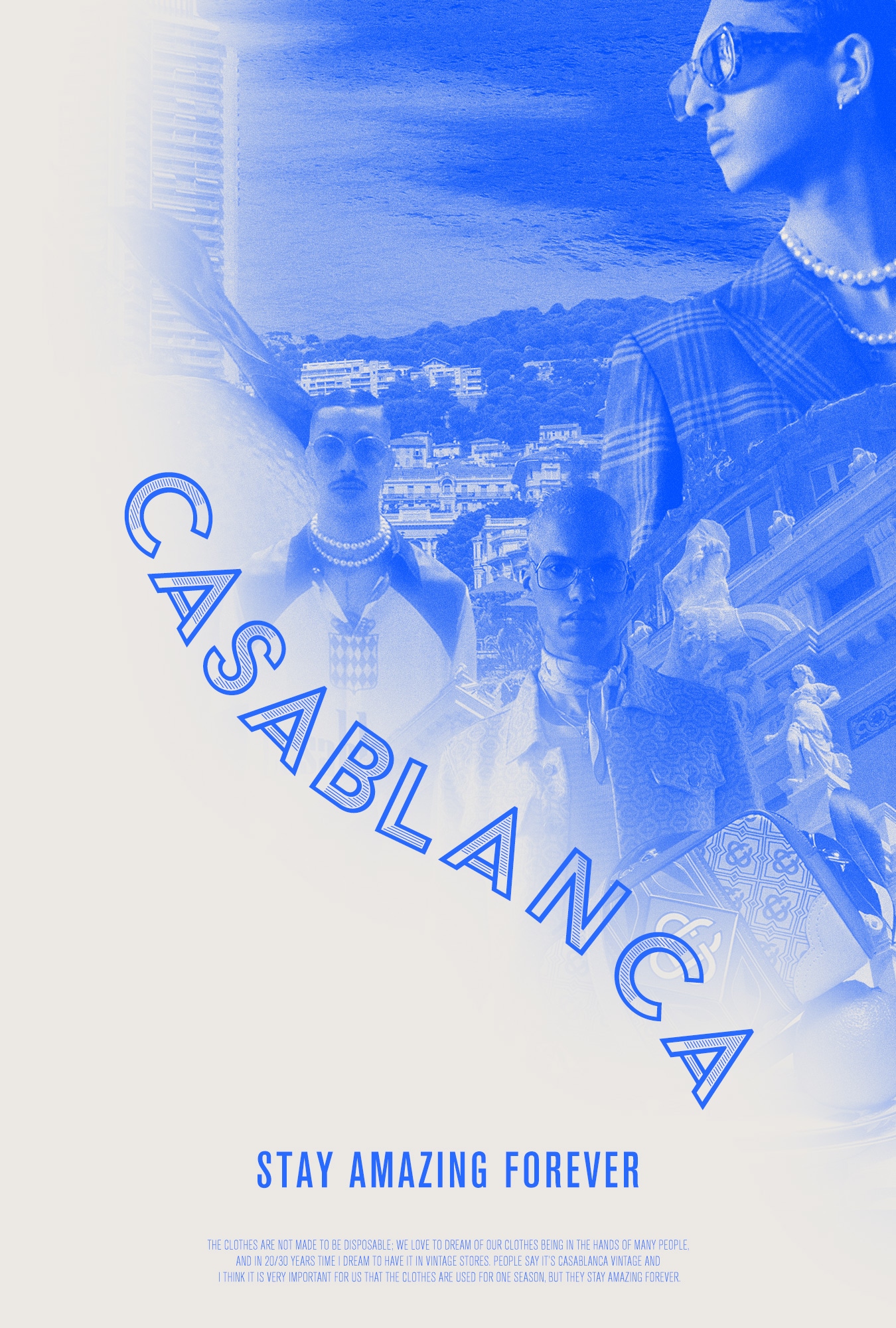 Casablanca's short-lived existence is one that has been merited in high regard. The press referred to the brand as "Casablanca, the Hermès of Generation Z". A fitting comparison for Tajer, who grew up looking up at the likes of Hermès and Cartier, filling a void of true Parisian passion. Like Hermès and Cartier, Tajer wants Casablanca to leave the same influence on Generation Z as they did on him. "I find it super interesting that we can play on the codes of classic French brands and create a new classic for the new generation." Although fashion now and fashion when he was young may seem worlds apart, Casablanca remain in touch with nuances of the past, with charms of longevity seeping their way through Tajer's words and distinct design code.
As we look to the future, it is hard to picture what fashion will be like, nevermind what state the world will be in. Questions of sustainability are clouding modern business practices and in Casablanca's case it's different to normal. Tajer's creative output could be compromised, but at the ultimate expense of the very thing that keeps his passion alive and breathing – the world. "The clothes are not made to be disposable; we love to dream of our clothes being in the hands of many people, and in 20/30 years time I dream to have it in vintage stores. People say it's Casablanca vintage and I think it is very important for us that the clothes are used for one season, but they stay amazing forever." Finding balance between what works for Casablanca while being a sustainable outfit in the arms of fashion will appease Tajer, his audience and ultimately, the beauty of the world.
It is clear to see from Tajer's own words, ambitions and continual product expression that the emphasis on place is ingrained into the anatomy of Casablanca. Growing up in mixed settings of Paris and the Moroccan hub of
Casablanca
has inspired and grown his affinity for old-world elegance. Tajer's seeks to take such experience and embed it into his vision of new-world elegance, complimenting contemporary dress with luxury textures and surroundings. Casablanca is an embodiment of this, the world, and the beauty it is shrouded in.
The latest collection of Casablanca is available in-store and
online now.
Artwork by
Henry Spiers