BREAKING STEREOTYPES ONE PAINTING AT A TIME
This year was a celebration: 50 years of the existence of
C.P. Company
. A brand succinct with Italian origins, born under the inimitable guise of Massimo Osti, C.P. Company has grown over five decades with profound ascendency. Recognised on a global scale, from hurtling through Europe in a chariot of subcultures to revolutionising the way clothes are constructed.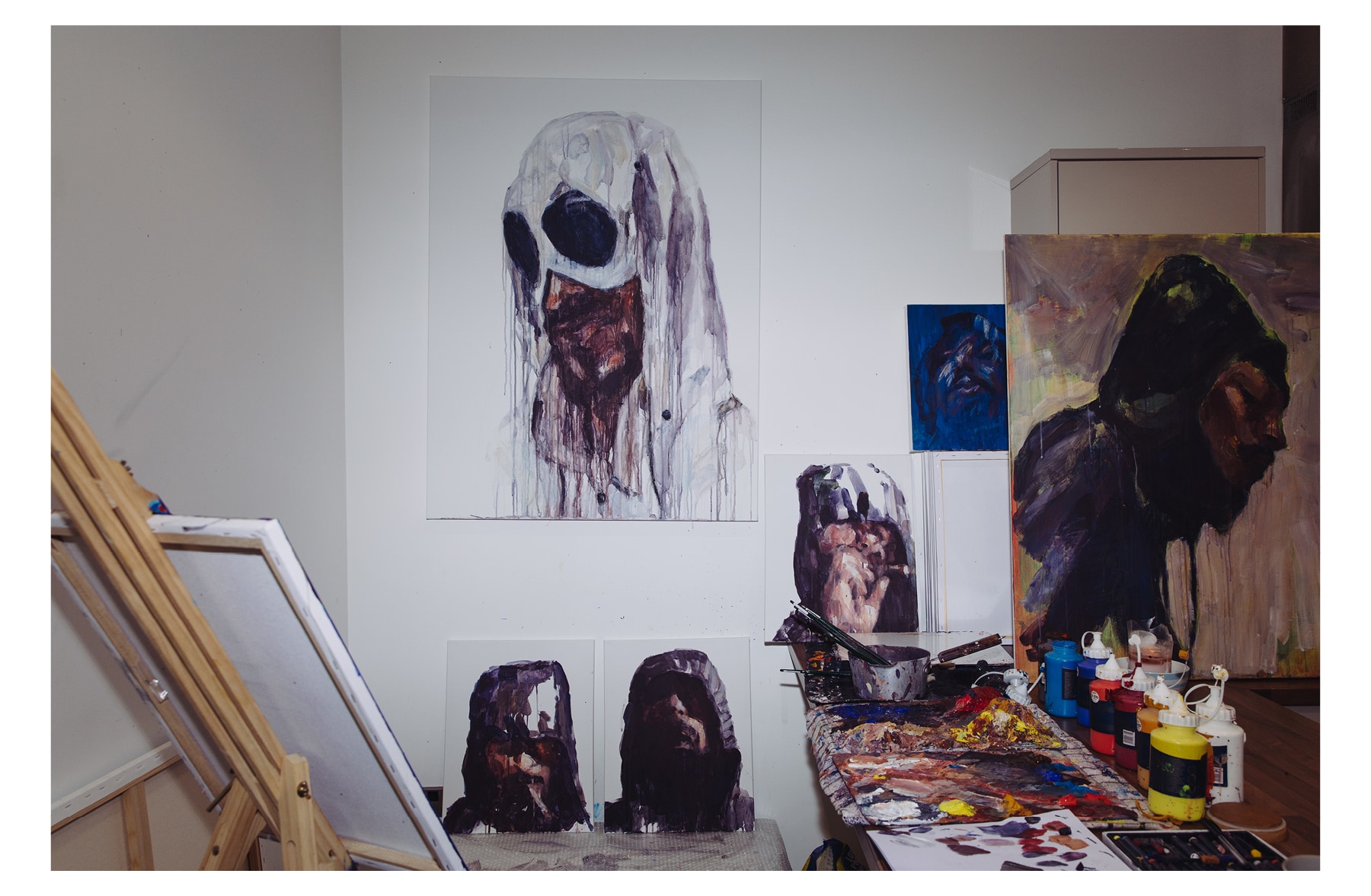 One destination that remains integral to the C.P. Company story is the North West of England. Style conscious Northern men have garnered a special relationship with the Italian outfitters over the past 50 years, a partnership which was celebrated in
C.P. Company's
anniversary exhibition, 'Cinquanta', in Darwin, Lancashire, early this year.
A stone's throw from the exhibition's setting, Artist Adil Amin was born in Blackburn, after his parents moved there from Pakistan in the late 1970's. After studying Fine Art at Blackburn College, Adil has worked in several varying fields while developing his painting practice – of which was helped on by the recent global pandemic, reaffirming his love for art.
Following an exhibition at Prism Contemporary, Blackburn, Adil became Prism's Associate Artist for the
British Textile Biennial
, creating his body of work, 'The Hoodie Series'. For the launch of the Cinquanta exhibition, Adil was invited to extend his series using images of Blackburn's British Asian C.P. Company fans. Youths who had re-appropriated the brand from its location in white football terrace culture of the North West, a history which has spanned three decades, originating with Blackburn's young travelling to Europe to seek out Italian sports and casual wear brands.
Adil Amin's images of young Asian men sit alongside self-portraits, created in dripping, dark, motion filled paintwork. The hoodie serves as a motif in his work, representing the symbolic nature of the hood across street, gang or football culture.
Alex Zawadzki
, Curator & Creative Producer for the British Textile Biennial spoke to Adil Amin about the representation and inspiration for his work, growing up in the North West and why
C.P. Company
is the brand to break down stereotypes.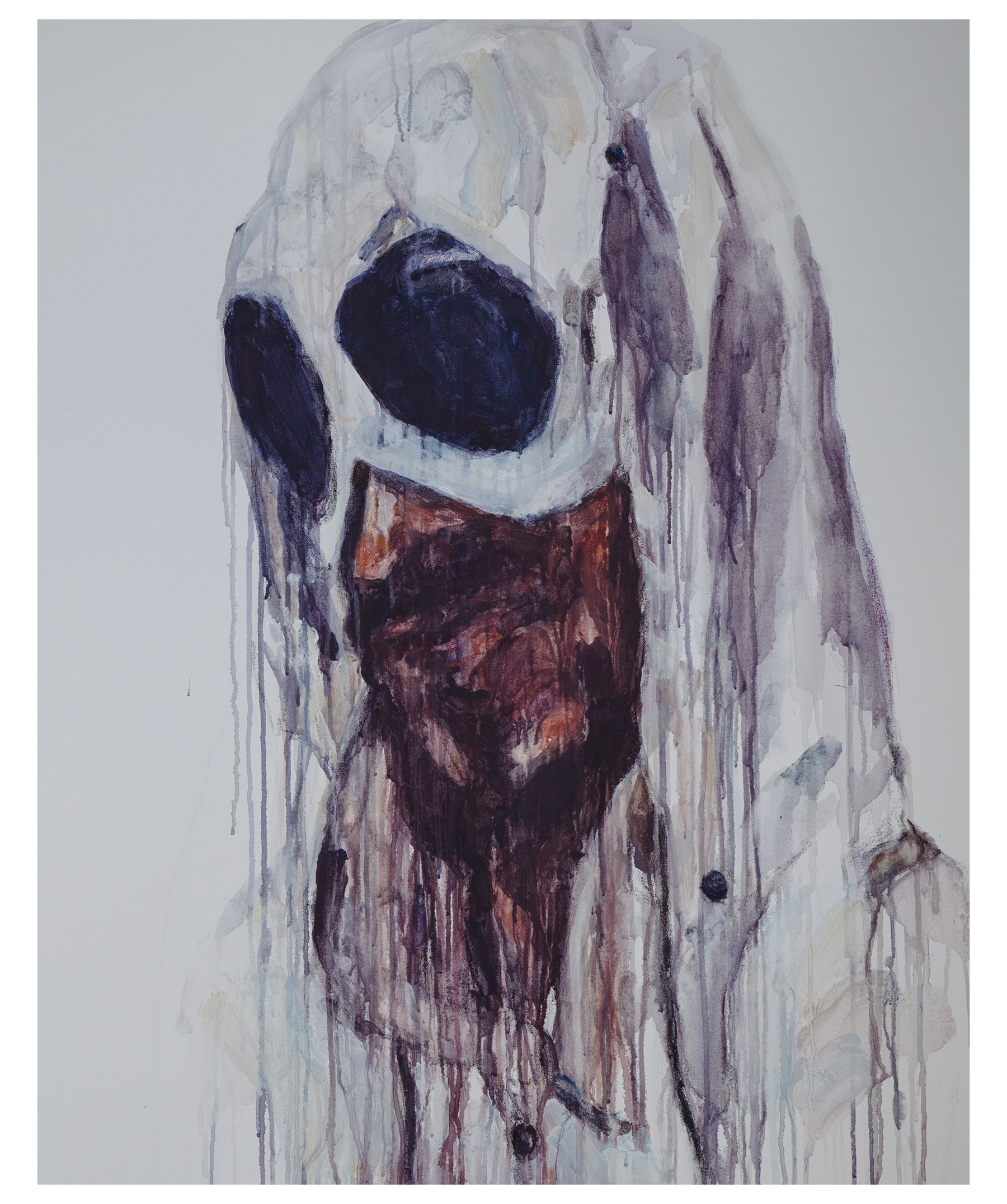 Alex: Talk to me about your new series of paintings, recently exhibited alongside 'Cinquanta,' the 50-year anniversary exhibition of C.P. Company and the launch of their collaboration with adidas Spezial in Darwen. Who are the subjects in your paintings?
Adil:
I was asked to create paintings of young South Asian men who have appropriated the C.P. [Company] brand. Who've customised it to their own lifestyle and culture. I wanted to break stereotypes and the narrative that only white males… particularly football hooligans from the North West, are associated with the Italian brand.
The people in my work are mostly friends and two are current students at Blackburn College who I don't personally know. Residents and locals of the town. Artist Jamie Holman fixed me up with this commission with The British Textile Biennial after making me guest artist at the Prism Contemporary Summer Show in August 2021; and he shared some photographs he had taken of students around Blackburn College wearing C.P. for me to paint from.
Alex: C.P. Company and adidas clothing have retained a kind of sub-cultural identity in places like Blackburn and Darwen. Now it's been handed down to the next generation of wearers. Did these brands resonate for you growing up in the area? What did these styles represent at the time?
Adil:
I'd heard of adidas from an early age, like a lot of people who are into football. It's first three letters 'ADI' reminded me how I spell my 1st name. I was into a lot of sports so that's where my fashion style comes from. I kind of blended hip-hop culture with sportswear like I'd seen in rap music videos; and on athletes, footballers and basketball players. I still clearly remember seeing David Beckham when I was like 14/15 in an adidas Predator commercial for the first time, and when the movie 'Bend It Like Beckham' came out; the main character is played by a young South Asian woman who plays football. It connected with my own identity.
Hoodies in general, I think of as a uniform for the streets, like a cap it's an accessory and can become a necessity at times if you need a disguise. There are different ways you can wear them, which gives people more room for individuality. C.P. Clothing I didn't acknowledge till my late 20s. I could never afford C.P. as a young guy unfortunately!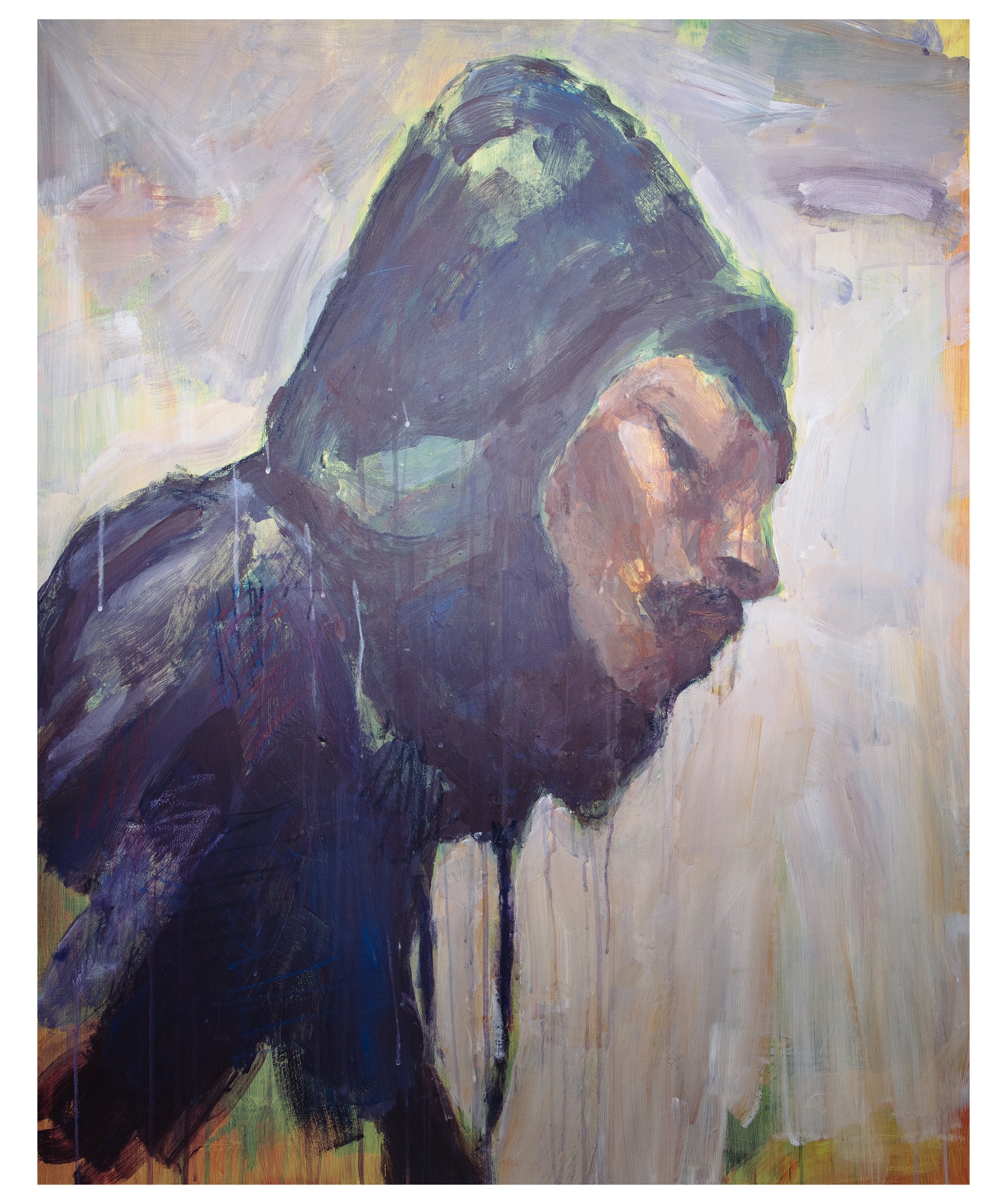 Alex: 30 years ago, Blackburn was a raw place to live. People wearing these clothes largely represented criminality, gang affiliations or football hooliganism. Do you think that still stands?
Adil:
I think it does still stand but there's always going to be people that just like the look and some who just want to give others the impression that they are about that life. Hoodies, I think are going to be a part of street/gang culture for a long time. The C.P. Goggle hoodies are a very unique design which extends the identity of the garment - which I think is one of the main factors for its popularity amongst young Northern men.
Alex: The hoodie is a key motif in your work. What does it represent for you?
Adil:
It represents a uniform made to be worn in the streets for people within certain neighbourhoods but has even been seen worn by royalty in recent times. With recent trends in street music glamorising the balaclava or 'bally', I see the C.P. hoodie with the goggles used a lot. It covers your eyes so you're almost unrecognisable, having similar intentions by its wearers.
Hoodies have been linked with sports athletes, but it was hip hop culture where it started to become popular. The garment helps hide the face and the head especially in the dark, when someone is hooded up in a dark coloured jacket.
Alex: As an artist, how do you feel about these intersections between art, fashion, style and commercial design?
Adil:
I feel it's great. I think it's an untapped territory especially when artists are working in such challenging times.
Alex: Is your work emotionally led - are you representing things you see or the things you feel?
Adil:
Yes, it is, and I'm representing both. What I see makes me feel and what I feel makes me see things, if that makes sense.
Alex: Has your approach to painting been informed by the subjects you paint?
Adil:
I had the idea of painting self-portraits in hoodies in 2010 at university. I hadn't seen them much when visiting galleries. My work is mainly autobiographical. I felt like my work was coming from a dark place. How some humans can be overshadowed and overlooked in society due to circumstances. The hoodie within the self-portraits shows hidden parts of the face which resemble people that aren't seen and heard in society.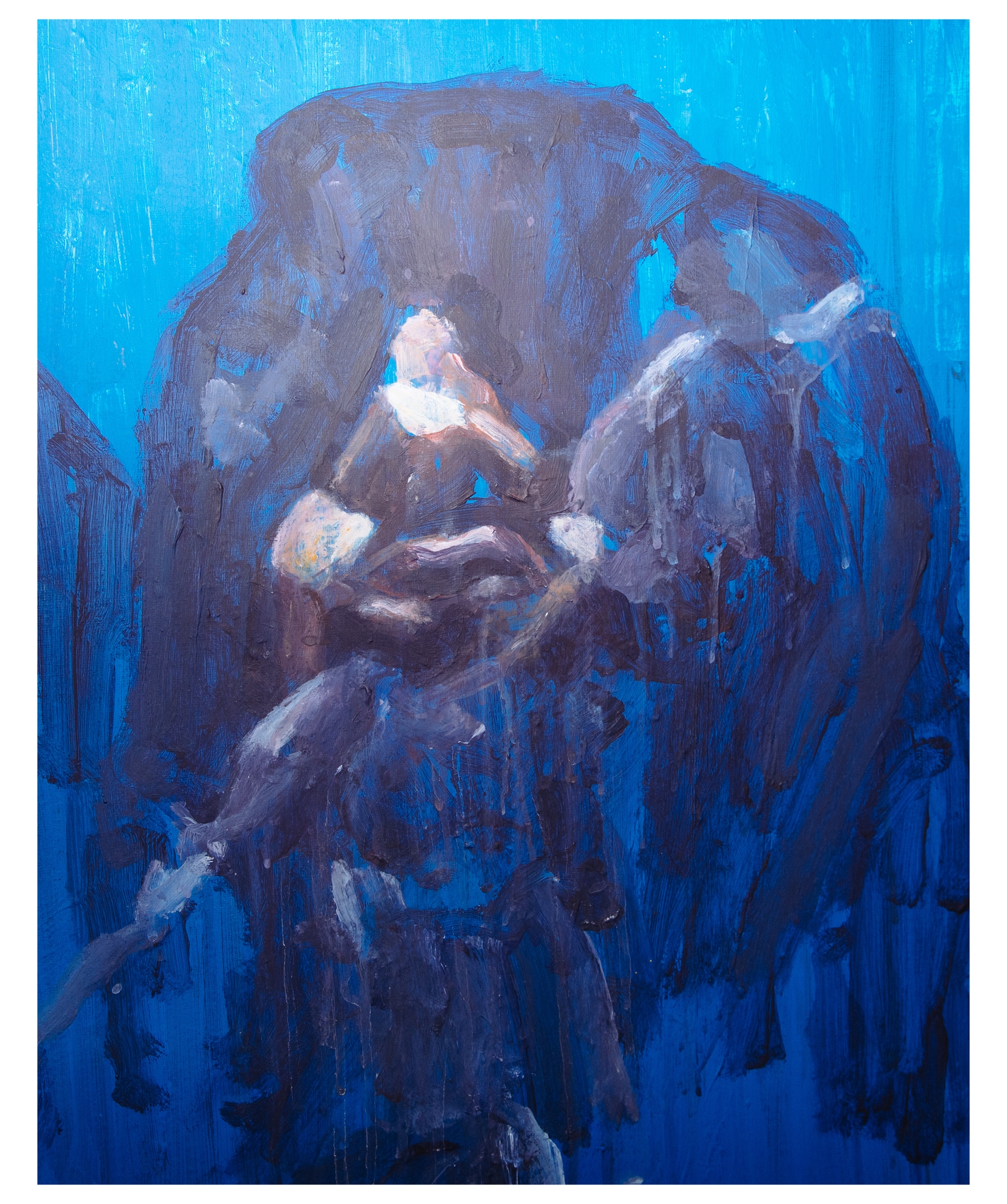 Alex: Who are you interested in at the moment - which artists do you follow and draw inspiration from?
Adil:
I've mainly focused on myself the last 2 years. I've always drawn inspiration from the life and works of Vincent Van Gogh. I love works by Egon Schiele, Lucian Freud, Peter Doig, Monet, Cézanne but the style I think my work most relates to is Elizabeth Peyton. The minimalism in her portraits and brush work the way she applies it in her strokes were things I started to emulate because I'd seen her work.
I believe it is very important to acknowledge and be inspired by other artists and creatives when creating my own work.
Alex: What other sources inform your work?
Adil:
God's gift. Society. Religion. Being a British Muslim. Integration through a clash of civilisations with a purpose to achieve coherent communities. It all informs my work. I really wanted to be a rapper growing up. Music helps me to relax, or sometimes gets me hyped. It enhances and sways me into different moods which transfers to the canvas through brushwork and mixing colours. It helps bring a strong energy and confidence to my work.
I, like many young people, were influenced by street music Hip Hop, Rap, Grime and Drill today. Street music and sportswear go hand in hand like the NBA and Hip Hop music/ culture. I believe sportswear is a part of streetwear. Hip Hop artists were dressing very similarly especially in the 90s with basketball stars like Allen Iverson and Michael Jordan having great influences in fashion and style.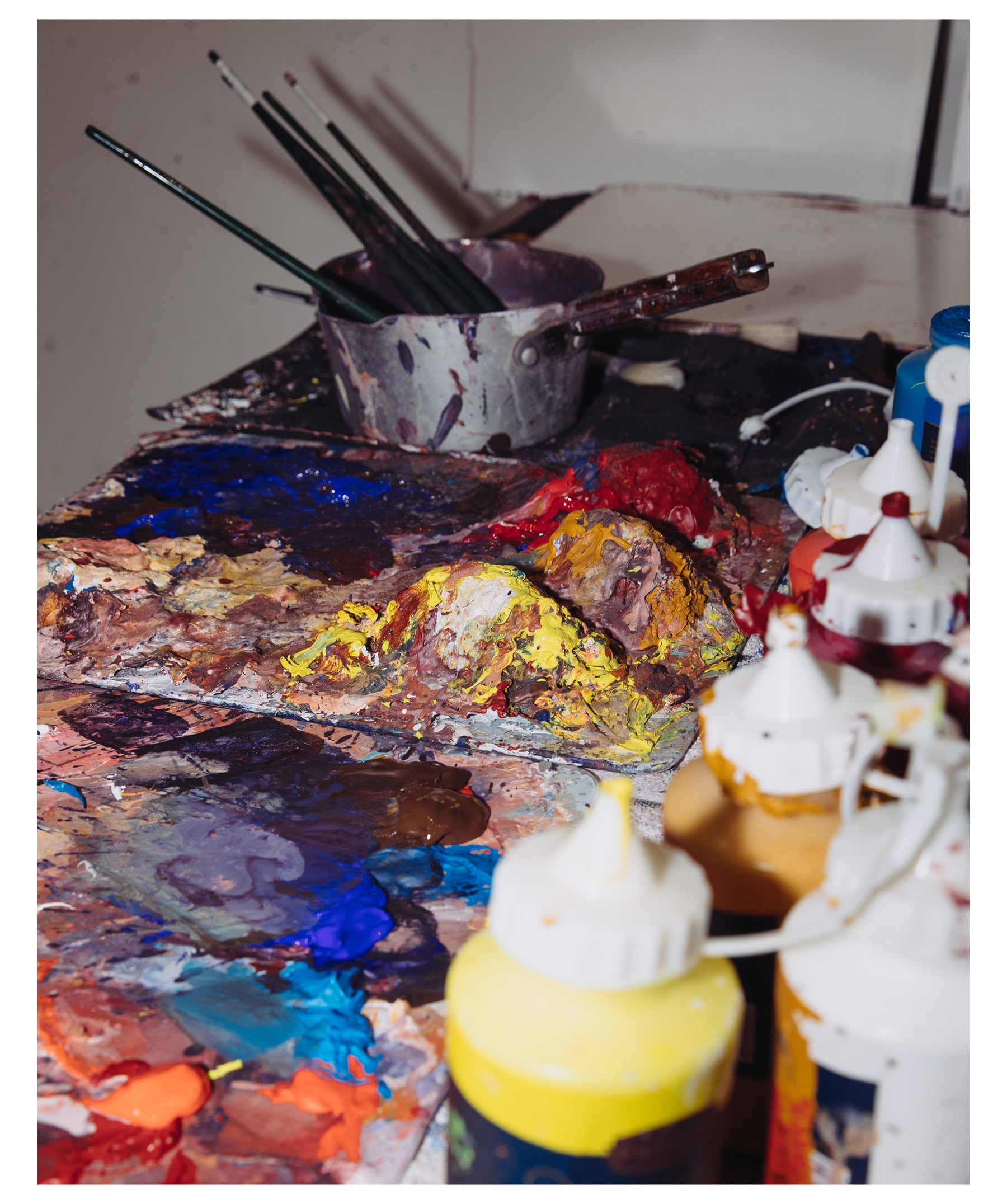 Alex: You put down the paint brushes for 10 years… how and why did you stop painting and then begin again and how did that hiatus impact your work?
Adil:
I knew I was decent at GCSE, and I was told by my Art teacher that I was bone idle lazy. So, I put in some dedication and achieved a B. I refused the only A level I was offered, which was Art. At the time I thought 'why would I want to do art?'
Two years later after working in a factory and as a business apprentice I decided to go study Art at College. I went onto study BA Fine Art in 2008. In 2011 I hadn't succeeded in creating a website and failed to do a 10-minute presentation in front of 10 people, so I didn't graduate. I just knew I had a 2:1 in my head for painting.
I returned to Blackburn to help in my father's jewellery business but was shortly fired by my uncle for what I thought was unfair dismissal. This is where I hit rock bottom and fully gave myself to the streets. Abusing my God given talent. I'd slowly killed my dream. I wished I had stayed in Birmingham where I studied, to continue to pursue Art instead of thinking I'd help my father. Help which he didn't need. I kept sinking deeper into street life. I returned to Blackburn in January 2018 and started working in Asda and the pandemic hit after 2 years.
I had had enough by now and thought it's time to work for myself. A lorry driver told me 'Painting is your priority'- unloading lorries for Asda comes second. That idea shifted my thought pattern, and my portfolio began to grow. I thought to myself, 'I'm not one to just work in a global pandemic on 9 quid an hour.' There had to be more for me. So, I started buying canvas and paints. I was just in full rebel mode!
I think now I'm painting again - I'm not caring about what people think of the work as much. I'm practicing and experimenting. I think my practice has developed quite a lot through that. I've kind of just been warming up and getting used to it again. I need to upgrade my studio though.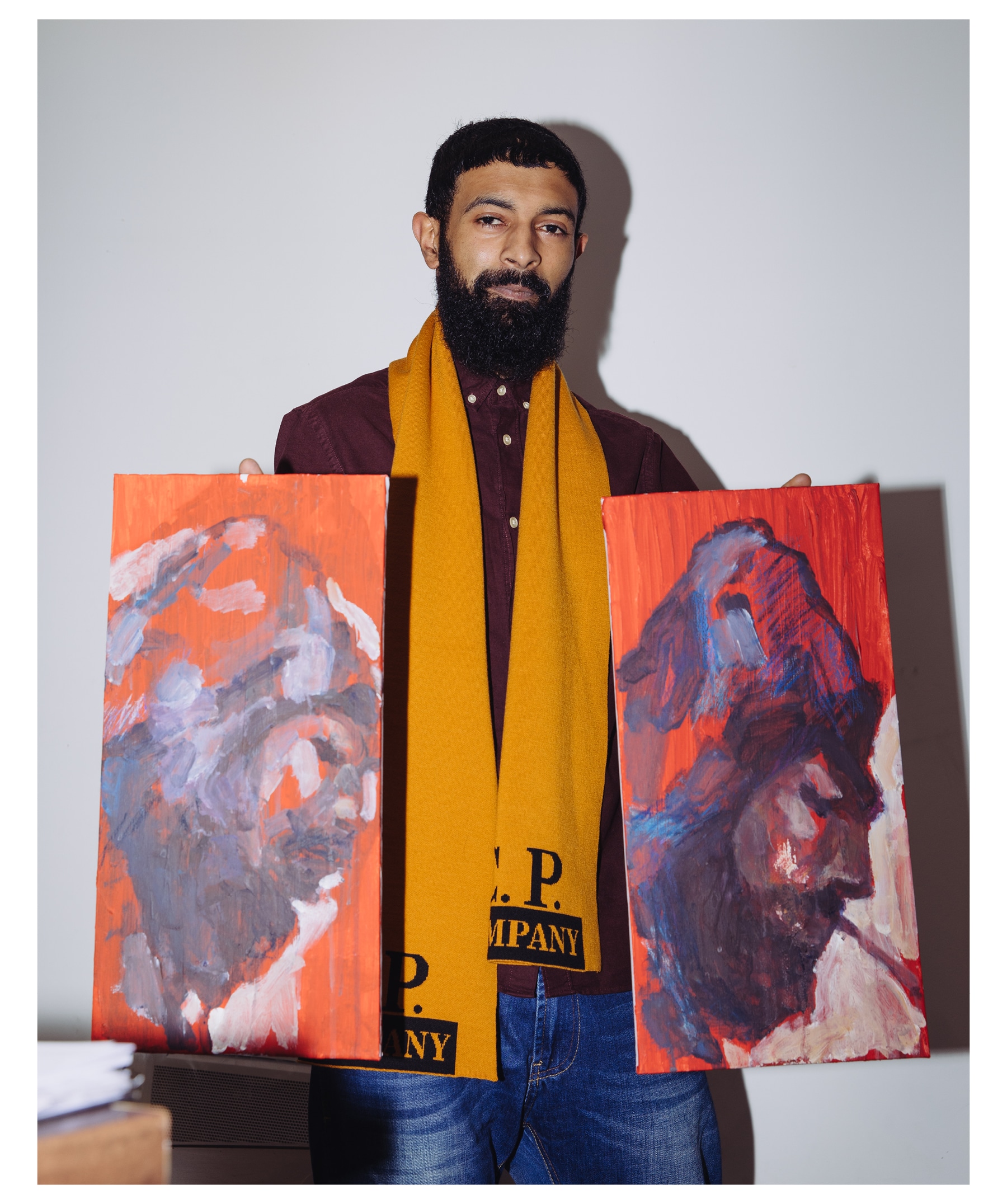 Alex: I came across you through my gallery and the studios next door, and we started to build a relationship over the last year. In a smaller town like Blackburn, how has connecting with other artists and people in the industry impacted your work over that time?
Adil:
It's a massive privilege. The feedback I received from Jamie Holman throughout the year has been very helpful to my work. To just have another artist look and love my work means so much. Then he offered me the C.P. Company commission. This only turned the heat up under me!
Alex: What's coming up next for you?
Adil:
My exhibition from British Textile Biennial is coming to Liverpool at SEVENSTORE. It'll be on show throughout November.
Interview by
Alex Zawadzki
Thanks to
Adil Amin
Adil Amin's exhibition is on show at SEVENSTORE Baltic Triangle store now.