ARC'TERYX: THE CASE STUDY
Located in the Canadian Coast Mountain wilderness, in the foothills of North Vancouver; the brand, gathering place and global manufacturing house for
Arc'teryx
lays. A destination secured for an endless absorption of the outdoors and the birthplace for a continuation into long-lasting progressive design.
Arc'teryx's fruition represents the idea of evolution and the mission to drive forward development in the outdoor world. Archaeopteryx Lithographica - of which the name
Arc'teryx
is taken - symbolises the link between dinosaurs and their avian successors. This idea of growth which has ingrained itself into the roots of Arc'teryx brings to light their own exploration into the natural world.
Founded by climbers in 1989, Arc'teryx has remained in the hands of the same people ever since. A collection of devoted individuals that make up a community of like-minded occupations; new-age designers, product developers, explorers and outdoor experts - all of which hold the same sense of communion for a fruitful adventure into innovative, purposeful design.
SEVENSTORE spoke to two authorities in the outerwear world; Jim who heads up Arc'teryx's UK Area Sales and
114.index
- a personally curated Instagram account focused on the world of technical and functional garments – to dissect the Arc'teryx brand; from the surroundings that make them so special to the significant rise of gorpcore, sustainability, collaboration, and their innovative search for the best design.


THE OUTDOORS
Arc'teryx's philosophy of design challenges outdoor experiences by bringing simple solutions to every consumer - with the advantage of having the great outdoors in their backyard. That backyard is nestled in the North Vancouver coastline, allowing for a spirited spell of discovery and immersion into new, unfound territories, whether that be factory based or a mountain climb into the perpetual wilderness.
From oceans to rainforests, mountains and glaciers, this area encapsulates it all. Vast expanses barely touched by humans and will potentially remain untouched forever host rapidly changing climates and unnerving surroundings that need the correct community of people to get the very best out of every thought and idea. Studying such spaces and testing the water with new products and materials has gave Arc'teryx the insider perspective and allowed them to understand what will work and what will fail before it even steps foot into the marketplace.
"It's the foundation on which everything Arc'teryx is built. Arc'teryx's home in North Vancouver backs onto the coastal mountain ranges of British Columbia, this is where our HQ and Design Centre are to this day. Our factory ARC1 is just 20-minutes in the car or a 40-minute bike ride away – this allows product to be designed, prototyped and tested all within a 15-mile radius", explains Jim – Arc'teryx, UK Area Sales Manager.
It is a testament to the brand and the Arc'teryx community that they continue to stay committed to challenge such environments, as well as pushing forward the human investigation of the outdoors. Clear from their humble beginnings, it has always been a learning curve and growing into new territories has brought about new ideas.
114.index
adds, "I think that also from the beginning before the first apparel collection – when it was harnesses and climbing equipment - it's been apparent that Arc'teryx really commit to the design wholeheartedly. That clearly carried through to the apparel and still does season to season." From the core they have used their environment to grow each and every collection – accessories has elevated into apparel and their steady familiarity with the outdoors has aligned with new abilities to produce, develop and encapsulate a true, functional visionary of design.
It also begs the question whether the brand's progressive output could be maintained if it wasn't for such an environment. Mountain ranges across the world can provide inspiration, but the plot surrounding Arc'teryx illustrates there is no better proving ground. As Jim explained, it's a close-by connection with not many miles between factory, testing and the headquarters. Having one of the most unpopulated wilderness regions in the world on your doorstep; with 40 different species of native trees, 75% of Canada's bird and mammal species as well as covering of rainforest makes the perfect recipe for research and development, allowing Arc'teryx to stay ahead of the curve.


DESIGN
Arc'teryx's motto stems from the idea that there is always a better way. To dissect this down and look at each segment of the business; research, development, production – there is always room to evolve. Evolve the design, make it more durable, make it lighter, make it weatherproof and make it better to perform in real life conditions. Every product follows this same set of rules and the same ideology from one to another.
The design process can take several hours and hundreds of operations to manufacture. A direct opposite from the worlds of fast-fashion and mass production today, Arc'teryx's quality always comes first and foremost - it's not about pushing out the numbers. Which in turn stands the foundationds for their take on sustainability, highlighted by Jim that "Evolution of design rather than re-invention. This gives a timeless refined look providing the wearer longevity and therefore value for money." To get these results the brand have cherry-picked an experienced team where experts with diverse skills and outdoor knowledge collaborate to make the best products possible.
Ideas come from places of curiosity and experience where design is needed, or for a particular item that does not exist. Over 20 years ago Arc'teryx built the Alpha SV Jacket in a special relationship with W.L. Gore and since that day the evolution of the garment has saw many different iterations, new additions and developed materials. It has remained one of the bedrocks to the brand, representing a huge step in their search for innovation, as well as paving the way for new ideas in the field.
"The evolution in design is an obvious one, I love how they used the Alpha SV to show Gore themselves how much better their fabric and Gore-seam tape could be. Personally, from a wearer's perspective though, I haven't found a shell jacket from any brand that fits as well as Arc'teryx's do. Even though through each model there's slight differences, the consistency on the areas that make a difference to how the jacket feels, is impressive." –
114.index
Arc'teryx design and implementation is the result of a committed continuation of their workforce challenging new environments, materials and innovation. Since 1989, they have made products more efficient by reducing what you have to carry on your back, making the best out of every outdoor experience. From that day on, regardless of assumption and boundaries, the push and motivation towards their field of work comes from curiosity, experience and a profound knowledge of the world around us.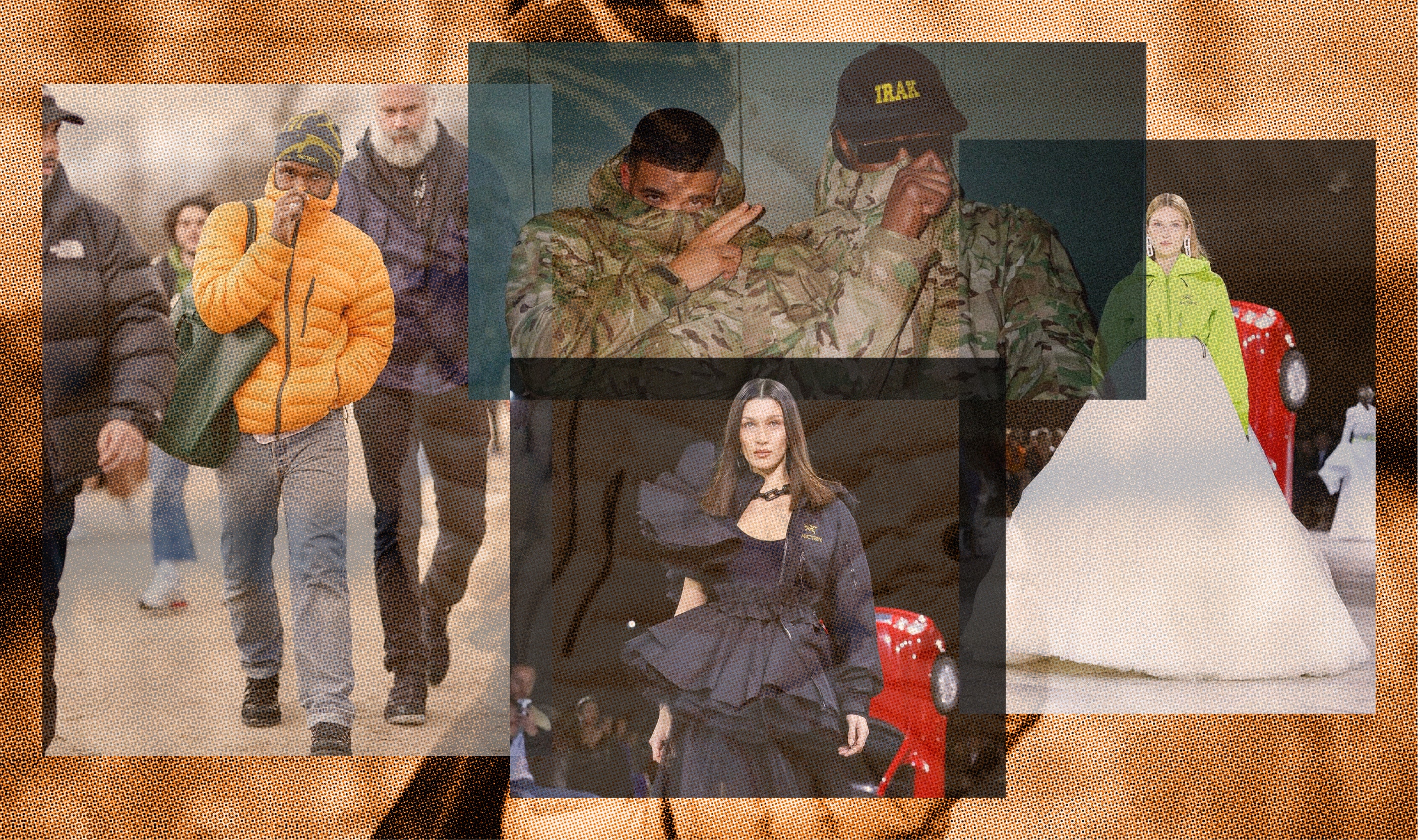 GORPCORE
A concept created by New York Magazine's The Cut in 2017, "Gorpcore" is a presentation of the outdoors; outerwear fleeces, vibrant puffer jackets, technical trousers and trail-mix sneakers have that always frequented the backdrop, but now have converged with the notions of the fashion world. Think about those weekends hiking in the mountains wearing waterproofs, backpacks and functional clothing – now add a pair of
Salomon S-Lab's
or
Nike ACG
into the equation.
Arc'teryx has become a longstanding pillar of gorpcore's rise and the infatuation of 'hiker-wear' has placed them at the centre of the distinguished genre. The emergence of gorpcore is a simple sum which adds together the outdoors and fashion. Explaining his thoughts on the rise of outdoor wear, Jim adds, "I think products with purpose are inherently cool, they exist for a reason to solve a problem. The products are aesthetically pleasing due to meaningful design and the benefits of lightweight, durable, easy to care for clothing/footwear are easy to quantify for the wearer." Which makes sense as to why Arc'teryx has become embroiled in such movement, and why functional garments, although not always used for purpose have came under the spotlight.
Products that serve a purpose are held in high-regard and with the changing perspectives of consumers, this can be proof as to why the trend has hit new heights of late. "People are fed up spending hundreds of pounds and receiving inferior products, or products that don't serve the wearer any purpose. Sure, there's definitely some form of "hype" as there always is with trend cycles which will be helping it along, but it seems to have more traction in terms of peoples habits out with just the clothes. To sum things up, celebs have been wearing more "outdoor" clothing recently, the rise of niche Instagram accounts is also a major factor I think, and people's attitudes have been changing gradually towards more of a "what can my wardrobe do for me?" mindset."
However, gorpcore is not as simple as global brands picking up ideas from Arc'teryx and coming out with a new, reflective puffer jacket that'll last one trip. It's slow trickling amalgam of how it is put together, made with an aura of great, functional design that further it into the fashion sphere - a look consisting of Arc'teryx's Atom Hoody with a pair of technical pants, trail-like sneakers and GORE-TEX® protected cross-body bag springs to mind.
But how did this all come about? Natives of the hills have all treaded down the street in their hiking gear, but little did they imagine it to be matched in Fashion Week. Notable figures in fashion have shone a light on the gorpcore trend in recent years with Frank Ocean at Paris Fashion Week in 2019, who was dubbed 'the High-End Euro Hiker' and Virgil Abloh who incorporated Arc'teryx into his
Off-White
Women's runway show in Autumn/Winter 2020, although not affiliated with the brand and later dismissed, Abloh essentially used Arc'teryx jackets without permission, trying to capitalize on the uprising trend.
Set aside from the elitist runways of fashion capitals around the world, Jim alludes to his earlier years where the bones of the trend were always in his day-to-day, "In my world I've never been too far from a GORE-TEX® coat, fleece, mountain cap pair of trail shoes. I went to college in the Lake District where buying your first down jacket was right of passage. Without doubt there is more interest in techwear - lockdown and working from home has put a focus on dressing comfortably, and many other brands who typically have no place on a hillside are trying their hand at functional clothing and the technical look." Where the different facets of the rising genre have been proven to be there, it has only just been picked upon over recent years by a select few that have brought it to the mainstream fashion sphere – where the whole world is watching.
"A better way to view it, in my opinion, is that they have realised that the outdoors should be just as cultural as something like skating. It shows that the brand is switched on and not maintaining what can sometimes be a bit of an elitist stance like some outdoor brands not absorbing the culture that their gear has been appropriated into." – 114.index
People of the North West have essentially adopted the underbelly of what the trend is for some time. Technical garments, both jackets and pants - often dominant in weatherproofing fabrication to protect them from the rolling cascade of rain and wind that plagues their shores - have become an everyday uniform, especially within Liverpool. Tied down with their favourable
Air Max 95
, the gorpcore nuances may have always been rampant in this landscape and today its no new feature to them, but it certainly is to the rest of the world.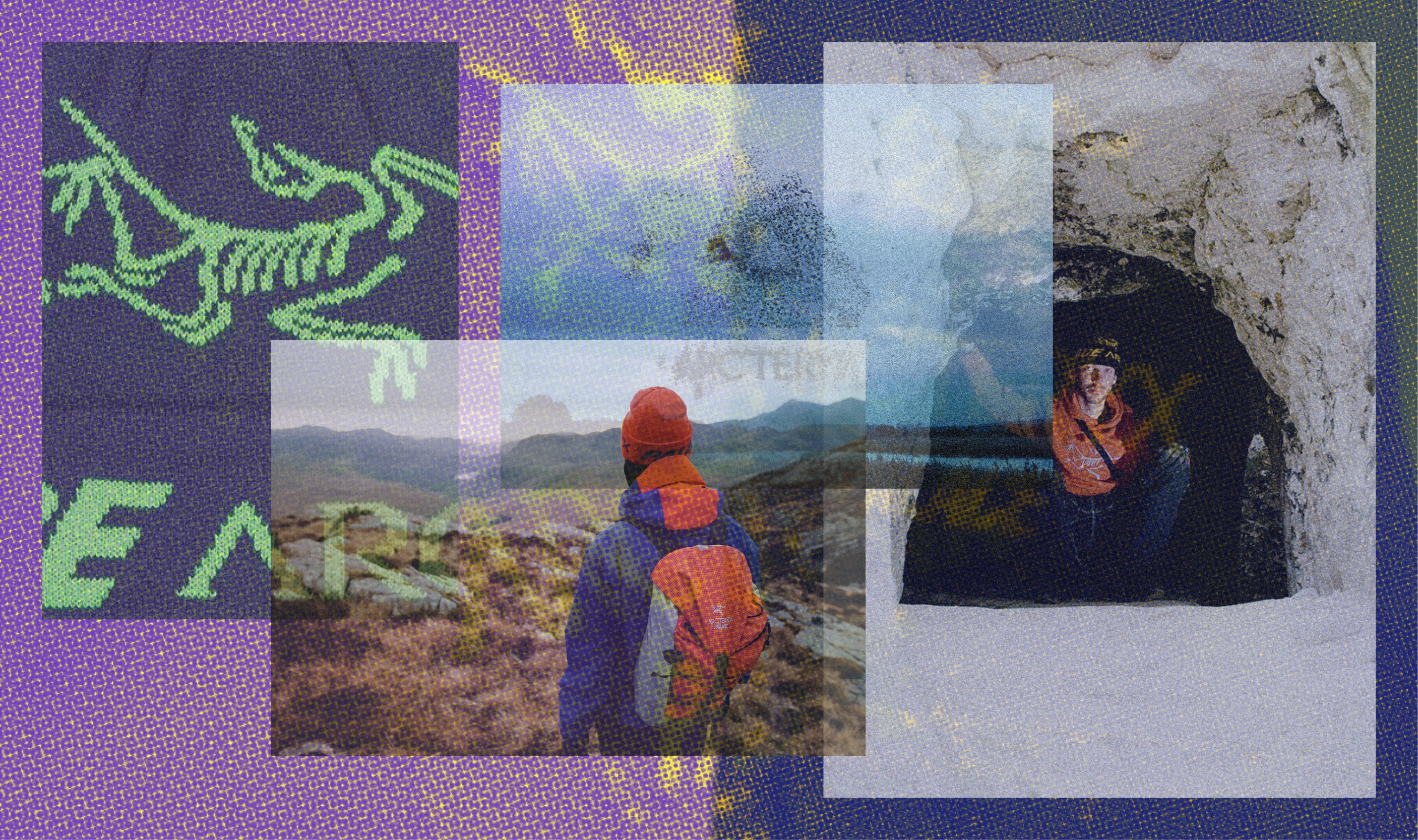 COLLABORATION
Arc'teryx have a limited spectrum associated to collaboration. That isn't a negative take on the brand, but an admirable approach. They remain committed to mainline product, whether it be research, exploration, design or manufacturing, they are not distracted from what others are doing, what consumers in fashion are looking for or what trends are swirling around the mixing pot.
"We're not overtly fashionable and we're not following micro-trends" was the words on the lips of Arc'teryx's Design VP, Dan Green in 2020. It was this notion that led to thinking about collaboration, and when considering Arc'teryx, they don't intentionally collaborate with other brands with only a few select (Beams & Palace) – with Jil Sander coming later in the year – that have seen the light of day. They are a brand built on integrity and keep their ideas close to their chest without straying from a function-first approach.
With Arc'teryx's crossvergence into the Palace realm in 2020, it was a time for the brand to appeal to a new consumer. 114.index suggests it to be a good thing for brands like Arc'teryx, but without comprising their initial objective, "Collaborations are good for brands if each part brings something different to the table. That's what they should be like at least, they've been rinsed with a new one weekly these days. That being said, I don't think it really changes the work of the brand and thinking of the Palace collab I personally liked it. It did seem slightly rushed, but I get the impression Arc'teryx were strict with how much creative freedom they allow and that's a good thing for me. It shows confidence in themselves and that they don't want to dilute their DNA." In a marketplace so swept away by serious demand for multi-branded product, they have had a handful, and even then, they don't come easy. But it is a definitely proven to be a way of reaching a new audience and treading ground that were unfamiliar before.

"Collaborations have, and will broaden our reach to speak to people who may never have heard of us, this could be a globally available collaborative design, existing product edit, or a local Artist Series in association with one of our brands stores." Jim, speaking on his thoughts of collaboration." - Jim - Arc'teryx, UK Area Sales Manager.
Easing in and out of their lane from time-to-time seems best for the Canadian brand. Since the introduction of the Veilance line in 2009 – which is catered to match the functional needs of city-goers - they have opened the door to a new audience. Succeeding Veilance was Japanese contemporaries, Beams and after that London skate residents, Palace – both of which furthered the brand to a different world of buyers, all within a varying array of cultures, not just the outdoor community.
The crave for outdoor essentials have become a part of today's everyday wardrobe. Appealing to new people through collaboration, even if Arc'teryx are hesitant to do so, it may be beneficial in the long run. These new customers may not be too eager for a 15-mile hike in the Peak District or vertical rock climb in Yosemite Valley, but they are connected for different reasons, not solely for the purpose of performance and function.





SUSTAINABILITY
Arc'teryx was conceived in the late '80s when humanities realisation of individual consumption and decline of the world's ecosystems was slowly becoming a reality. Now more than 30 years on from the beginning of the brand, those first realisations have been bubbling at the surface and are now seemingly dripping over the edge. The mindset of Arc'teryx and their community didn't overly consider those affects at first, but they now regard them as a major consideration.
As time has gone on, the playgrounds they frequent have become significantly more under threat than ever before. But without such environments still existing the way they do, what will Arc'teryx cater for? Melting glaciers, deforestation, and the threat to wildlife all pose greater thought, not only to Arc'teryx but to the wider world. But it does raise the question as to whether the outdoor community are more pressured to change. Jim states that, "It's essential – it's not optional, we all must make decisions to reduce our impact on the planet. We'd be hypocritical if we encouraged exploration of wild spaces without being part of the movement to protect them." That inherent link to the outdoor space makes it important for brands like Arc'teryx and others in their realm to back the corners of their breeding grounds, to spearhead a new-norm within the outdoor fashion landscape that change must arrive, if it already hasn't done so.
"I think that everybody should be feeling more pressure to further their individual sustainability, with the amount of post-consumer waste and fast fashion dominated industry shining a bad light on clothing as a whole. I mean this in the cultural sense too, as that's often overlooked by most folks. The Outer Peace program Arc'teryx are running is really nice because it opens up the outdoors to once marginalised groups, and this in turn opens up a wider love for nature, which is often a gateway to a more sustainable lifestyle." – 114.index
Sustainability has overtime become ingrained into the Arc'teryx ethos as they try to overcome problems and still develop, design and manufacture product of same stature. But that is where problems may arise and conflict with their mantra to maintain and progress with purposeful design. Honest how it would work for both, the brand and the environment around them, Arc'teryx have treaded difficult ground searching for new ways, materials and textiles to withhold such accomplished design. Do Arc'teryx sacrifice technical performance for a less functional, hard-wearing garment? Their answer is simply, no – what they do is change their philosophy. Arc'teryx believe that building products to last is the most powerful lever for minimizing their impact. Jim explains, "I'm hopeful that we'll lead in renewable textiles and a more circular economy, with tough, versatile products that will enable our users to reduce what they need to consume. Hopefully this model can be shared with other brands and be both meaningful and long lasting." Durability and performance have been a guiding influence from the outset – if a specific product is built to last with outstanding quality, dedicated research and design, there is no need for a customer to buy another one – spreading out a lifetime of sustainability.
Segmented into five areas of the
Arc'teryx
world, a definitive conclusion draws out the parallels between the Canadian brand's steady concourse of design, to sustainability, collaboration, gorpcore and the outdoors. All of which highlight the brand's integrity to serve while still riding the cultural wave of shifting patterns and outsider influence. Reaching far into the world through exposure has allowed Arc'teryx to maintain a consumer base ranging from London's streetwear scene, North Vancouver's mountainscape and Paris Fashion Week's elite.
The latest collection of
Arc'teryx
is available in-store and
online now.
Special thanks to Jim - Arc'teryx, UK Area Sales Manager &
114.index
Artwork by:
Henry Spiers