Madrid and
adidas
go hand-in-hand, one of the greatest football clubs to grace the planet earth alongside, one of the largest sportswear brands in the world. Centred around the adidas sponsorhip for decades, the footballing city of Madrid has a long-affiliation to the three-stripes brand who are set to re-issue the classic Madrid silhouette.
Dressed in a sleek brown leather, the Madrid is another addition to
adidas'
City Series collection cemented as a firm favourite on the terraces. Famed in the '70s and '80s, this low-cut silhouette derives from the classic Trimm Trab of that era, finished with suede overlays, a rubber outsole and signature gold-foil branding.
To celebrate the release of the adidas Madrid, SEVENSTORE asked
MUNDIAL's
Dan Sandison to write about a footballer who swapped Liverpool for the Spanish capital at the turn of the last century, his childhood hero, and someone who would go on to be one of Britain's greatest footballing exports.
In Liverpool, import and export has long been the trade. Since the industrial revolution, Liverpool's docks have acted as a portal to the wider world. For centuries, the city's role as a checkpoint to the rest of the planet has influenced not only its growth, but shaped the identity of its people. While the citizens of nearby Manchester and Yorkshire stay put, Scousers travel. They look outwards, further afield, and sometimes… they just go.
In 1999, a son of Bootle did just that and left Liverpool behind. After nine years in the reds' first team, two years in the club's academy, and a childhood spent supporting Everton, Steven McManaman decided enough was enough. He'd been previously courted both by Bobby Robson's Barcelona and Italian giants Juventus, after impressive performances as part of England's Euro 96 squad, but it was when the soon-to-be Galácticos of Real Madrid came knocking at the turn of the millennium, that Macca finally became El Macca.
The new and controversial Bosman ruling, a Gerard Houllier-inspired clear-out of the so-called 'Spice Boys', and a desire to play European football at the highest level, all combined to seal his fate. It was a perfect storm, and the midfielder - long the fulcrum of Liverpool's creative output and the main provider to his old mate Robbie Fowler - signed a pre-contract agreement with Madrid a full five months before the end of his Liverpool deal.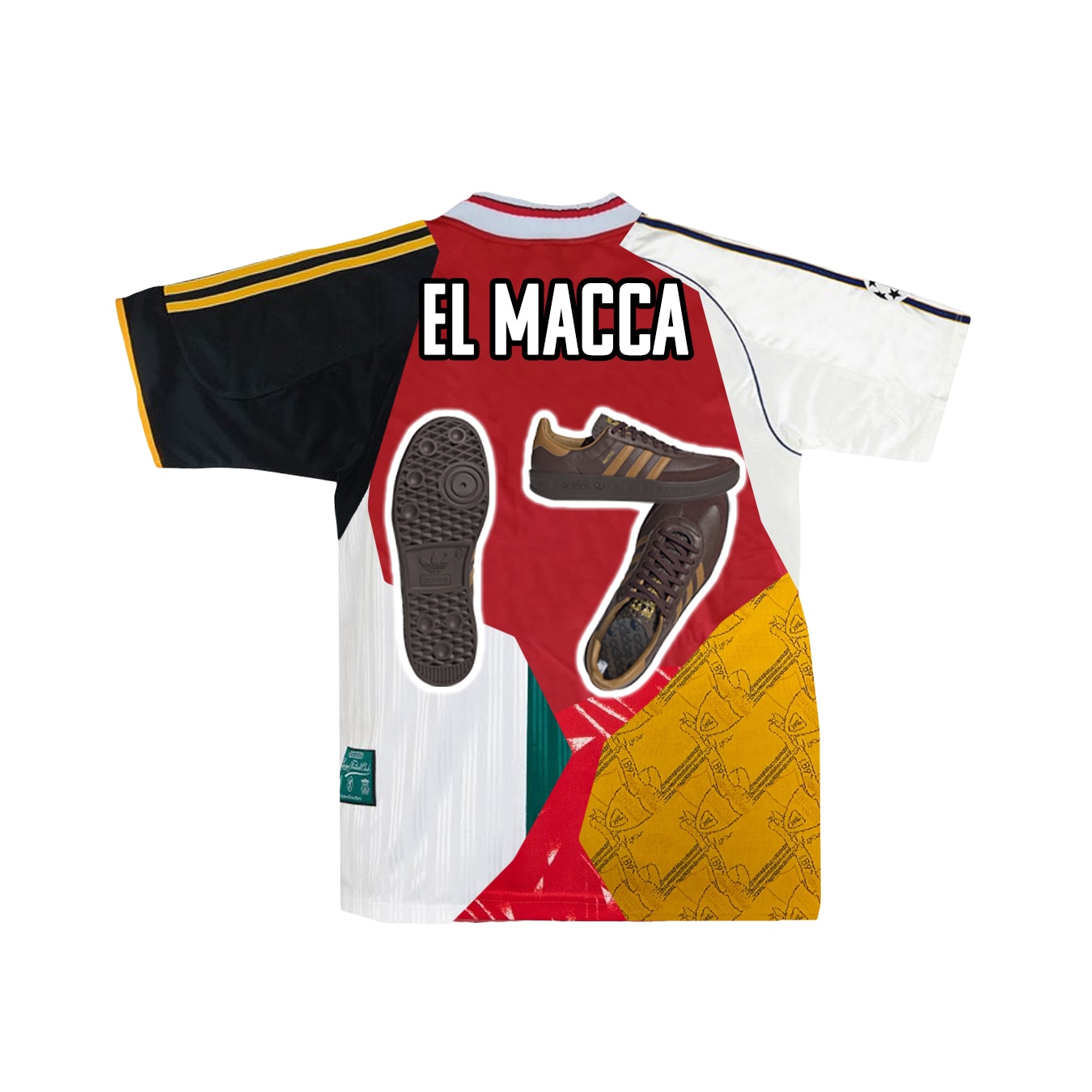 I have always said I would love the chance to play abroad and now that chance has come along" he explained to the BBC in the December of 1998, "when you have a chance to join clubs who are involved in the Champions League every season, you have to consider it...I'm sure everyone must see the logic in that."
Needless to say, as is often the case when it comes football, not everybody saw the logic in it. McManaman's departure left a sour taste in the mouth of sections of Liverpool support. The way he left the club, the size of his Madrid contract – which made him the highest-paid British player at the time – and the high profile and aggressive tactics of his agent, Pop Idol creator Simon Fuller, got people talking for all the wrong reasons.
In his last game at Anfield however, McManaman gave Liverpool fans and Houllier a taste of what they would be missing and any ill-will was put aside momentarily. Bursting down the right wing, in a style all of his own, McManaman cut back and set up Karlheinz Reidle for Liverpool's second, in a 3-0 drubbing of Wimbledon. It saw The Kop bid their wayward son farewell with a standing ovation and a lap of honour.
The floppy-haired Scouser who had come through the academy, spoke with the right accent, wore Wallabies, and was the living embodiment of the city on the pitch, was leaving the reds behind. And it seemed like, despite everyone's best efforts to put on a brave face, it was under a cloud. Liverpool's most high-profile export of 1999, following in the footsteps of plenty of the city's great, good, and even unremarkable, left for something new. For something different.
That something new for Steve McManaman, was to be anything but unremarkable, and it was going to be very, very different. This fact became immediately apparent when Madrid legend Rául greeted the Englishman's arrival by dramatically explaining that the "dressing room is a cesspit of lies, treachery and whispers" in the Spanish press, and that "if he (McManaman) thinks he is coming to one of the world's top clubs then he has made a big mistake." Only the second British player to play for Real Madrid after Laurie Cunningham, and the most high-profile Englishman to make the switch to La Liga since Gary Lineker traded Everton for Barcelona in 1986, was going to have his work cut out.
By the time he arrived in Madrid to start his first season as a Real Madrid player, things had got somehow weirder. The manager who brought him in had been sacked and replaced by Liverpool legend John Toshack, the club had sold three key players to make ends meet, and living legend Clarence Seedorf had been quietly ushered towards the door after a training ground spat. It must have seemed like Rául had a point.
Within months however, and after a successful preseason, things had begun to change for the better. He scored and assisted several times in his first few appearances for the club, building strong partnerships with both Fernandos, Morientes and Redondo. Fortunes improved for Madrid, things settled, and on the arrival of Vicente Del Bosque, Los Merengues went on a Champions League run that saw them clinch the trophy that had been the inspiration behind the Scouser's move away from home. After a run that saw them defeat Bayern Munich, and his old sparring partners Manchester United, a volleyed goal in the final at Stade de France saw McManaman become the first English player to win Europe's premier cup competition with a foreign club, clinching Madrid's eighth European Cup in a 3-0 rout of La Liga rivals Valencia. Vindication, in Copa Mundials.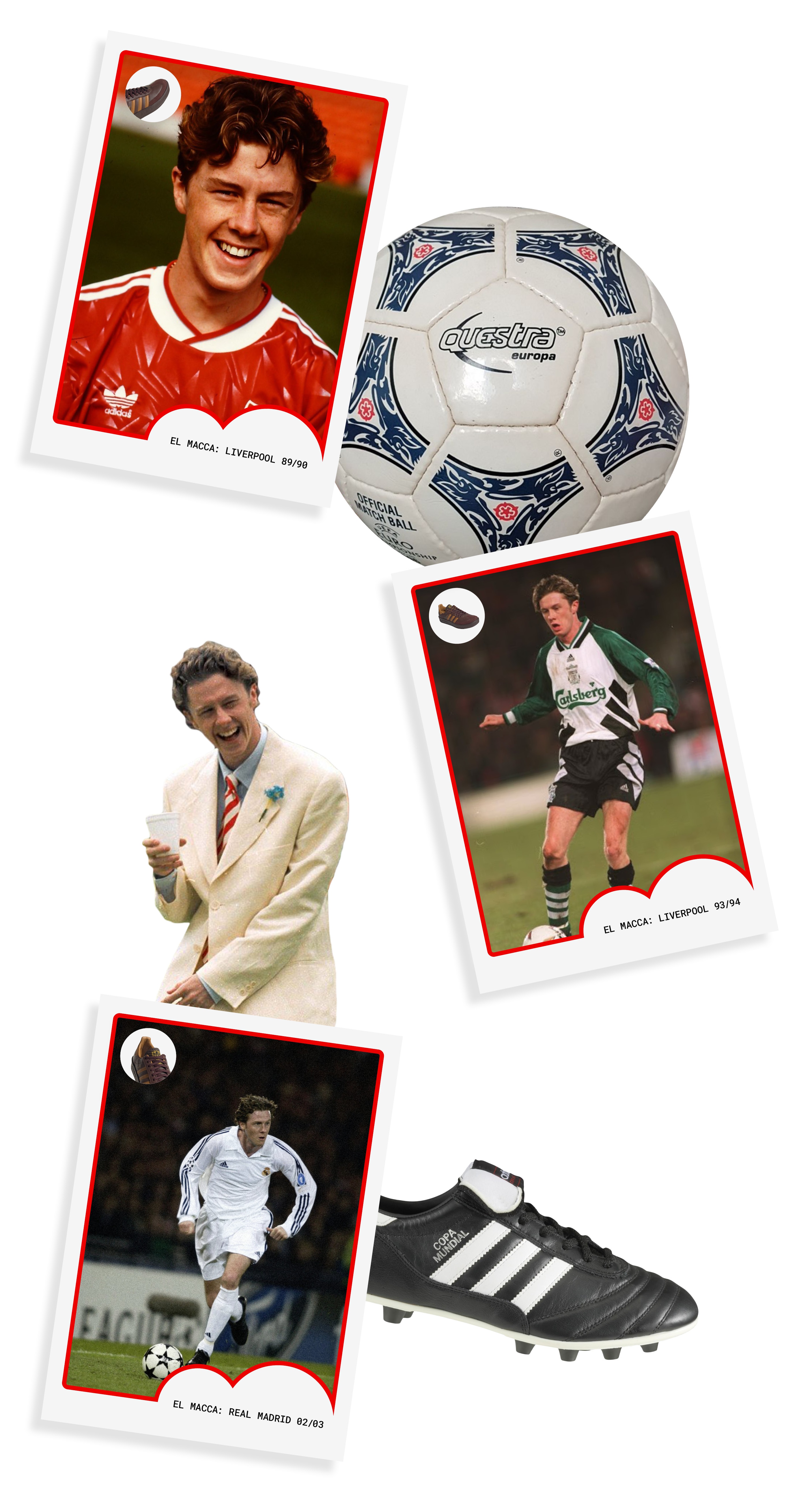 What followed was very much more of the same, and whilst it would be easy to go into the gory details of the medals (two La Ligas, and another Champions League) and the statistics (the most decorated English player to play for a club abroad), and the chopping and changing of the Madrid squad that surrounded him, the most interesting thing about Steve McManaman's time in Madrid was how he committed to it. Where Michael Owen would later fail, and Beckham would stutter in Spain, McManaman became El Macca. It's not just the title of his autobiography, but a nod to his attitude, his resilience and how he threw himself into life as a Real Madrid player.
When loneliness troubled him during his early days, he sought the help of fellow ex-pat and former Liverpool player, Michael Robinson as a mentor, he learnt the language, he built friendships with Ronaldo, Figo and Roberto Carlos, he earned the respect of Raul, Zidane, Guti, Iván Helguera, turned down a move to Inter Milan, and when the Spanish press christened him El Cartero (The Postman) because of his inconsistent deliveries? Well, he reinvented his game and made himself indispensable as a utility player in a team of stars.
He would eventually earn the plaudits of Cruyff, Del Bosque, Jorge Valdano and Sir Alex Ferguson, within one season, and Real Madrid's fans and ultras would greet a volley of his against Real Oviedo with their famous white handkerchief salute in 2001. If McManaman had seemed stubborn when working to force a move away from Liverpool, it was only the beginning of an obstinate streak that would see him bed in at Madrid against all odds.
In four seasons at the Bernabéu, a young man from Liverpool transformed his career, quadrupled his honours, and matured into one of the great modern success stories of English players playing abroad. The reasons for this are many. The timing was right, he'd reached the end of the road at Liverpool when Roy Evans was replaced by Houllier, his mother had recently passed away after a long battle with cancer, and he had always had ambitions that outstripped the capabilities of both his boyhood club and their neighbours across the park. It would be foolish to overlook his upbringing though, and a childhood in L4, a stones throw away from the Liverpool docks that had, for generations, shipped his forefathers to the corners of the world in search for work and adventure.
He would eventually return to England for a stint at Manchester City before retirement, having paved the way for Beckham – who begged Real Madrid to keep hold of McManaman on his arrival, having been helped to settle in the capital by his England teammate – and later for Gareth Bale. He would rekindle a relationship with Liverpool as a mentor at the academy which gave him his start, and bridges would be rebuilt in his hometown. The most decorated English player to ever play abroad, and the prodigal son would turn home, his decision to travel vindicated. No English players since Laurie Cunningham had made the commute to Madrid before him, and nobody of El Macca's profile for a decade and a half had cracked the Spanish league, but Macca was a Scouser, and Scousers travel.
The
adidas
Madrid is available to register to purchase on
SEVENSTORE Launches now
.