TOM MAN TALKS DUNKS AND NIKE'S CONVERGENCE THROUGH SUBCULTURE
Throughout the early 00's
Nike's
infiltration of the Japanese market created a number of highly lucrative, sought-after sneakers. Their CO.JP initiative signified a catalyst of consumers to gravitate towards the Dunk Low.
The Dunk Low's inhabitation of the Asian island's boutiques was a testing bed for detailed design, experimentation and collaboration, and it soon spread beyond that segmented market, setting down roots in New York, London and Paris among others.
Apart of the CO.JP exclusive collections in 2001,
Nike
released the 'Ugly Duckling' pack of Dunk Lows, comprised of a trio of sneakers, the 'Plum' was re-released back in 2020, with the 'Veneer' colourway second in line. Among the fast-flowing assembly of Dunk releases, the 'Veneer' is a standout mismatch of shades and vibrant touches – all adding together to mirror the original, 19 years on.
The classic silhouette is crafted in a plush suede fabrication, decorated in green, purple and brown shades. Nike's signature swoosh branding runs across either side of the sneaker while classic Dunk details such as padded ankles and a perforated toe-box are as present as ever.
SEVENSTORE caught up with Dunk devotee, Tom Man to talk about his journey through the Dunk years, why the silhouette is so special to him and how it has underpinned Nike's convergence through subcultures.
The
Nike
Dunk Low SP 'Veneer' is available to register to purchase through
SEVENSTORE Launches now.
Can you please introduce yourself and how you got connected to Nike's Dunk silhouette?
My name is Tom. I'm from London, I'm a bit of an obsessive hoarder of records, toys, streetwear and sneakers. I've had an active interest in sneakers since childhood and while there may have been some short lapses, it's always come back around.
As for Dunks, they came into my world during Nike's golden period, the early to mid 80's basketball high top era. Back when pretty much every high-top shoe Nike made came in white leather with a royal blue swoosh. The Dunk interest got re-triggered again much later on when I was able to travel, being captivated by NYC graffiti culture and seeing in Japan the obsession for old athletic Americana and vintage sneakers. The Dunk silhouette was always around visually since I've been buying and obsessing over sneakers.
What's your earliest personal experience with the sneaker?
If you mean the Dunk, and in real life, not sports magazines, catalogues or album shots, then it was seeing a crusty, yellowed sole, vintage Michigan Dunk High in a Tokyo store back in the early 90's. It had so many zeros in the price, that even in Yen it was literally hundreds of pounds, which I remember vividly, was just insane back then. I didn't understand then what the fascination was with moldy, ready for the bin sneakers, it just goes to show how far ahead of the curve the far east was, literally by decades. My own first pair of Dunks were a pair of UNC High tops if I recall, from Passenger, just off Carnaby street, in late 1998? They cost £45/50 then.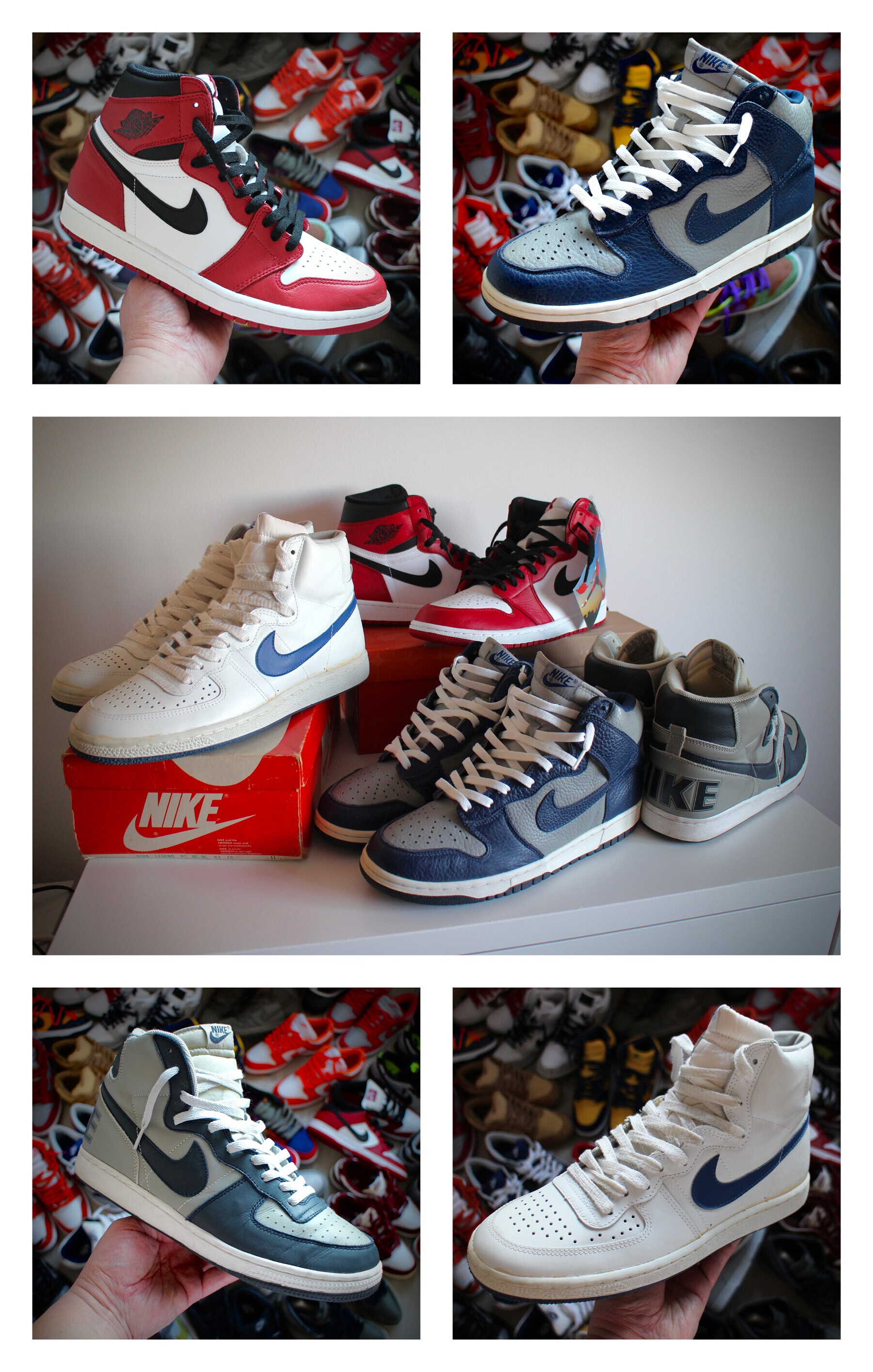 What does the Dunk model mean to you?
That's so hard to answer! Personally, it is just a very comfortable, super functional, timeless silhouette. Peter Moore did an amazing job creating something that aesthetically was very simple, had super clean lines, and was very easy on the eye. Testament to that, it has endured for 35 years, works in any colour, and has become a blank canvas for each new re-iteration. The reason it was never widely available for so long until the late 90's re-issue, just meant anyone who knew about it and were not lucky enough to own original pairs were always hunting/waiting for it. If you were into Nike high tops, I guess it was the one model you just wanted to have. Add to that, a very economical, retail price point, it's unbeatable value really. A truly versatile and remarkable, yet an everyday wearable shoe.
From its debut in 1985, the Dunk has shared a significant defiant spirit. Why do you think such a sneaker connected in the way it did back then, to you and others around you?
To anyone who knew about the origins of the Dunk, it wasn't a mainline shoe. It wasn't a Nike Air Jordan 1, or an Air Force 1 etc, those were big, expensive inline shoes designed to have a wow factor, they had a commercial, mainstream pedigree and delivered well on that.
The Dunk was a hybrid influenced from the big Nike's at the time, the Legend, Terminator, Air Jordan 1 and Air Force 1. Therefore, by default, it was the rowdy upstart, originally intended for college basketball teams, for players with a lot to prove, with a whole lot of attitude. The Dunks came in bold colours, and the whole gang mentality of rival schools, opposing competition, and team spirit/camaraderie really attached itself to the shoe. It became very symbolic of all of that. That spirit was really well captured with the 'Be True To Your School' ad campaigns. Why is it popular? It's inexpensive, it's understated and it's cool and loud, and it's well suited to any number of styles, and almost anyone can identify with being a rebel. Which it still is. It just kind of stands on its own.
Your journey started with 80's Hip Hop/Basketball, do you think in the modern day such things like music and sport play a huge part in what people are wearing, in particular their sneaker choices?
Yes completely. Probably even much more so today. Everyone is influenced by everyone else now, its not sports or athlete specific. With advances in technology, social media reach is almost completely omnipotent. Global athletes are lifestyle icons on and off the game, music idols/icons are 100% driven by image which in turn sells their music and vice versa, it's a totally symbiotic. Everyone wears sneakers. More importantly, everyone shows what they are wearing on social media.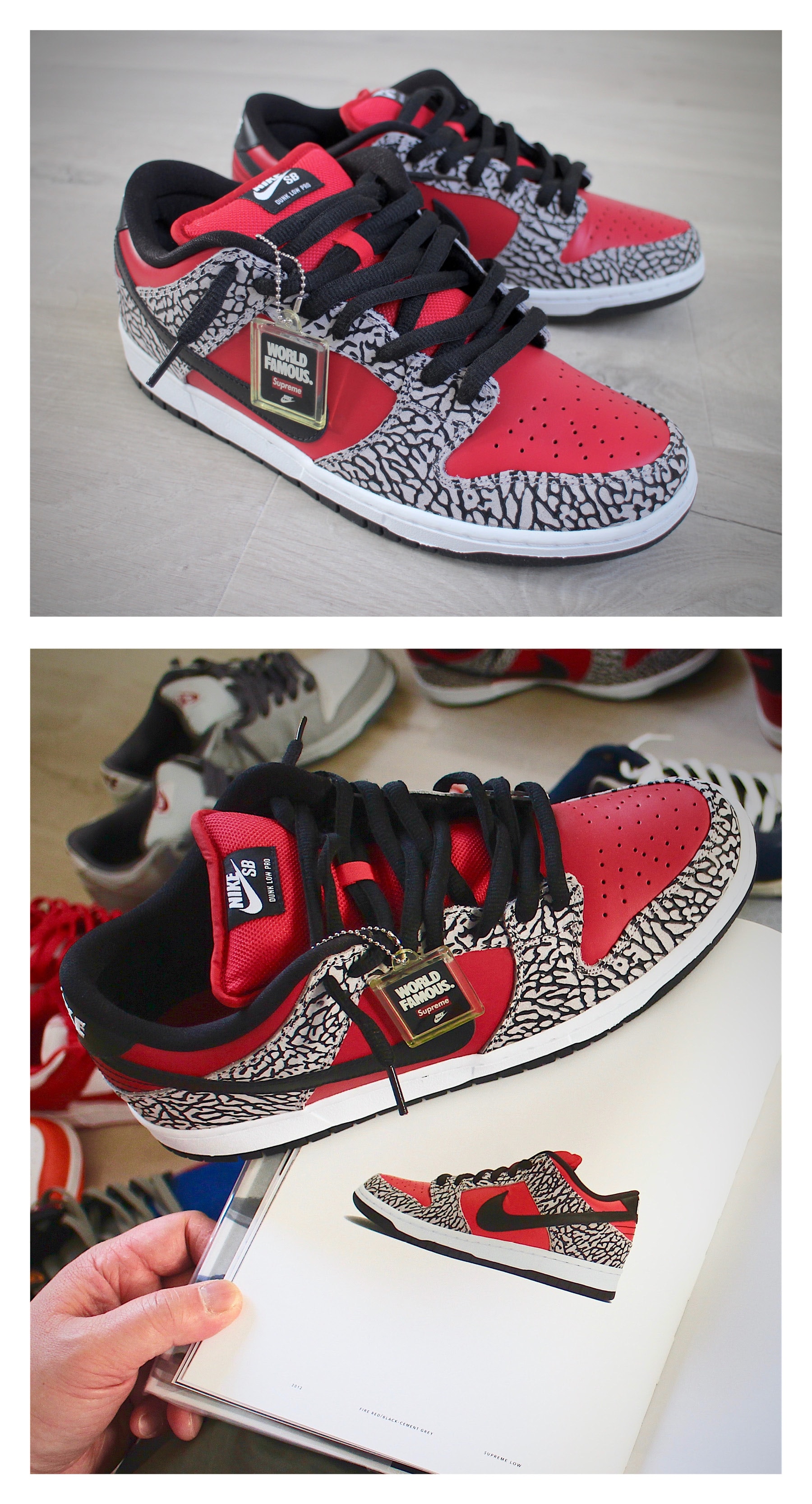 The Nike Dunk is widely regarded as one of the sneakers that really kickstarted sneaker culture, why do you think that is?
Timing I think. There's been many phases in this entity we call sneaker culture. I feel sneaker culture has existed as long as sneakers came in different colours. If you bought sneakers out of any kind of pre-conceived habit, whether it be a repeat purchase from experience of comfort or want of new colours, even if you cleaned them with any kind of interest, and owned, say several pairs. Alongside others, this became sneaker culture. There's been many landmark moments with the Dunk, which can be tied to many individual shoe releases. Each one can be attributed to creating a huge shift that either elevated perception of sneakers or induced widened mainstream appeal. The Dunk fortunately has been at several of these junctures for the last 20 years, some of it with changes in technology. Whether it was the introduction of the Nike Dunk as a Skateboarding line in 2002, which grew from online platforms like Niketalk peaking to the dare I say it 'riotous' release Pigeon/Paris/London Dunk Sb in 2005 or the Travis Scott SB Dunk in 2020, which took on a life of its own on Instagram. The shifts have been frequent, and each one varyingly incremental. Each moment adding to the Dunks history.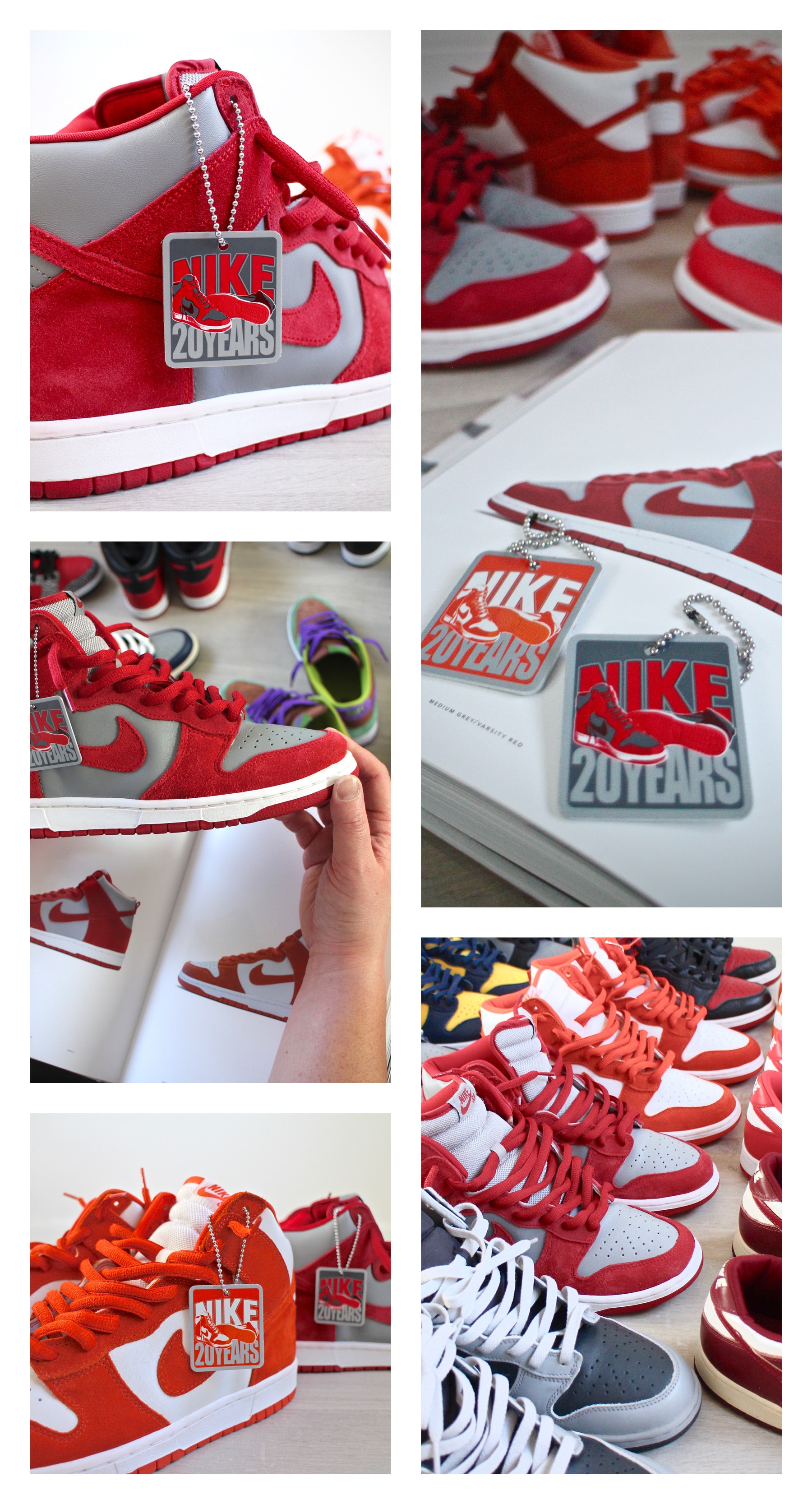 Dunk has become this signifier of evolution – from basketball, skateboarding and fashion. Why do you think the Dunk in particular has played a big part in so many movements?
Great question. I think its cyclical. Dunk fans have always been Dunk fans, even when there were periods where Nike stopped producing so many in any specific period. There's almost been a drop off each time it goes away and each time it comes back more and more people see and immediately feel familiarity with it, even if they never really wore it before and they all embrace it. Then of course old fans come back as well. So, it swells massively in popularity each time because at any one time it becomes available again, that number really grows. The Dunk lends itself to re-invention, and doesn't rely on any Air, technology, or prolonged athlete endorsement. It's authentic, it hasn't really changed that much, and that is part of the appeal, what you see is what you get. It just works.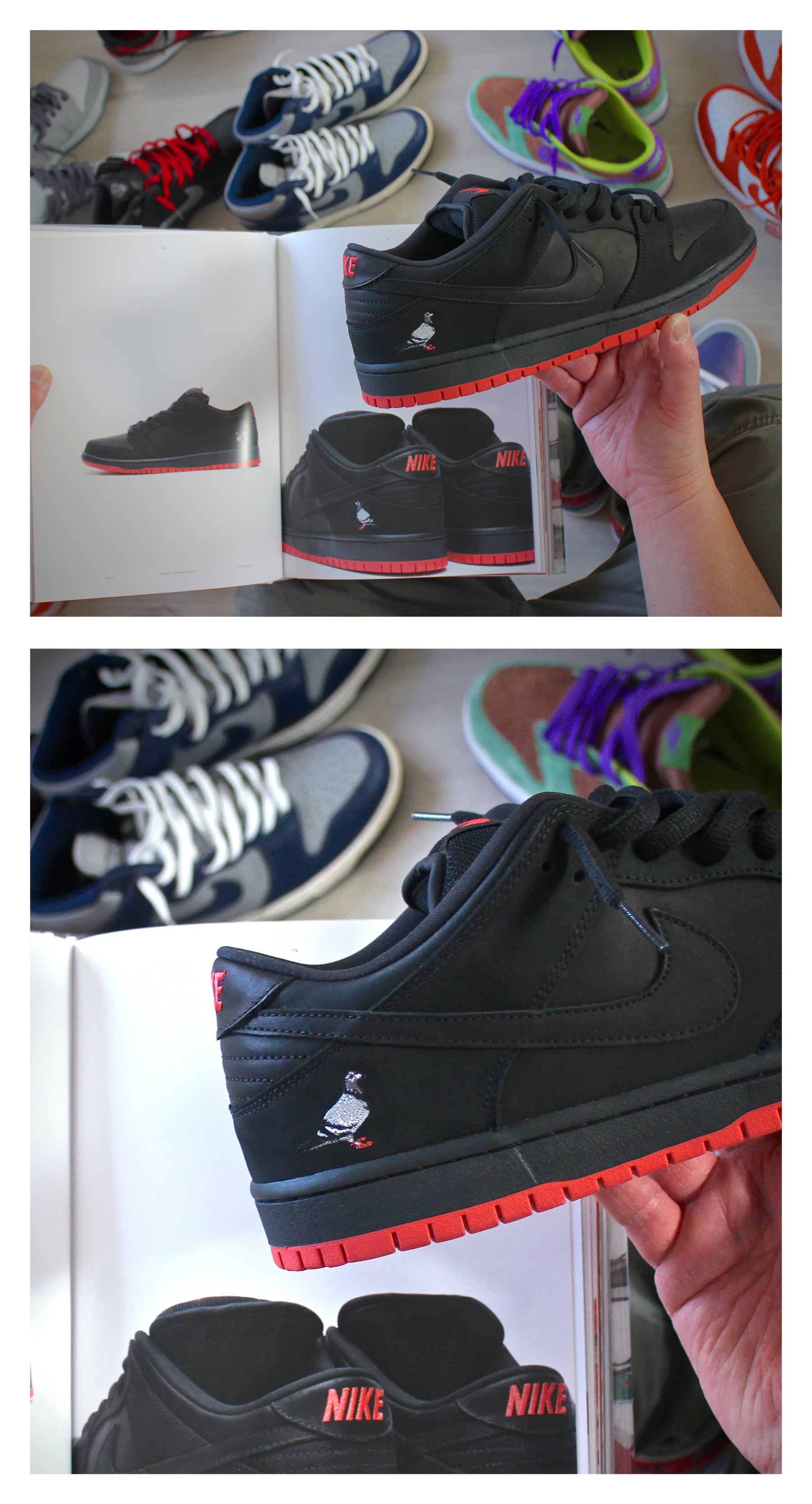 The sneaker market has evolved massively over the last 20 years, do you think this has been a positive move for the Dunk? As it may not be seen as the underground icon it once was pre-internet launches?
It has its moments, you can't change or stall technology, and 'the game' for lack of a better term has definitely changed as a result. The visual product information and communication is always evolving, and if anything, it reaches you faster, becomes more disposable, infinitely more expensive and it's all instantly available on your phone. There is still a hunt for sneakers, but it has shifted. The notion of walking into a retail store and not knowing what's on the shelf until you see it, is long gone. The experience of surprise. Now the sneaker comes into existence virtually, sometimes months before release (and if you are unlucky, which most of us are) the hunt /pursuit carries on long until after its release.
The Dunk became an underground icon because it wasn't really easy to get then, in any era of release, you had to really search far and wide for it. Strangely enough, I don't think its particularly easy to get now. At all.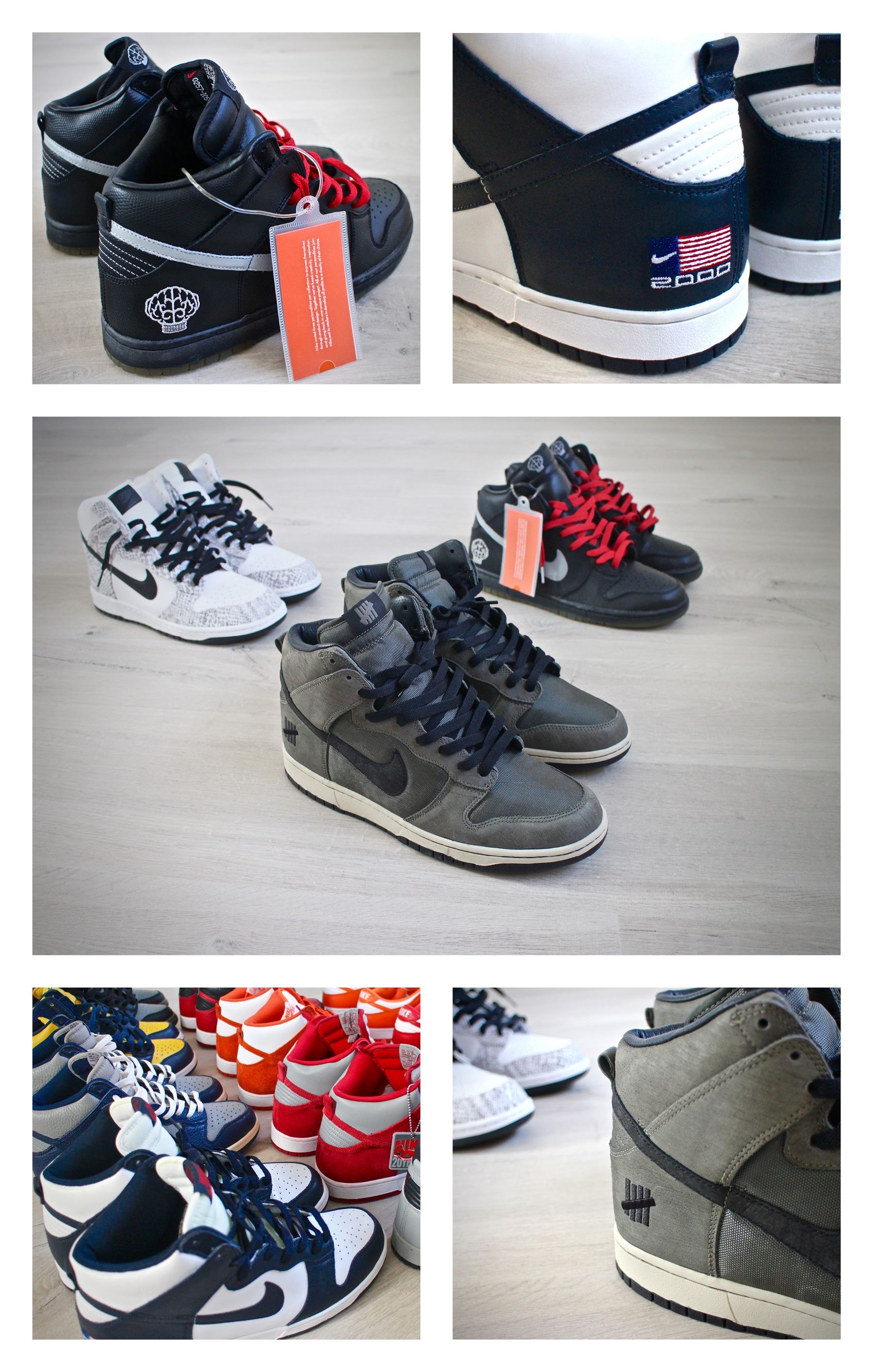 What are your favourite pairs and why?
This changes a lot, but from what I own, I am always hugely fond of the original 'Be True' college packs, SB, CO.JP, highs and lows, all are just really good, eye-popping colour ways. I've never had them all at the same time, and the early re-issues I simply destroyed and never kept any once worn out. So, if Nike bring them back, I'm going to be all in. Other notable pairs that come to mind are a mix of collabs and concept pairs like the Dunkle SB, Mondrian SB, Stussy High, Undefeated Olives - the list is long. From what I don't own or will ever, it will probably be the Deftones Dunk High F&F pair.
First released as a CO.JP exclusive in 2001, Nike are set relaunch the 'Veneer' edition of the Ugly Duckling pack. What are your thoughts on re-releasing retro models for the modern market?
There is a mind-set that they are not the originals, but a facsimile of what they were and that somehow old sneakers should be sacrilegiously rare and remain obscure. But I am ok with Nike bringing back out old models, I am fine with that. From what I have seen, they are really well made which is really important, and the subtle differences should really be there, they should be of its time and I am just pretty excited you can get new versions of them again. 20 years is along time, and I wouldn't want it to be exactly the same anyway. I'm all for it. Nike seem to really care about these releases, and that's great.
They are very good. Just enjoy it!
Finally, if you could choose one Nike Dunk to relaunch, what would it be and why?
I would love to see the Georgetown / Atmos Japan Dunk Low come back. This pair has always eluded me in my size, and being one of the best Terminator and Dunk High colourways, I'd simply like to put that one to bed. Actually, I might even retire from it all, on a couple of pairs of that one…!
Then again, perhaps just re-issue all of it, the Pigeons, Tiffany's, Floms, City Packs, anything that is ridiculously un-obtainable. Just put an end to the suffering. Why not? It has been long enough, and if done well, why can't it be a possibility?
As the saying goes, 'life's short, just buy the sneakers!'