THE NORTH FACE: THERE IS STILL MORE EXPLORING TO BE DONE
We all know of
The North Face
, whether it's having grown up around the older guys on your estate donning black The North Face jackets and 110s or from your old man rocking a Denali fleece. As my interest in fashion flourished, I was enamoured by that 'Half Dome' logo, but in a context of my own, just like you.
Underpinned by the free-spirited, adventure-fuelled motto of 'Never Stop Exploring',
The North Face
has garnered a reputation that is tough to rival. At face value, the influence of The North Face is hard to comprehend but, when you break it down and look at it in chapters, you begin to see the full-force of the effect. What was originally started in the 1960s as a modest husband-and-wife duo by Douglas Tompkins and Susie Tompkins Buell making climbing accessories they did not have access to - again, another example of an outdoors brand born out of necessity - has become one of the most iconic brands on the planet; not necessarily a deliberate move by the brand itself. Entirely rooted in exploration, the logo alone, inspired by the north of the 'Half Dome' in Yosemite, California, speaks volumes of their values.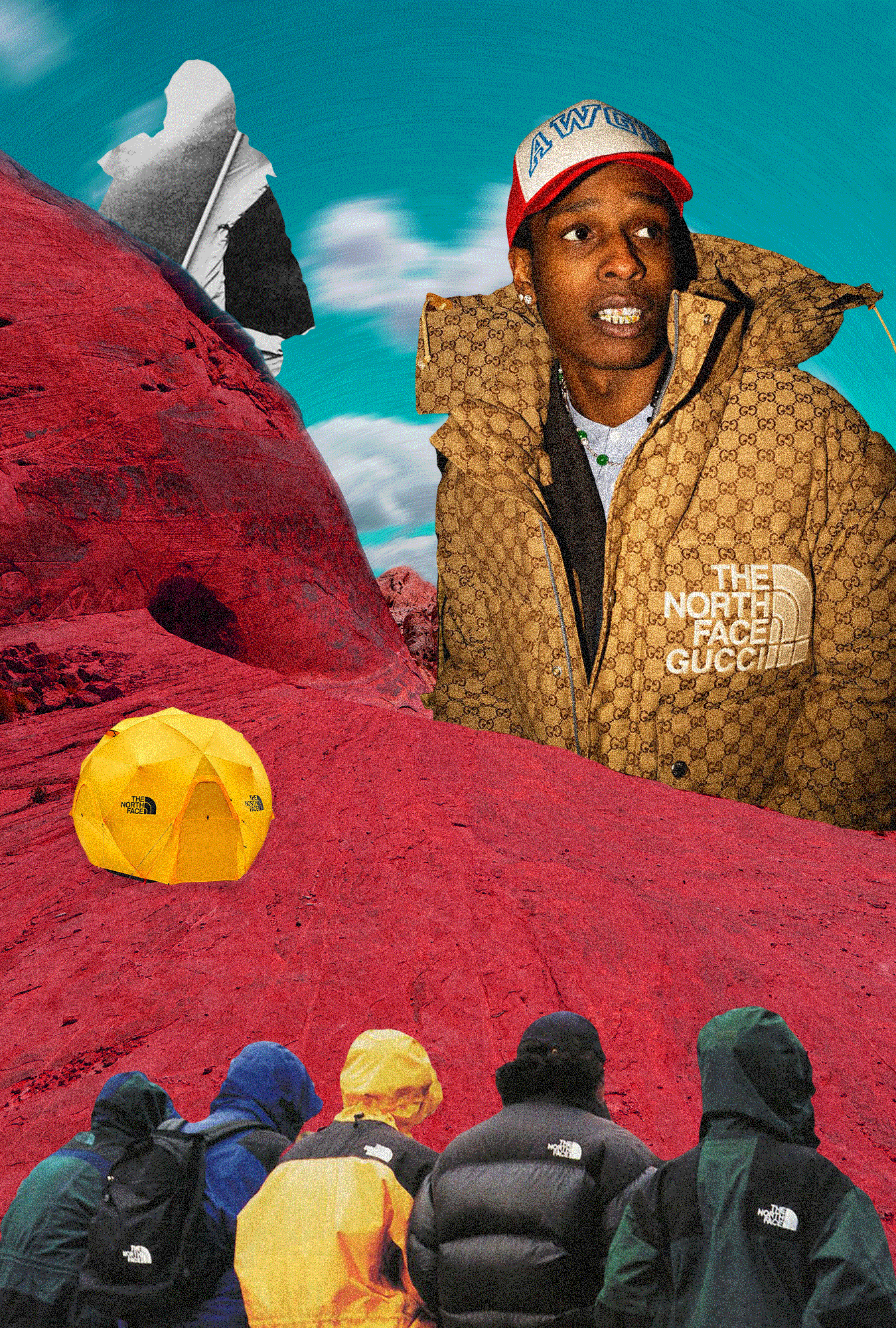 Throughout the article, we will touch on iconic moments in pop culture that have solidified the brands position, to collaborations with fashion houses like Gucci and the way it has been adopted by folk all across the world; some for function, some for form, some for both. When we consider the effect of The North Face, we look at a number of factors that have contributed to the maintenance of their reputation throughout the brands lifeline. To truly get to the bottom of this, we need to go deep into the belly of the beast, ask the right questions to the right people and understand what has made The North Face the powerhouse of today. There's more to the brand than the Nuptse and Mountain Parka, but their impact on the world is irrefutable.
To get a broader and more honest perspective of The North Face, I reached out to three individuals for their different experiences, past and present, with the brand. First of all,
Jake Ivill
, a born-and-bred Northerner who lives and breaths The North Face and Nike 110's; secondly,
Material Archive
, an Instagram account dedicated to sharing knowledge about materials; and, finally, Climber, Liam Furneaux, who runs account
Advanced Rock
, a page that is devoted to climbing and everything outdoors-related.
By stripping things back to basics, we can fully understand the whole picture and look at how The North Face has evolved in the 55 years since its inception and see the steps that have contributed to the overwhelming influence from the mountaineering label. Back in 1966, husband and wife duo, Douglas Tompkins and Susie Tompkins Buell, started The North Face as a small, mountaineering specialist store that stocked a comprehensive range of high-performance climbing and backpacking equipment in San Francisco, California. Two years later, the company relocated to the other side of the San Francisco Bay, Berkeley, with a change of direction in mind: to design and manufacture their own range of high-specification mountaineering gear. By turning their attention towards developing their own product they could stand by, they could attest to the quality and outfit a devoted following of avid outdoor athletes. With their reputation blooming among the right circles, The North Face began sponsoring expeditions to far-flung and largely untouched regions, giving birth to their mantra, 'Never Stop Exploring'. Since their inception through to present day, they have been consistently 'pushing the boundaries which speaks volumes for the brand', Advanced Rock points out to me.
Throughout the 70's and 80's, The North Face emerged as a favourite for outdoors aficionados and became entrenched as a brand of choice among skiers - later leading to them developing a range of extreme ski-wear - partly thanks to their embracing of the 70s free-spirited attitude held by the aforementioned. As the end of the 1980s rolled around, The North Face was an all-encompassing supplier of tents, high-performance outerwear, ski-wear, sleeping bags and packs. To this day, 'I do see a large number of other climbers either wearing TNF or using their packs to store all of their gear' - Advanced Rock notes - reaffirming their position as a supplier of all functional outdoor-oriented products.
The 1990's proved to be a tale of two halves for
The North Face
. Their reputation as a manufacturer of purpose-built technical pieces preceded itself as they were recruited to supply protective clothing for the 1989-1990 TransAntarctica Expedition. Skiing for seven consecutive months across 4,000 miles of untouched Antarctica, the six intrepid adventurers, led by Will Steger and Dr. Jean-Louise Etienne, battled 100mph winds and temperatures that plunged below -100 degrees F. In the most primitive form, each of their lives depended on what they wore: custom-built, Eskimo-styled clothing provided by The North Face with their own signature twist. The clothing was designed by Mark Erickson of Erickson Outdoors who took previous failings of similar TransAntarctic expeditions on board and turned that knowledge into a practical application; for example, he avoided cotton as it tends to absorb moisture, therefore the clothing would inevitably freeze up. In addition, Erickson opted for a GORE-TEX membrane - in fact, W. L. Gore and Associates was a primary sponsor of the expedition - in the construction of said parkas which was optimal for moisture management; it prevented sleet, rain and snow from entering while allowing sweat to escape. To heighten visibility for safety and television appearance, bright colours like purple and orange were used on the clothing. Up until this point, The North Face was recognised by its devote following but now it had been propelled onto the world stage thanks to extensive media coverage of the escapade. In fact, this occasion was so iconic that The North Face has referenced the original clothing a number of times: the first time was in 1990 when they put out a TransAntarctica collection that featured GORE-TEX stitching and the six-flag logo representing America, Britain, France, Japan, Russia and China. Two other times include their Spring/Summer '17 collaboration with Supreme and a capsule collection in late 2019. It's a testament to their overriding reputation. The North Face holds the ability to, on a number of occasions, reference a historical event they partook in and sell it without the perception of it being watered down. Lo-and-behold, The North Face effect, the brands ability to craft 'innovative products whilst still being true to their heritage and staple products' is unmatched, as mentioned by Material Archive.
"In my opinion the Futurelight™ technology is definitely something special in terms of textile innovation. A really competitive material in the world of waterproof membranes, being the only one created using a nano-fiber structure, with optimal air permeability." – Material Archive
While their involvement in the 1990 TransAnarctica expedition worked wonders for their reputation as an outdoor gear specialist, the space they occupied was becoming increasingly crowded with the likes of Patagonia and LL Bean, all jostling for top spot. Unfortunately, despite the reputation they'd maintained for over two decades, The North Face filed for bankruptcy in 1993. The company was then sold at auction and thus, once again, the brand changed hands to a group who would eventually be named, The North Face Inc.
"The brands ability to be adopted by global subcultures has allowed The North Face to be exposed to new audiences, gaining traction in newfound places that may have seemed out of the question before."
While The North Face was recognised by its mantra 'Never Stop Exploring', it was their involvement in New York's hip hop scene that would ultimately propel them to newfound heights, one of the main catalysts behind the brands modern success. 1993 became a crucial turning point for the brand. The East Coast of America is known for its bitterly cold winters and The North Face apparel seemed like a suitable antidote to that problem. It was at this point that a number of rappers including Method Man of Wu-Tang Clan, LL Cool J and Notorious B.I.G were pictured donning the brands most insulating goose down jackets, propelling the brand to become an icon amongst the youth of New York. Throughout the 90's, it became a style of status which has transcended through to modern day, 'While also not pushing it on any certain type of person, the right, cool people have always found it without having to have it marketed towards them', Jake Ivill told me. As well as being adopted by those early hip hop pioneers, it was a symbol of Grime music in the U.K sported by the likes of AJ Tracey, further showing the brands influence in all circles. Despite its growing popularity amongst youth worldwide, and seemingly cult-like status;
The North Face
maintained its reputation as a high-performance brand, whilst engaging with those outside its core audience.
"It's just iconic in a really low-key way while maintaining an air of internationality about it. I'm wearing it because of lads on an estate in the north of England but it could quite easily be because of hip hop videos so you're almost wearing it with multiple meanings like there's not just one source for liking it you find it when you find it." – Jake Ivill
After that pivotal turning point in the early 90's, The North Face was later acquired by VF Corp - the parent company for the likes of Vans and Timberland - in 2000. But, the Millennium has been kind to The North Face as it continues to be a cultural force in fashion, collaborating with those from all sectors of the industry, from prestigious fashion houses such as Gucci to designers like
Junya Watanabe MAN
and HYKE and the skate brand Supreme. We could write a feature-length article on The North Face collaborations alone! You wouldn't expect a company the size of The North Face to have such an extensive collaborative portfolio, but they operate in a league of their own. Early on, they recognised the importance of joining forces with other brands, no matter how different they may seem which Material Archive credits them for, as mentioned in the following, 'By choosing the right collaborations over the years, it gave the brand a way to be associated with different subcultures without losing its identity as an outdoor clothing label.' Through collaboration, they strengthened their ability to reach new audiences and diversify.
To the delight and despise of many, Gucci and The North Face collaborated in January of this year (2021) across a range of outerwear, accessories, skirts, dresses, backpacks and, for the fans of luxury Gorpcore, a tent and sleeping bag. Much like Supreme and Louis Vuitton's collaboration in 2017, this was a real crowd splitter but, once again, only served to heighten the profile of The North Face. While their partnership with Gucci is not to the taste of everyone, it is a stark reminder of their ability to permeate even the most exclusive of fashion circles. Also, it actually marked the first time Gucci has partnered with another brand while under the watchful eye of Creative Director, Alessandro Michele.
The brand now has multiple diffusion labels which are highly-sought after all around the world; whether it be their South-Korean White Label or Japanese exclusive, Purple Label, led by Nanamica's Eichiro Homma. With each line designed with a different purpose, aesthetic and function in mind, there's a bit of The North Face out there for everyone. Purple Label, for example, 'adds an extra element to what they offer' as they put a contemporary menswear spin on pieces from their rich archive, staying true to their heritage whilst reaching out to new, unfound areas. Another of their lines that we are yet to mention is
Steep Tech;
originally released in 1991, it was one of their first athlete-designed collections brought to fruition by skier, Scot Schmidt. Built with function and performance in mind, Steep Tech honours The North Face's original commitment to design but it also allowed athletes to perform at their highest possible capabilities with space for avalanche beacons, ski tools and sunglasses. In 2021, the collection has been reinterpreted in a street context, reaffirmed by collaborations with Supreme in years gone by. Key pieces in the Steep Tech range include the Tech Down Anorak, Apogee Anorak and a series of graphic-emblazoned pieces, all evoking a sense of nostalgia birthed from that original 1991 collection - emotion sells. Much like their approach to collaborating with other brands, The North Face recognises that through these diffusion lines with distinct identities, they can tap into consumers outside of their core identity.
"The climbers they work with and sponsor are all pushing the boundaries which speaks volumes for the brand. When I'm out climbing, I do see a large number of other climbers either wearing TNF or using their packs to store all of their gear." – Liam Furneaux
The North Face is held in a particularly high regard in the North of England where connections and community runs deep. Jake reminds me that the brand still holds 'that element of one-upmanship', even if you're popping down to the local shop on the corner, if you're wearing your
The North Face Nuptse
then it commands respect. To really convey the prestige and reputation of The North Face, we had to speak to someone who lives and breathes the North - Jake Ivill. 'I grew up on an estate in Little Hulton (between Salford and Bolton) that was near the Henri Lloyd factory, and we were all kitted out in that because there were plenty of questionable family and friends around that were backdooring their coats through questionable means. But, all the older lads had black The North Face jackets and 110s or Shox on which made them look mean and unapproachable on the precinct and, even more so, they looked so cool - proper gang mentality.' The North West of England isn't renowned for its pristine weather - it rains 50% of the time - so its symbiotic relationship with The North Face, and outerwear in general, is wholesome and genuine while still demonstrating that you know your stuff. If you could squeeze in a summary, it would be along the lines of this, 'No matter what, when you're in town, abroad or on the internet, you attract those lads with the same stories, and not just from estates in the North West, all over England.' On the other side of the country, having grown up in Bristol, Advanced Rock's first sightings of The North Face came around 10 years ago when the older guys who were skating they would sport Nuptse jackets with Nike SB's and tracksuit bottoms, a very similar experience to Material Archive.
What started as a humble and modest mountaineering specialist store has gone on to become one of the world's most iconic brands, whether you recognise the Half Dome logo, know the name or own a piece of The North Face gear. While some companies are where they are through spending millions upon millions on marketing and PR, The North Face's commitment to quality and diversification has them continuing to soar. The Half Dome has transcended beyond the outdoors into realms that the late Doug Tompkins could never have fathomed, from Grime music to estates in Little Hulton and on the back of Method Man. As sustainability becomes more of a priority and further advancements are made in the way of material technology, particularly in regards to their FutureLight material, there is plenty more exploring to be done.
The latest collection of
The North Face
is available in-store and
online now.
Words:
Ali George Hinkins
Special thanks to
Jake Ivill
,
Material Archive
&
Advanced Rock