RUDY LIM'S ANATOMICAL APPROACH TO THE SNEAKER SPHERE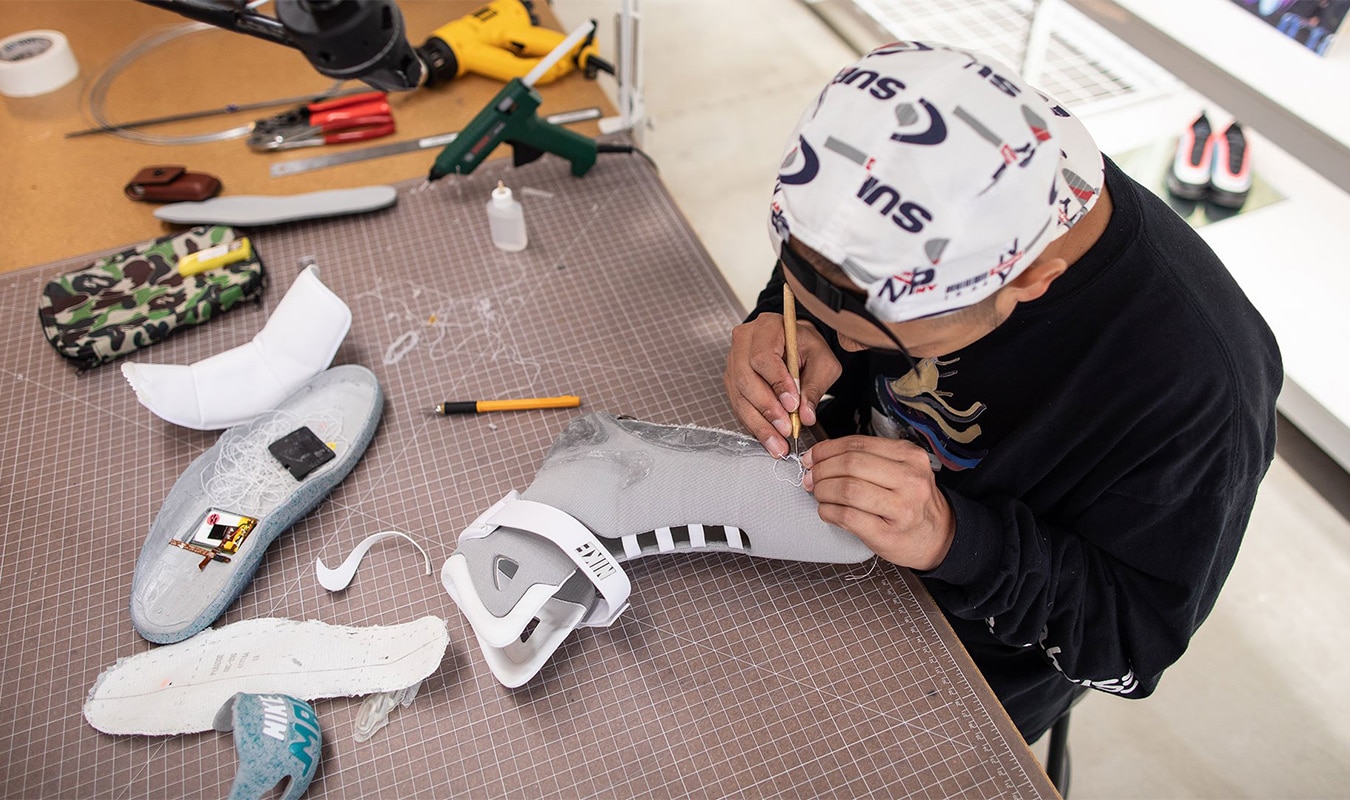 The workings of
Rudy Lim
are intricate, fascinating and certainly innovative. It is a new approach to art, without building an item or object up into a new form, it is dissected and uniquely portrayed to showcase its inner workings and layers not usually exposed to the naked eye.
South-Korean based, Rudy Lim constructs this new point of view, a one that shows sneakers in another light, honouring the time, materiality and production skills that go into creating each and every pair.
SEVENSTORE sat down with
Rudy Lim
to talk about his unique craft, the people that inspire him the most and what he has are his upcoming plans.
SEVENSTORE: Can you introduce yourself and what you do?
Rudy:
I'm Rudy, a sneaker artist living in Korea. I dissect sneakers, make sculptures with anatomical approaches, spread out all the pieces and put them in frames.
There's a little more special work, like putting pieces of disassembled sneakers on clothes and making them into toys that you can play with on RC cars. I decorated it with Diorama once, but it was very hard. But I want to make more diorama and more great work.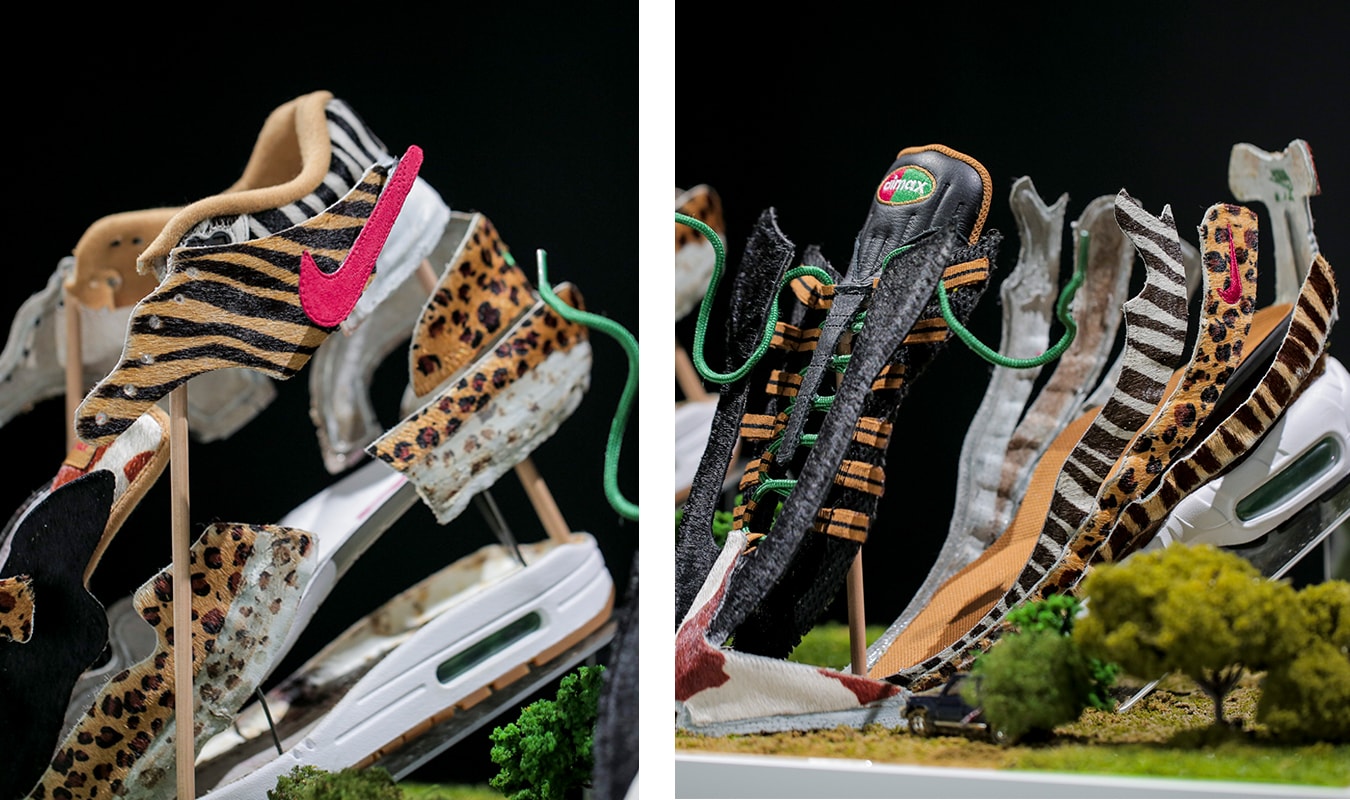 SEVENSTORE: How did you get into art and sneakers?
I really liked basketball and hip-hop. As you know, these two are very closely related to sneakers. I liked Michael Jordan's sneakers and followed the shoes that rappers wore.
Something seems to have been influenced by my favorite culture. I've also been interested in subculture. Actually, I'm not really into it, but I want to see exhibitions or respect their culture, and sometimes I want to be an artist. I've thought about it.
I've actually been a rapper for years. And I've loved drawing since I was young. I liked making things and I think I did well soon. My father was a tenor and he was good at all sports. He's a great painter, too. My mother is also good with her hands. I think all of these talents come from my parents.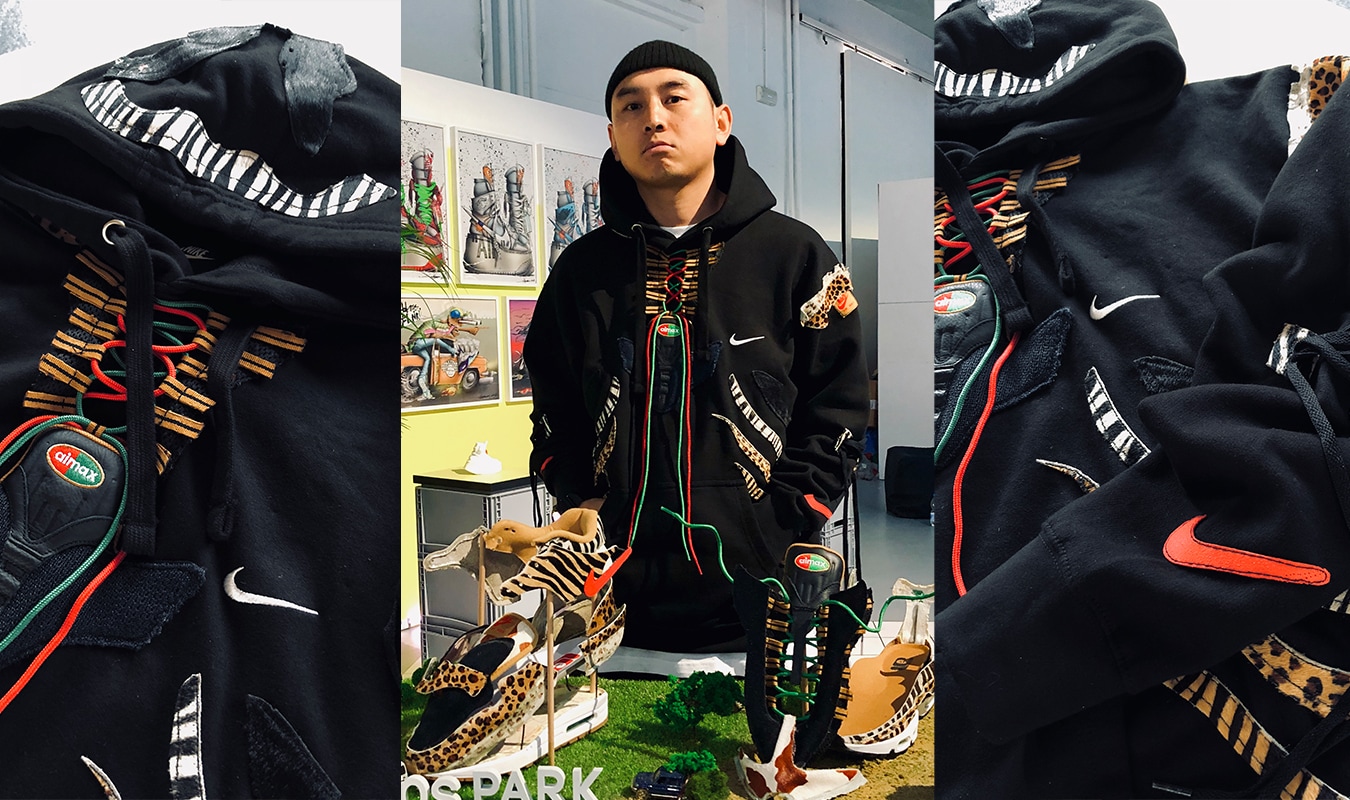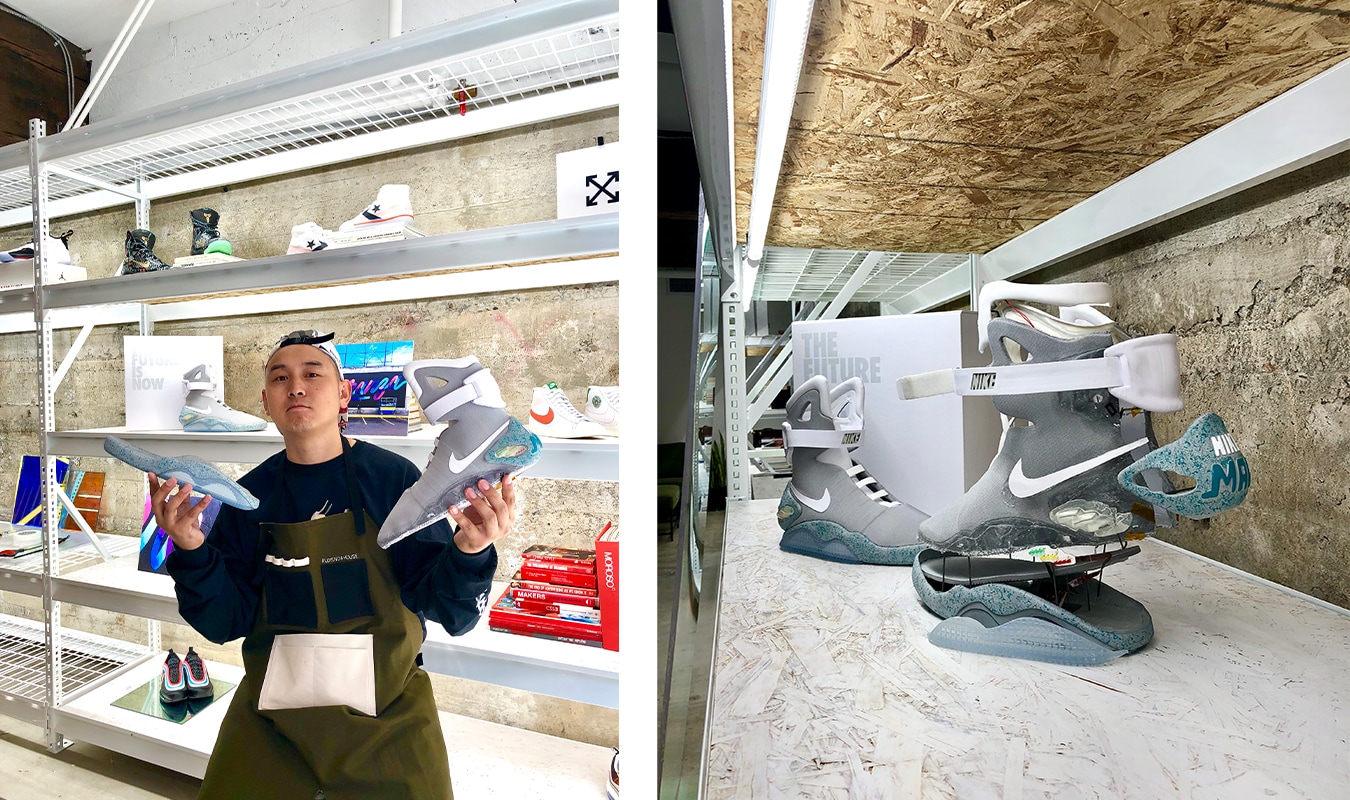 SEVENSTORE: People in the industry have a connection to sneakers throughout their life, was there a pivotal moment when you decided to follow your path as an artist?
Rudy:
That's interesting, but I didn't want to be an artist when I first dissected sneakers. I didn't think, "This will be my first work!" I was just curious about the internal structure of the sneakers. And I wanted to express the disassembled sneakers visually.
Since then, photos of my sneakers' anatomy updated on Instagram have spread, and one day people were calling me "Sneaker Artist Rudy."
And I was surprised. "What? I'm an artist?"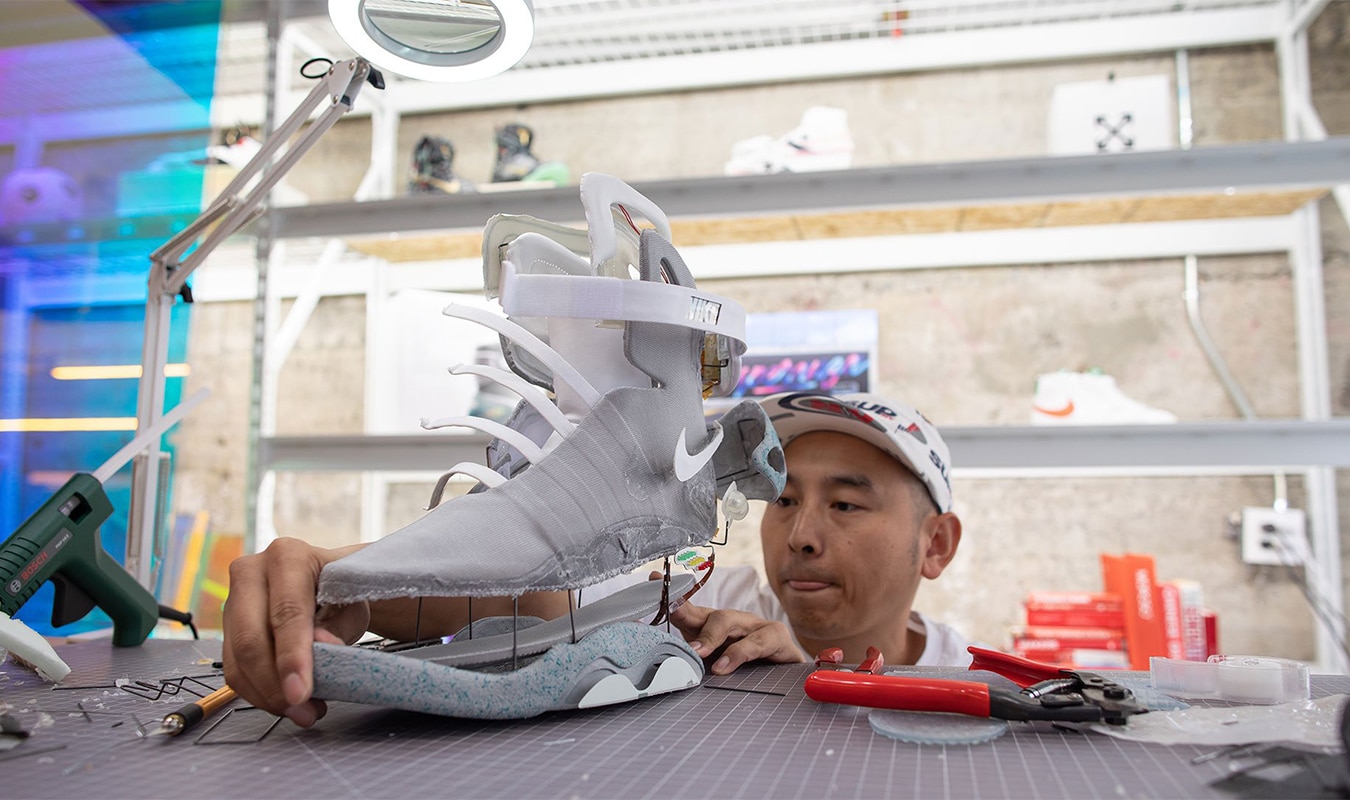 SEVENSTORE: Can you tell us about the process of making your work?
Rudy:
There are not many steps. First, separate the body and midsole of the sneakers. Then remove all the stitches. There is more sewing than I thought and this work is very cumbersome.
The basic method used to be to cut off all sewing using a knife, but recently I found out how to remove the stitches without using a knife. But it takes more time, but there is something very pleasant about it. Once all the pieces are separated, work on the inside of each piece to support it with a glue gun and a thin wire ear. This is the most troublesome and patient task.
Finally, I use a thicker, stronger wire to secure the pieces in place with a glue gun. It takes about two to three days for the work to be completed. Another way is to spread all the pieces and put them on the frame, which takes about a day.
SEVENSTORE: Do you have a role model that you've drawn inspiration from when designing your art?
Rudy:
There is an artist who always talks first. His name is Coolrain. He is living in South Korea like me, we are so close now. He is already well known and effects many artists around the world. Please check him out.
There are more artists I like. If I talk about one more person, I like Joshua Vides. He turns everything into a cartoon with a black marker pen. Every piece of art he does is very amazing.
He is an artist whom I really want to collaborate with one time.
SEVENSTORE: How do you get ideas for your work? What is your thought process?
Rudy:
At first, I was just curious about the internal structure of the sneakers, so I opened everything I had or could buy. Then, the amount of work increased, and I decided to focus on the story of sneakers and the design that can be seen from the outside.
Since then, I have made RC car toys inspired by the minibus of Sean Wothespoon, and ATMOS Park inspired by ATMOS Airmax. The latest inspiration was Nike Dunk Ben and Jerrys. But unfortunately, I couldn't get my hands on it. If I have a chance someday, I want to work on it.
SEVENSTORE: How has your art evolved over the years?
Rudy:
In fact, it was more important to make the work more durable than to develop it for about a year. When moving works for the exhibition, the weak pieces were easily damaged and had to be repaired again. So, it was important to make it stronger and then it was also important to capture the form or story of the work.
Some sneakers have a nice basic shape after work, such works are left untouched without any special extra work. There was more of a focus on the story and history of sneakers in the future and I want to express them more.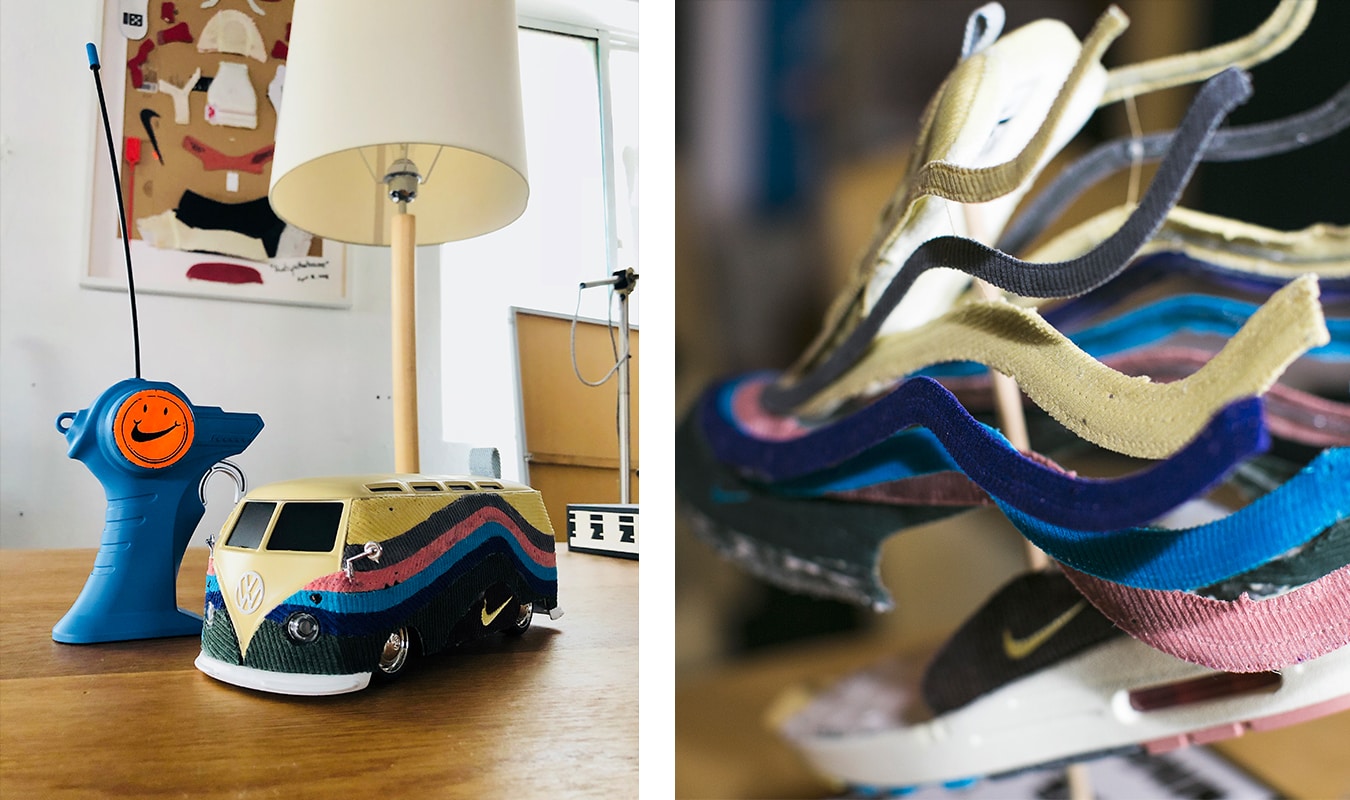 SEVENSTORE: Your interest in sneakers must be much more than a usual sneaker collector. What is it that personally connects you to deconstruct and rebuilding a pair of sneakers?
Rudy:
It was when I visited Coolrain's studio, which I mentioned earlier. His studio is full of so many figures and toys. Just enough to make me feel like one of the toys. I could see 6-inch figures wearing nice sneakers and it was really cool.
His small figure sneakers are a very small size of 5.5 centimeters. Surprisingly, however, the small sneakers had the same pattern as real-size sneakers for each piece and the number of the pieces was almost the same. After checking it out, I was curious about how much real-size sneakers looked like small figure sneakers. Interestingly enough, the first dismantling of sneakers was inspired by small figure sneakers.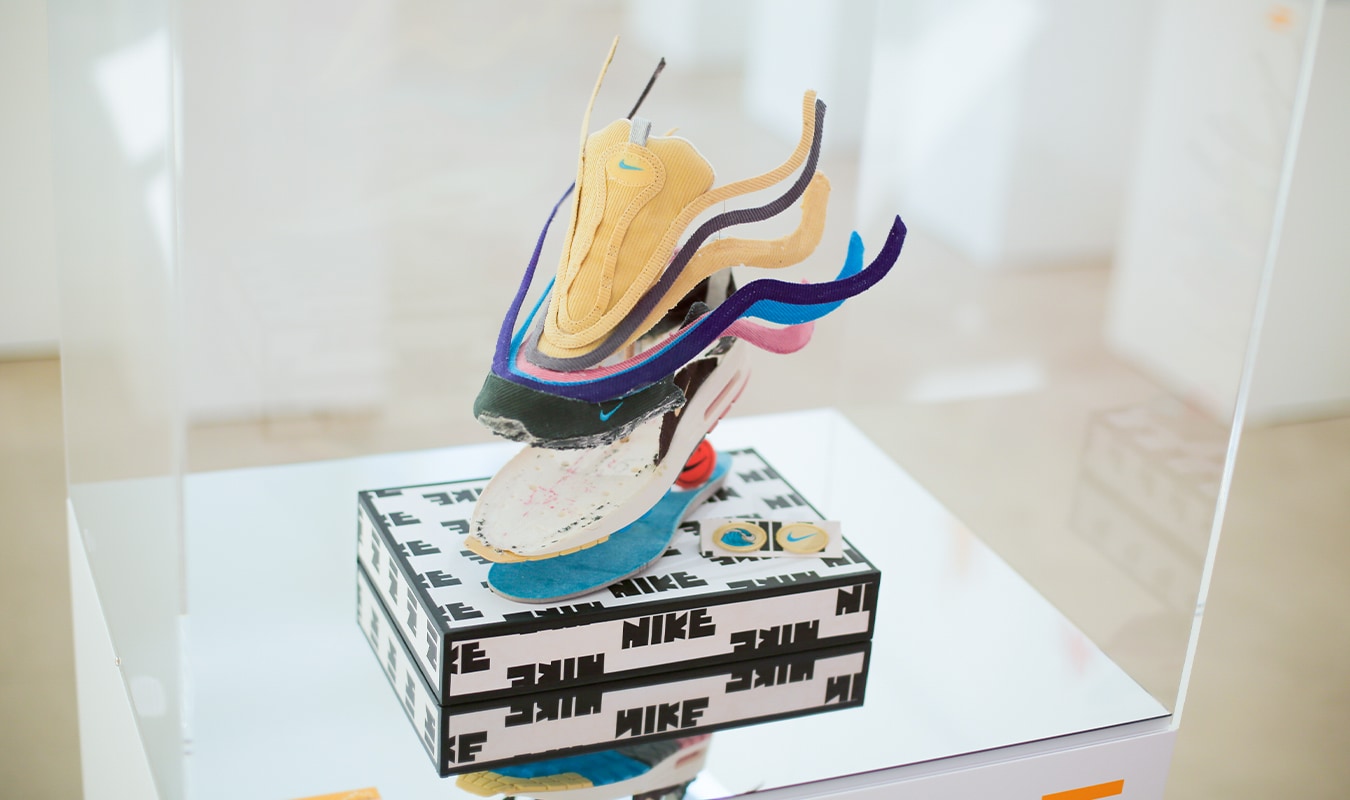 SEVENSTORE: Is there a pair of sneakers you'd love to work on and why?
Rudy:
As I mentioned in another question, Nike Dunk Ben & Jerry's is something I want to work on so badly.
First of all, the design of sneakers was a great inspiration to me, the moment I saw the picture of the sneakers, I had an idea. As you can see in the design, the image of the brand Ben & Jerry's is made of milk from cows grown in a good environment. Ben & Jerry's used the ranch where such cows grew up as a design, and I wanted to make the design look like a ranch and reinterpret it into my work. And I wanted to display the sneakers that I worked on.
If I work on it, I think it will be great.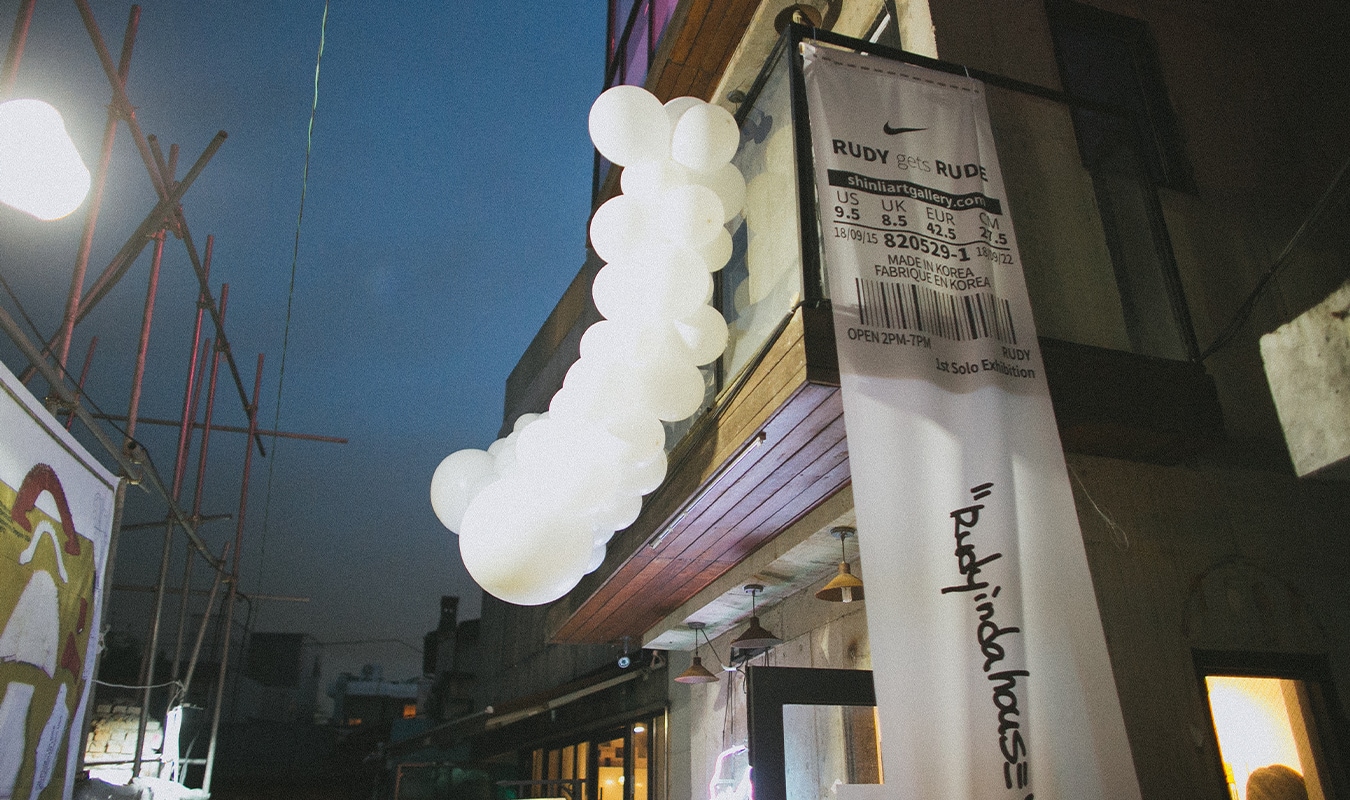 SEVENSTORE: What is your daily routine when working?
Rudy:
Nothing special, but there are a few things I don't miss every day. Check the news of sneakers that are updated every day and I try to get ideas by looking at them.
Drinking latte's in the studio and if I have any free time I will play PS4. I'm not a big fan, but my favorite cartoon "One Piece" came out as a game, so I've been playing it every day for a month now.
Playing games is like wrapping up a day.
Isn't it really normal? Right?

SEVENSTORE: Dissecting sneakers means you can't wear them again. Has anyone ever reacted negatively to your work because of this?
Rudy:
It's a lot more than you guys think.
They say, "If you're going to dismantle your sneakers, give it to me," "OMG, you're breaking $3,000!"
He also looked at my picture and said, "Do you think that's art? Trash!" and many people leave comments saying it's a fake.
I wonder if they really think that's a fake. Of course, it's true. It's fun. These reactions are just so funny to me, because since I started dissecting sneakers, I've been focusing more on working than wearing them. Of course, I still want to wear all the sneakers I've worked on. How nice it would have been to have two pairs of shoes. But in the end, it's more important to make my work.
SEVENSTORE: What has been your career highlight so far?
Rudy:
In fact, more than anything, 2019 was a career high for me.
In January 2019, less than a year after I was called an artist, I was invited to Milan and participated in the exhibition. Since then, I have toured Paris and Tokyo in February, Bangkok in April, Portland in September, Malaysia and Taiwan in October, and Prague in November. I also participate in 2 exhibitions in Seoul, Korea where I live.
2019 was too early for me and it is unforgettable year. I think 2019 will be the most memorable year in my life.
One of the most anticipated future projects is a sneakers-themed exhibition at a museum in Paris that will be held for a year and my work will participate. I can't believe the fact that my work is on display in the museum for a year.
Maybe this will be another career high for me?
SEVENSTORE: A lot of your art has been Nike sneakers, is there a specific brand/person you'd like to work with in the future?
Rudy:
Many brands have contacted me for projects. Of course, I worked with them.
Oh, I'm interested in the sneakers of luxury brands. I've worked on Balenciaga's Triple-S before, but when I took it apart, it didn't really make the luxury brand special anymore.
Of course! It's just sneakers and luxury brands are talking about design and identity and brand. But people just looked at the dissected Triple-S and said they were no different from sports brands. I want to tell people to focus on the brand's story and understand the design when they see sneakers. I think it has nothing to do with the question, but I really wanted to talk about it.
I'm a big fan of Nike, so I think
Nike
is the first thing I think about. I'm ready, if there are sneakers that always have good ideas.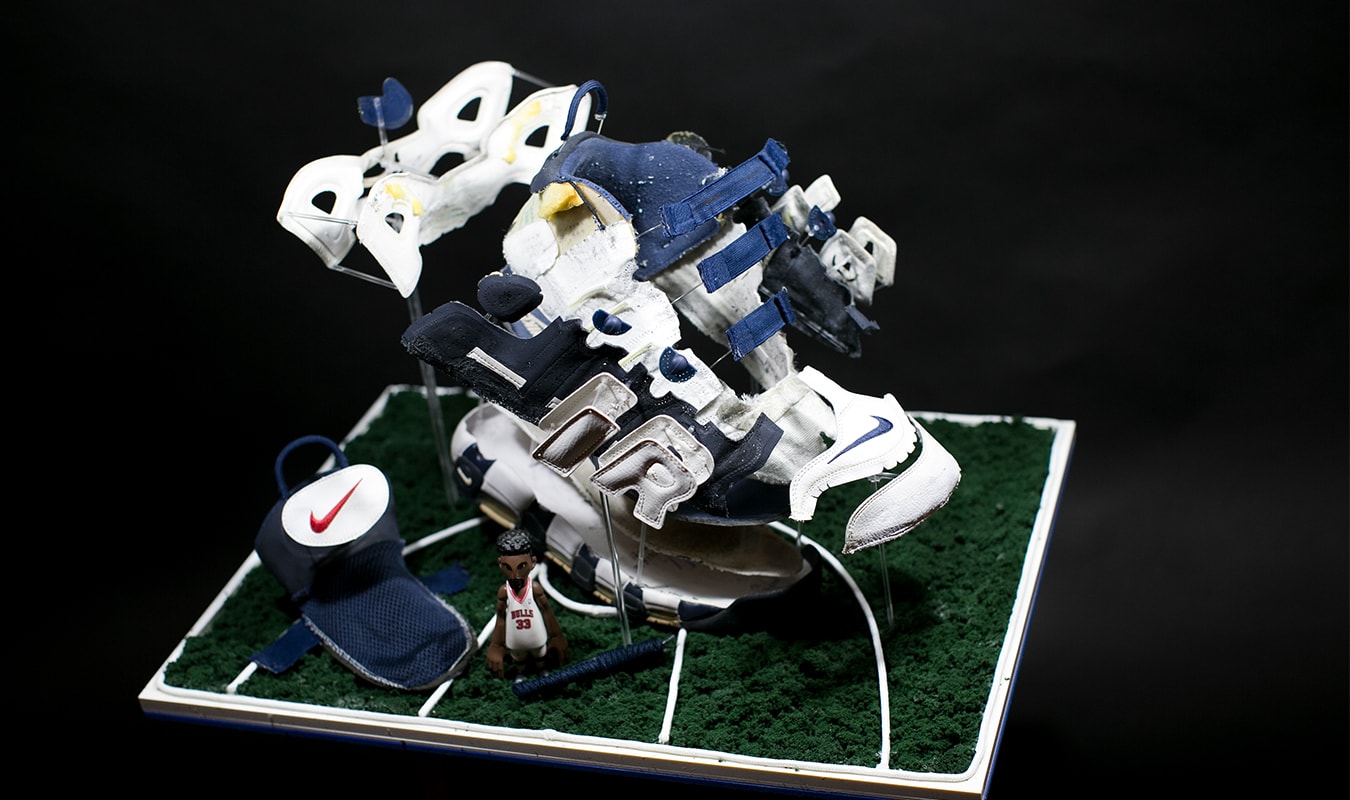 SEVENSTORE: Aside from sneakers, is there any other objects/items you'd like reconstruct?
Rudy:
I've never thought about anything but sneakers. This is also one of the most frequently asked questions.
Oh! I was thinking about Basketball jersey. I haven't tried it yet, but I want to try it. People often talk about hats, electronic devices, and even cars. Especially, electronic devices or cars need professional help. Should we really think about it when we get a chance?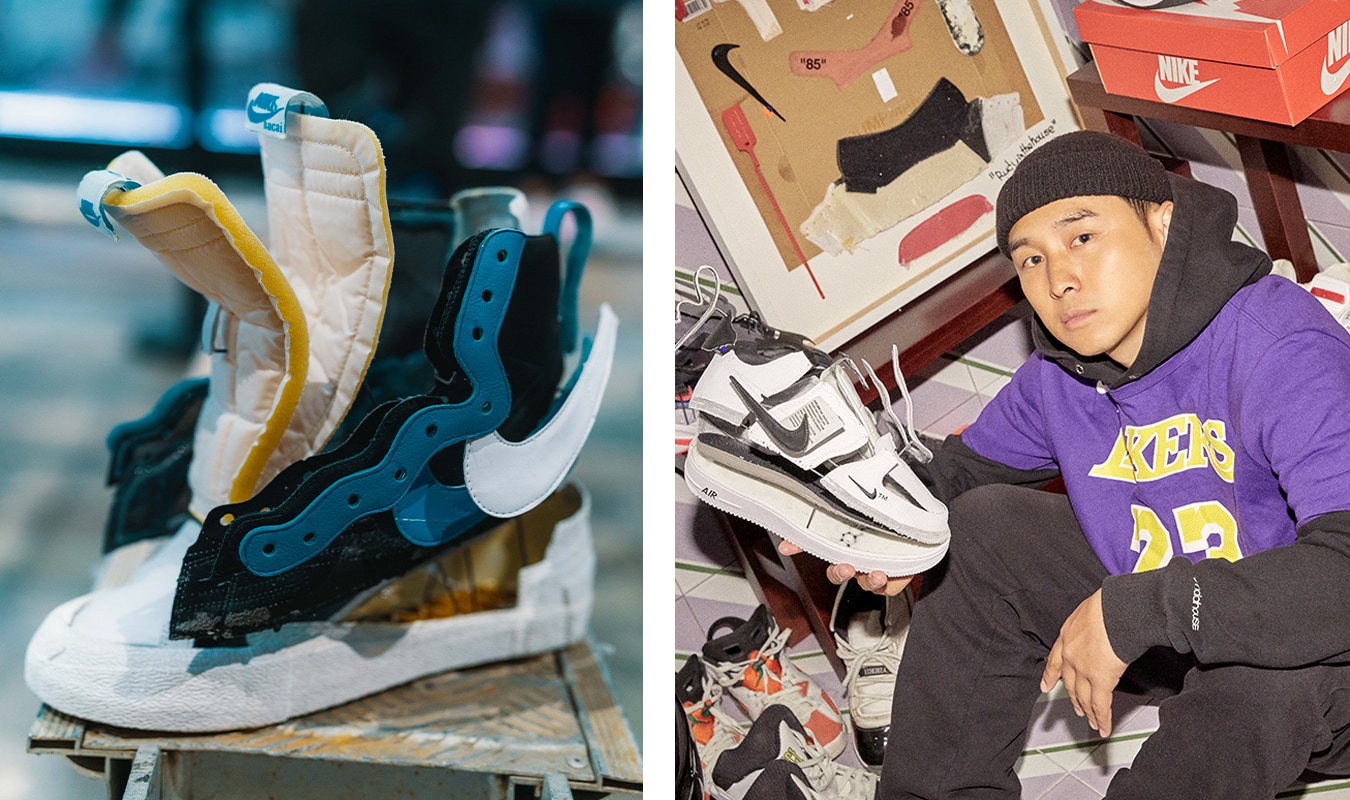 SEVENSTORE: What are your plans for the rest of this year and beyond?
Rudy:
As you know, the schedule has been delayed a lot due to the virus issue.
First of all, there was an exhibition in China in the summer, but I couldn't go because of the virus issue, so I decided to send only the work. And the plan for the second half of this year and early next year I will participate in the Bangkok and Dutch exhibitions.
You will be able to see my work in a book about sneakers published around the world in September. I'm looking forward to it the most because it was one of the things I really wanted.
And from October, there will be an exhibition under the theme of sneakers at a museum in Paris, where my work will be displayed. This exhibition has been going on for a year and I'm going to take some time to go see it. This is also very surprising and unbelievable.
I recently launched a street fashion brand called TASTE BY RUDYINDAHOUSE. It's not perfect yet, but I want to grow it slowly.
The sneakers I really like and love made me an artist and I was able to tour around the world with them. I feel like I'm getting back from them as much as I like them.
Those who read this interview must remember
"Rudyindahouse."