PAST, PRESENT, FUTURE – (RUNNER) IS A RAF RETROSPECTIVE
On the announcement of
Raf's
(RUNNER) capsule, misdirection was in the air. Teased with just the collections name on Instagram back in January, it spun a whole generation of 'please don't touch my Raf' streetwear heads waiting for the follow up to the maybe played out, definitely brilliant, Ozweego collaboration.
It felt like a while since Raf had satiated the hunger for his take on sneakers – the hype around his final adidas collaboration largely drowned out by the sound of heels-on-runway as he led the western boot back into the spotlight with Calvin Klein.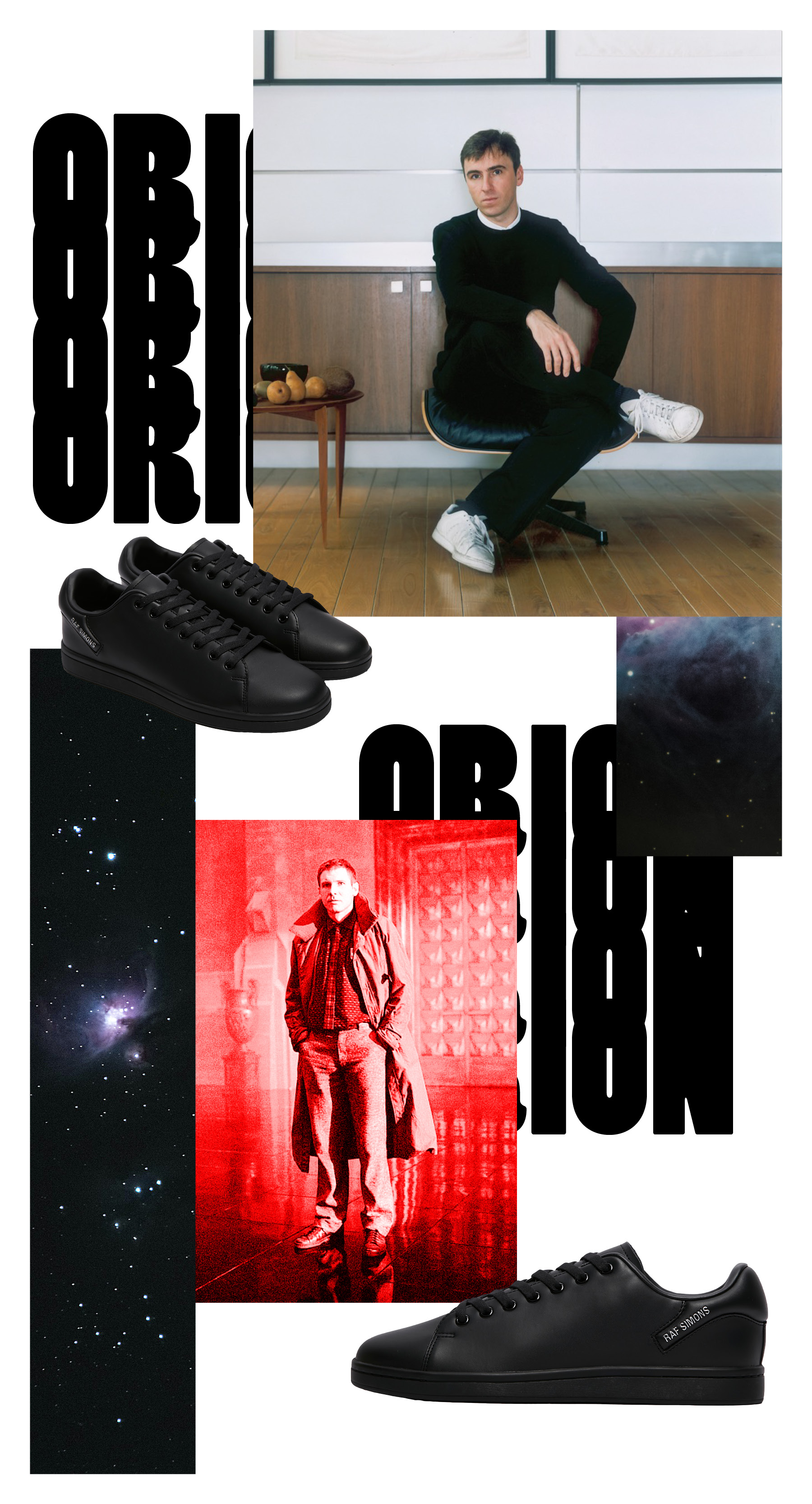 And with RUNNER, Simons ventures into athletic(?) footwear without ties to an athletic partner, leaning into high fashion with a capsule that swaps out soles, heels and genres. 'Blending high fashion and streetwear' is probably the most tired boiler plate for literally anything in the fashion industry over the last decade, and it doesn't mean putting £400 price tag on a hoody or producing a 'premium' leather New Balance rip off. To achieve it, you need to understand the essence of both disciplines, and use these building blocks to make something new. Something new is going to look strange at first, as we adjust to it – as our brains wrestle with incongruous shapes, we read show notes, consume references, and ultimately bend our comfort zone to meet it - because something genuinely new is genuinely exciting.
That's to say there's a big part of (RUNNER) that feels like a rug pull – are they sneakers, or are they Chelsea boots? Are these heeled loafers? Can I do a 10k in these? When viewed in a vacuum, they look like '
fashion'
fashion. Opaque, hard to reconcile. Looking at the collection as a whole, though, and the progression from classic to experimental silhouettes makes each one feel wearable. Start looking up a few references, and it all starts to feel like there's a runner shaped hole in your wardrobe.
The
ANTEI
and
CYCLON
sit on the same layered, sculpted midsole, but represent both ends of the (RUNNER) spectrum. Where the
ANTEI
looks like a traditional sneaker, albeit a futuristic one, the CYCLON's tumbled leather upper with a stitched toe cap and back zip is 70% dress boot. The
ORION
is the perfect foil for the SOLARIS 2 – the simple leather cupsole's less adventurous tastes can revel in where a high leather boot with a multi-coloured, tech-midsole-inspired heel is a bridge too far. In this comparison, we see distinct eras of Simons' career pushing through – it's Jil Sander vs Blade Runner, and somehow it makes sense.
'For me, things are always evolving, and such evolution is necessary', said
Raf
in an interview with Wallpaper in 2013 – a statement as evident in his early collections as it is today. His constant evolution has heavily shaped the modern era of men's fashion, too – from his introduction of slim suiting in the mid 90's to paving the way for overt youth culture references – so maybe it's Raf who needs to answer for every cartoon collaboration that makes no sense.
Virginia Creeper back in 02 is remembered for signature twists on collegiate America. Commenting on the duality of nature, acid washes evoke the idea of rot, and earth tones across varsity jackets, sweatshirts and hoodies nod to natures power over human constructs. "I don't want to show clothes, I want to show my attitude, my past, present and future. I use memories and future visions and try to place them in today's world" - with Runner, in leather boots and sneakers Raf is again twisting pillars of American menswear – this time questioning our relationship with the foundations on which every outfit stands, rather than with the planet on which we build these foundations.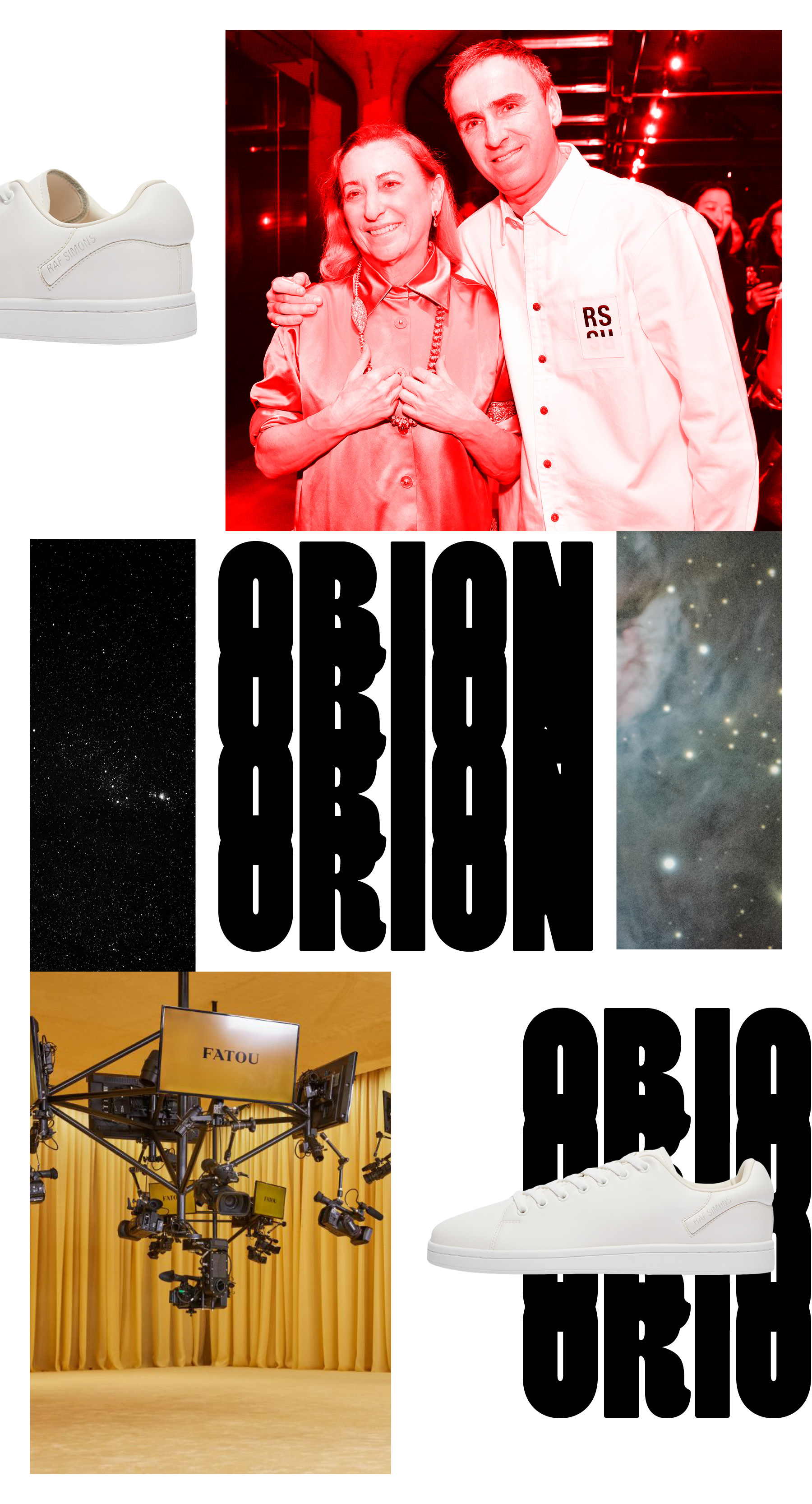 Spring Summer 18 saw Simons' take on replicants, a neon-lit collage of pop culture references, splicing film and music, East and West, New Order and Blade Runner. A show that encapsulates Simons' Ethos: creating substance in an industry that tends to be a spiral of self-gratification. "When it's only clothes, that is not satisfying enough for me. I don't think I could do this for ten, twenty years if that was all. It also has to be about a psychology or a mentality or a concept" – (RUNNER) is definitely that. With plans to develop the line as the seasons progress, it will come as no surprise if along the way it spawns the next major footwear trend.
This whole article is a long way of saying (RUNNER) is the culmination of everything Simons has accumulated over his life and career, from record stores in Antwerp and
Margiela
shows to Jil Sander, Dior and Calvin Klein. It's this rich, varied experience that makes him one of the few designers with the ability, truly, to 'blend high fashion and streetwear'. Any kind of cultural crossover requires authentic input from both sides - he's lived the underground club scene and right now he's making Miuccia Prada cut holes in knitwear. That ticks both boxes, right?
The Raf Simons RUNNER collection is available in-store and
online now.