POSTAL X JASPER JAMES VOL 2. DANNSA
POSTAL
derives from the heart of Dundee, a passion project set up by founder and designer, Nel showcasing a tight collection of embroidered slogans and graphics onto a carefully crafted range of wardrobe staples.
The newest
POSTAL
collection walks familiar ground, with the second installation to an ongoing partnership with Glaswegian DJ, Jasper James. Jasper has developed himself as leading tastemaker around the world's vibrant house music scene, having played some of the world's most respected clubs, immersing himself through Glasgow culture, their ever-expanding music output and finally fashion.
Entitled, Vol 2. Dannsa, the new POSTAL collaboration magnifies an influence of 90's brands, rave scenes and warehouse parties of that era to merge the collaborative minds of Glasgow's Jasper James and Dundee's Nel for a distinct mix of two cities. SEVENSTORE sat down with Jasper James to discuss the partnership, the distinct link between music and fashion, as well as his affinity with Glasgow's music scene.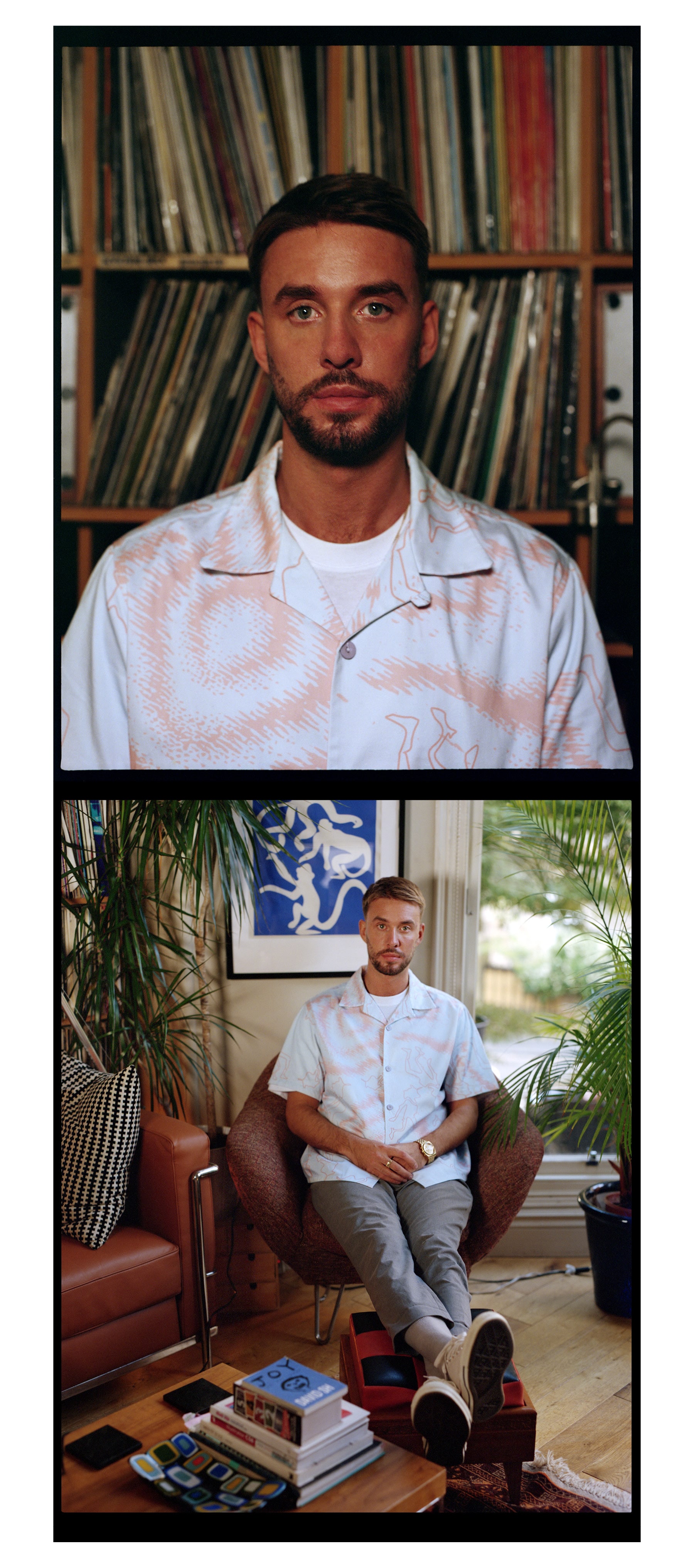 SEVENSTORE: Can you tell us a little bit about the collection & how the collaboration with POSTAL came about?
Jasper:
The designs were based around 90's brands and graphics connected to the rave scene and warehouse parties of that era. We also took inspiration from what people were wearing and the clothes people were sporting back then.
The collaboration with POSTAL first came about when I met Nel in Dundee, I was playing a gig at the Reading Rooms which has now shut down - rest in peace. But yeah, I was playing there and he arrived with a few T-shirts for me from the POSTAL brand and I really liked the tees, the fit of them, the designs on them. I think the ones he gave me at the time were based around early 90's Air Max colours, so I liked what he was doing, on top of that there was a bottle of Buckfast in the bag, so he kind of sealed the deal.
He contacted me and basically said he would love to do a collaboration. He got the impression I was kind of into my fashion or whatever so, it was always something I kind of wanted to explore but I didn't really know where to start. POSTAL and Nel gave me the perfect platform to kind of explore some designs, I suppose.
SEVENSTORE: The inspiration from the collection draws on brands and graphics from the 90's rave era, why was that such an iconic decade for not only music but fashion?
Jasper:
I think the 90's was certainly important for music and dance music in particular because it was a relatively a new thing, I think in the late 80's acid house and house music was beginning to come out of the states and kind of entered the UK. There was a whole acid rave scene from the late 80's leading into the 90's as well as a lot of illegal warehouse raves creeping up with more nightclubs - the music was a new exciting thing.
There was obviously an element of drug taking and there was a sense of unity and maybe a sense of freedom as well, and people were working these mid-week jobs, going to a rave and letting loose, really getting immersed in the dance music culture. Music and fashion have always been quite closely related, I suppose. They both tie in with one another.
Me being a 90's kid and brought up in the 90's, I loved the fashion back then. All about baggy jeans and I was a skater, so I was into all that clobber. The whole kind of 90's rave tribal-type fashion, you've got old labels like Nervous Records, who had some character-based designs and that was something I tried to implement in with the POSTAL collab, with the kind of character it's inspired by old 90's tribal-type, character fashion. So that was something to explore and incorporate in this collection.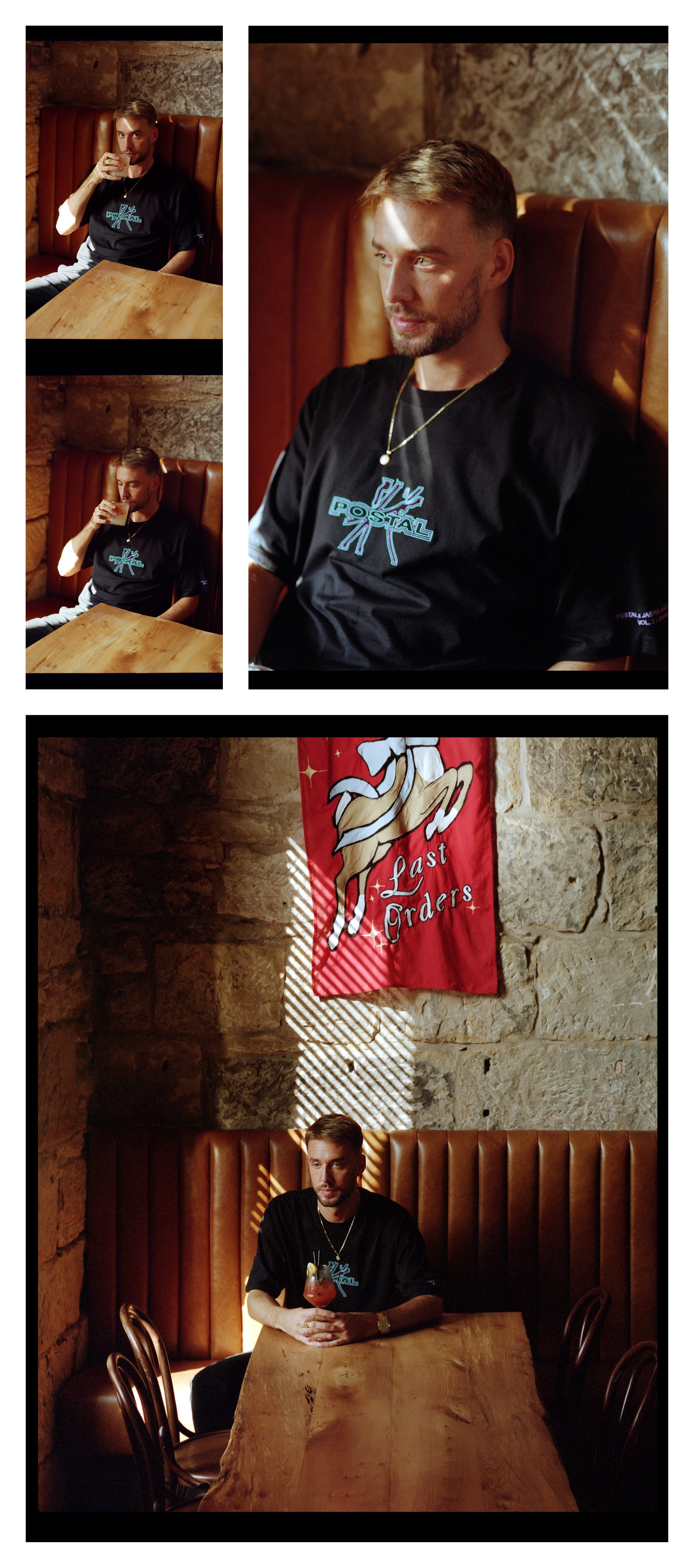 SEVENSTORE: The first collaboration was a huge success, what motivated you to work with POSTAL again?
Jasper:
After the first collection. I wasn't really expecting much to be honest. Obviously, this was kind of a new thing to me, I didn't know if it was going to sell well, that was never really part of my thinking anyway. I was just happy to get involved a little bit in the design process and try and create something that I would wear and that I liked.
I was actually in Ibiza at the time of the first drop and I thought maybe it'd sell 10 or 20 T-shirts or whatever, I didn't really expect a great deal to be honest and Nel messaged me saying that it'd all sold out within like five minutes and I kind of didn't believe him at first. I was drinking a Bloody Mary in Pikes at the time so I phoned him up and was like, 'Are you kidding me on or what?' and he was like 'No, no, they all sold out', so it was a good surprise. I was buzzing after that, I couldn't wait to get on board for another collaboration.
I think it kind of started off with the first collab and Nel would sell the stock online, after the buzz about the first drop it got stocked in some stores like SEVENSTORE and all around the UK. So, it was real buzz for both myself and Nel, which we have been looking forward to working together ever since. Just been waiting for the right time and the right designs, we didn't want to rush anything.
SEVENSTORE: Can you tell us a bit more about the design process?
Jasper:
The design process was based on 90's brands and graphics connected to the rave scene and warehouse parties of that era. With this collection we wanted to keep it fun and done a lot of digging of pictures online, looking at what people were wearing back then. There are a few hidden nods to old 90's brands popular within the culture.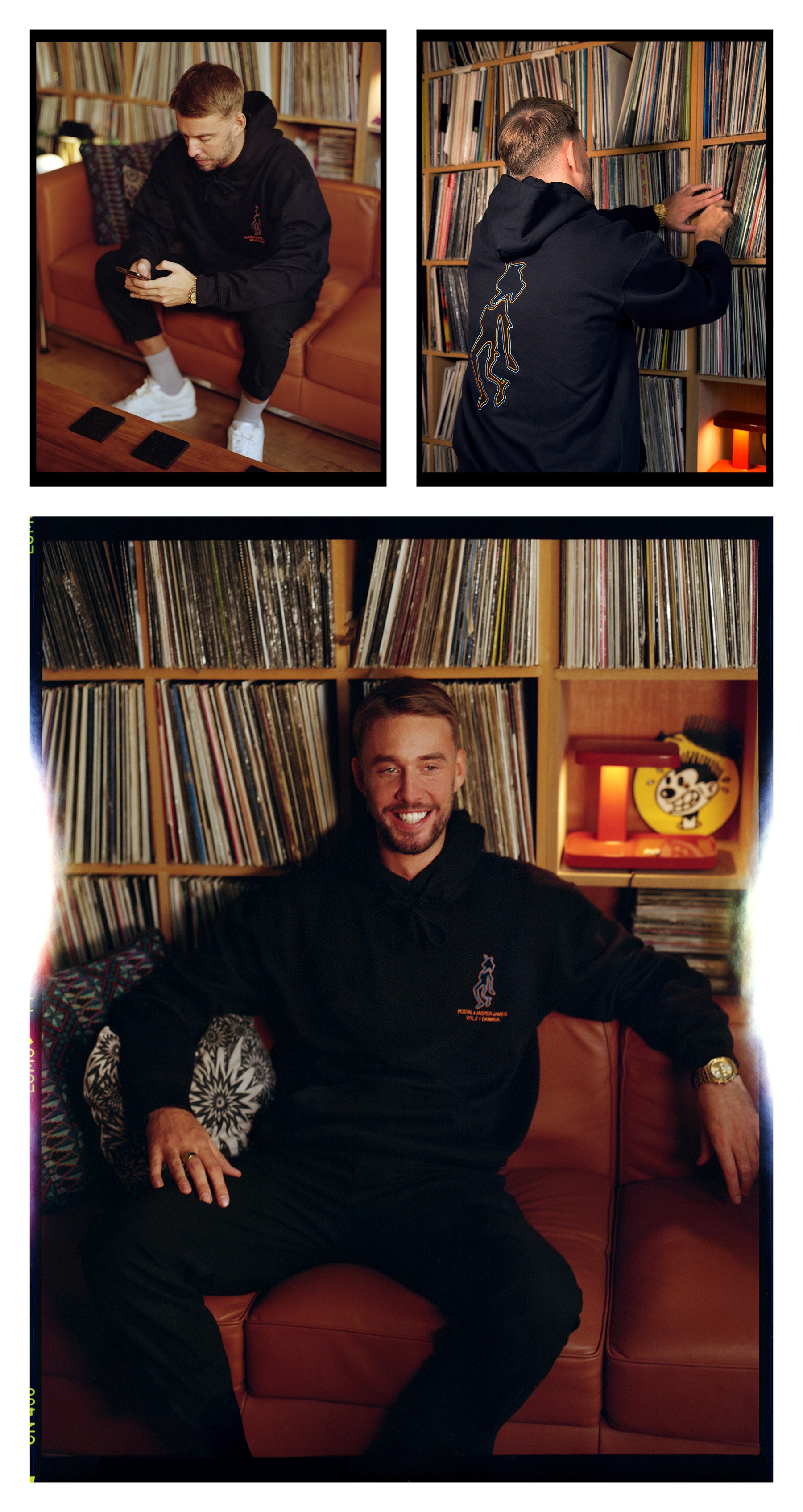 SEVENSTORE: What learnings did you take from the last collection when working on this latest capsule?
Jasper:
We wanted to change the theme for the second collab and move on from the first one which was a bit more spacey, a bit more serious and almost Techno night poster graphics. We also wanted to create something that had a music element to it.
Keeping it fresh, which was actually the most difficult part for me because I could have easily stuck in the same vein as last time and did something a little bit more serious and less playful like this collection is. That's what was great about having Nel on board because he's obviously more from the fashion side of things and has more experience, and he was like 'We really need to change it completely and do something completely fresh', and I was hesitant at first but we managed to knock heads together and come up with something that we both felt was fun and interesting. But I felt there was kind of a lot to live up to after the success of the first collab, I'm just hoping it does as well as the first one.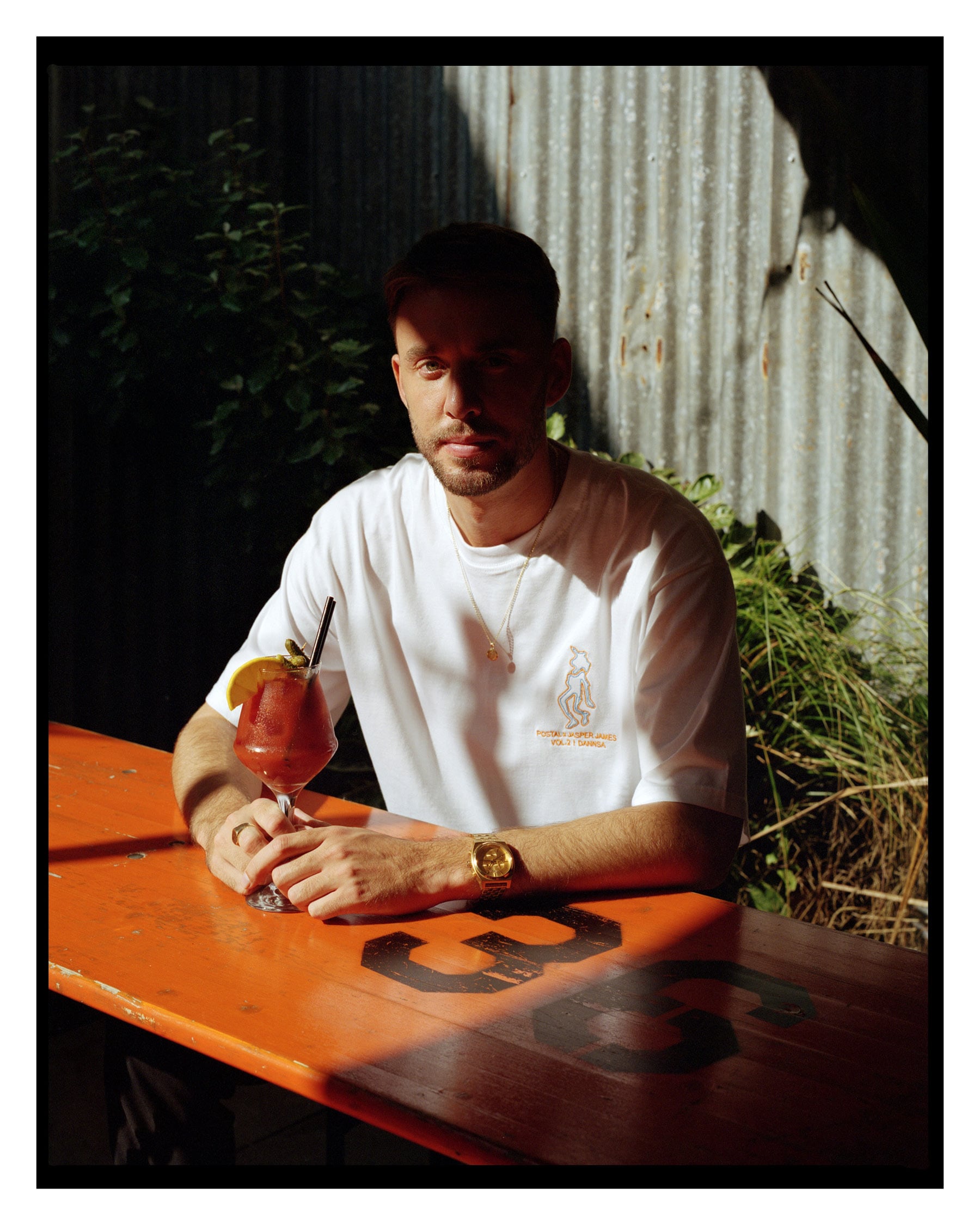 SEVENSTORE: Links between fashion and music have always been strong, how do you think they connect in today's world?
Jasper:
Music and fashion have always been closely tied, with DJ'ing and music I get to express myself through the music I play at clubs and it's exactly the same as fashion. People go out to a dance event and put on their outfits and express themselves, the way they choose fits best for the way they are feeling. So, this is something that has always been around, I don't think it's any different now – you walk into a nightclub, you'll see a range of different outfits across the board, some good, some not so good. But yeah, fashion and music has always been closely tied together.
Growing up with music and fashion I was always looking at what my favourite rappers were wearing in music videos, like the Wu-Tang Clan with Wallabees, I was just taking bits and bobs from everything my idols were wearing basically. Nowadays, it has all changed as you have social media, so you can easily just go on, have a look at what your favourite artists are wearing and you don't have to wait for a music video to come out anymore.
SEVENSTORE: Do you have a favourite piece from the collection?
Jasper:
Yeah, yeah, I do have a favourite piece from the collection. It is the shirt that I am wearing in my latest post, it's like an off, really light pale blue. It looks like grey in photos but when you actually see it, it's actually quite a unique colour that I haven't seen on many clothes before. This was something I am really proud of, I love a summer shirt, although I realise we are bringing this out in the winter so I won't be getting to sport it around Glasgow very much. But I will have it packed for next year.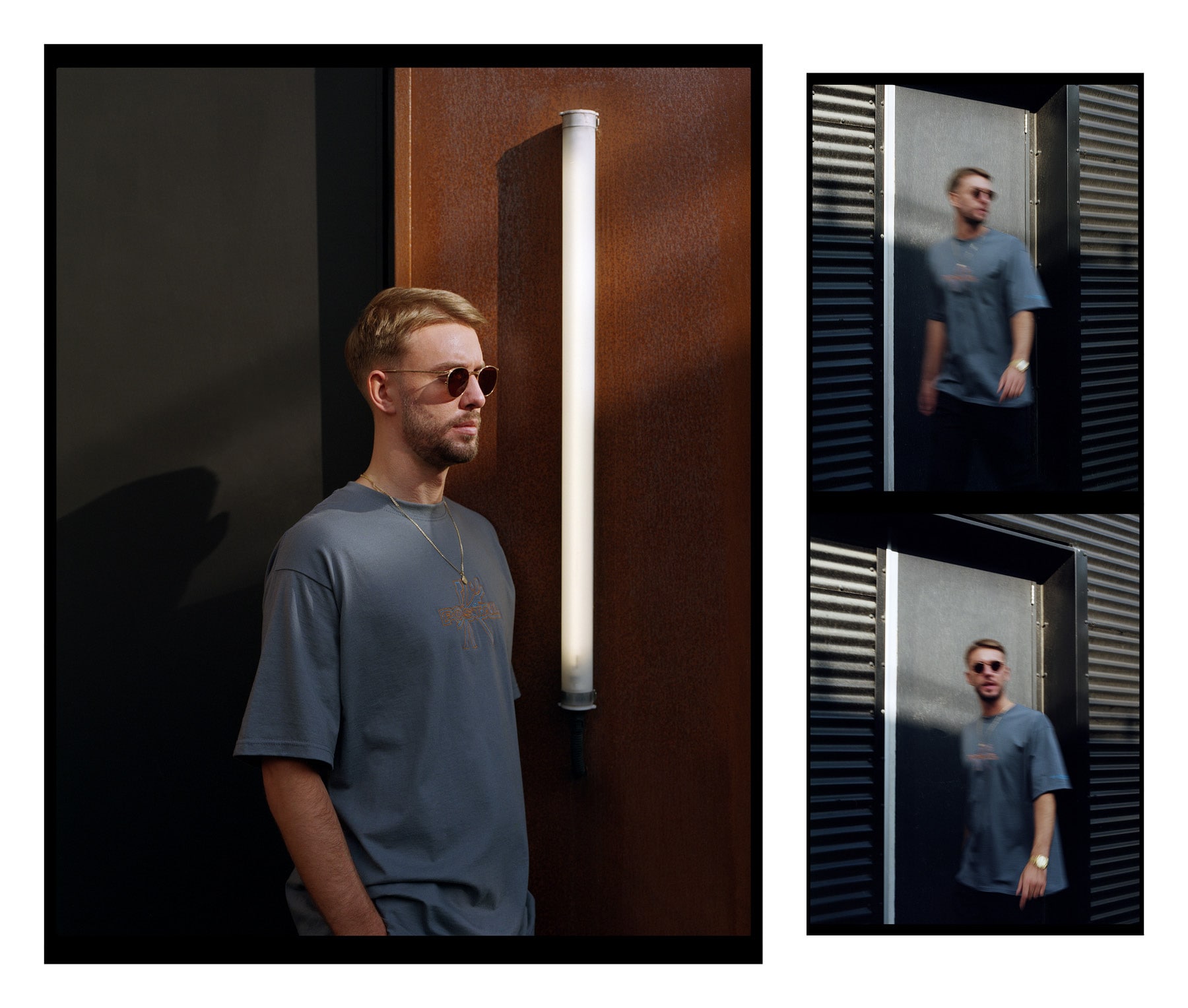 SEVENSTORE: How has the current pandemic affected you? and how would you best describe the situation in the music industry.
Jasper:
Well obviously there's no gigs at the moment happening anywhere, so I'm basically jobless at the minute but I'm trying to keep positive and hopefully there is light at the end of the tunnel. I've been in the studio a lot more and this has gave me a kick up the backside to re-wire my studio and get my head stuck into music which is where I'm happiest.
I'm hoping things get back up and running soon because if not, I don't know if you guys are taking any jobs at SEVENSTORE? I'd be a great security guard.
Obviously, stuff isn't good in the music industry at the moment, but everyone is in the same boat. People are just trying to remain positive that we will get back up and running soon and find some measurements that have to be put in place so we can get back up and running. I don't know what that is, whether it is doing tests or checking temperatures, but we'll find a way because we need to get back to it.
SEVENSTORE: What has kept you motivated during this period?
Jasper:
At present it has been working in the studio, getting my head stuck into music. I've been trying to collaborate with as many folk as possible and I plan on keep trying to do that because everyone is in the same boat and have a lot of time on their hands, especially producers and artists. So yeah, I've just been trying to arrange studio days and get my in different genres and exciting projects that can hopefully be shared with the world at some point.
SEVENSTORE: Glasgow is widely known for its music scene and has had a instrumental affect over the last decades, what is it about the city that inspires you on a musical level and a fashion level?
Jasper:
Glasgow's always inspired my musically, obviously Sub Club has been instrumental to my life and my career in general. Going there from a very young age and watching the likes of Harri & Domenic or Optimo play their residencies really kind of inspired me to go out and try and make something of myself in that world.
Being from Glasgow and seeing people can succeed from where you're from in the music industry, made me think, 'Why not give it a shot?'. But obviously being from Glasgow there is a really high-standard in my eyes, I think some of the best DJ's in the world are from where I'm from and that's not me being biased. Going down to the Sub Club on a Saturday night and seeing the residents work their magic week-in, week-out are still some of the best nights I've ever had to this day.
In terms of fashion in Glasgow, you just need to look around you and there is always going to be stuff that inspire me on that level. People tend to be pretty well dressed, not everyone of course, there is also some shocking outfits.
The POSTAL X Jasper James VOL 2. Dannsa collection will be available
in-store
and
online from 25 SEPT 20.