OOF GALLERY: THE BEAUTY OF ART AND FOOTBALL
Art and football magazine,
OOF
has taken over Grade II listed Warmington House on the grounds of Tottenham Hotspur Stadium to create a world-class contemporary art gallery.
OOF is a biannual magazine that looks at the relationship between art and football. Over the course of their lifespan, the publication has featured articles on (and by) artists including Juergen Teller, Chris Ofili, Rose Wylie, Lubaina Himid and many others. The aim of the magazine isn't just to look at art that depicts football, but to explore how artists use football to comment on society.
After three years of curating exhibitions across London,
OOF's
first permanent home is a public-facing art space in the heart of North London – working with aspiring young artists and established names. This is a merging of contemporary art, but with a football edge.
The inaugural exhibition is
'BALLS'
, a group show of twisted, manipulated sculptures of footballs, featuring artists including Sarah Lucas, Marcus Harvey and Hank William Thomas, alongside rising art stars like Lindsey Mendick and Jazz Grant. SEVENSTORE spoke to Co-founder & Curator Justin Hammond on the combination of art and football, the community spirit football has encapsulated, and the importance of addressing issues in sport through art forms.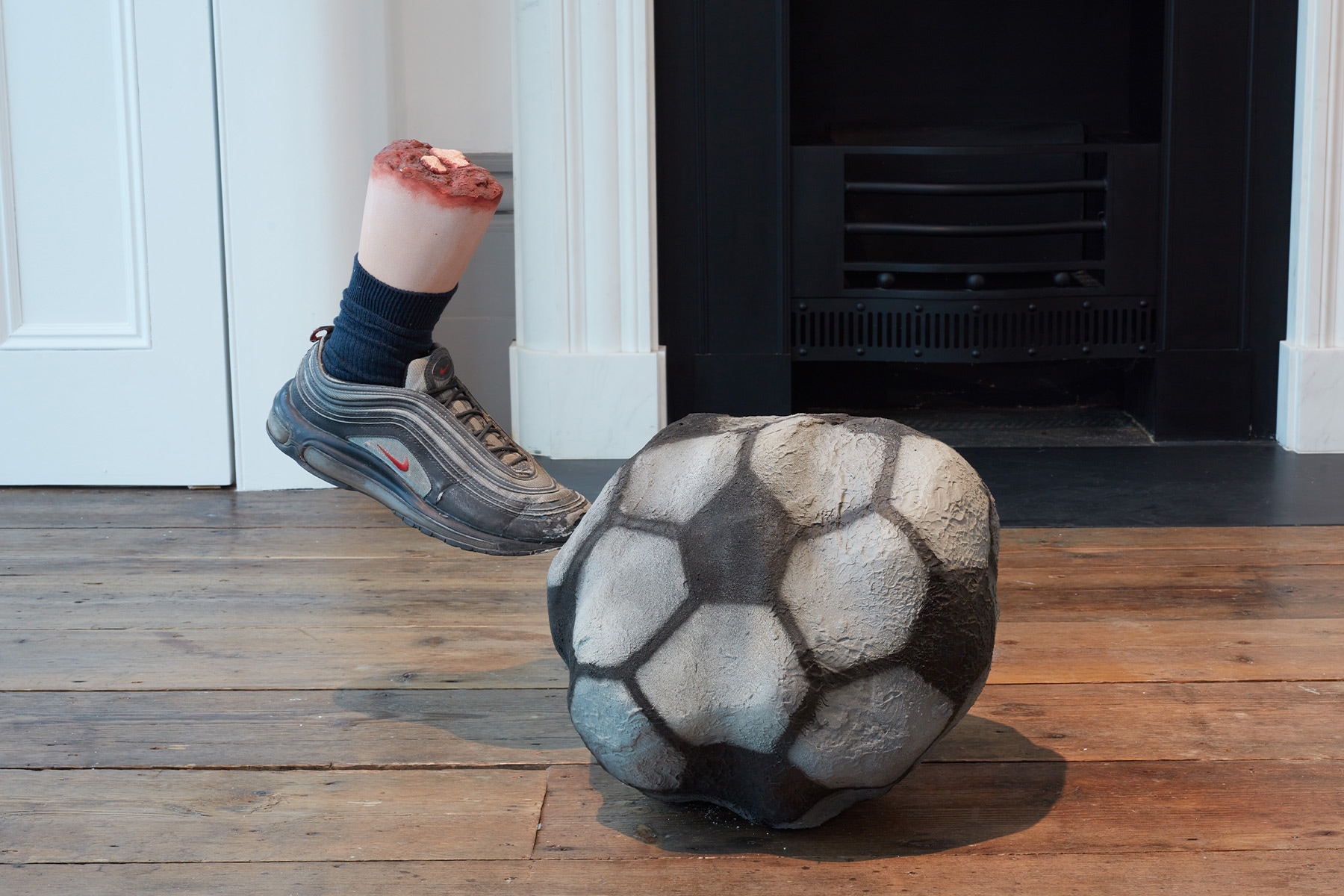 SEVENSTORE: Could you introduce yourself & tell us a bit about the role you played in the exhibition?
Justin:
I'm Justin and I run OOF Gallery with Jennie Hammond and Eddy Frankel. 'BALLS' is the first exhibition in our new space at Warmington House in Tottenham. The idea for the show came from a set of images I posted on Instagram showing footballs that had been turned into sculptures or art installations. I called them 'Useless Footballs' because the essential function of the balls had been taken away. You could argue that a concrete football by Sarah Lucas (one of the works in our show) is pointless because you can't kick it without seriously damaging your foot. The fact that you'd be kicking a valuable artwork throws up connotations about the usefulness of art.
SEVENSTORE: How did the exhibition come to fruition?
Justin:
OOF started life as a biannual art and football magazine in 2018. We still make the mag and we're currently working on issue eight, due out in November. Over the past few years the concept of OOF has expanded and we've put on exhibitions, hosted an event at Tate Modern, released artist-designed football shirts and staged The OOF Cup. We reached the point where we were ready to do something totally unique, so opening up the world's first contemporary art gallery dedicated to football seemed like a good idea.
SEVENSTORE: This summer was a reminder that football connects people, bringing elements of togetherness and celebration in the aftermath of an unpredictable 18 months. Was this just a coincidence the gallery came this summer or was it spurred on by the euros' spirit?
Justin:
Well, a couple of our previous exhibitions have coincided with major tournaments (including 2019's 'ULTRA: Art for the Women's World Cup') but we initially planned to open this show at the beginning of 2021. Covid restrictions forced us to push back until the end of July.
SEVENSTORE: Often not thought of in the same worlds, why did you choose to combine the worlds of art and football into one?
Justin:
They're my twin passions. The reaction to the first issue of the mag gave us the confidence to commission writers and artists who'd never previously considered football as appropriate subject matter. OOF often focuses on the problematic side of football culture, and good artists can tap into that. Sometimes it's way more interesting if the artist isn't a huge football fan because it offers up a fresh perspective.
SEVENSTORE: The gallery is a showcase of different footballs in different lifeforms and iterations, but what else does the Balls Gallery represent to its audience?
Justin:
That's the beauty of this particular exhibition because, on one level, 'BALLS' is incredibly simple and direct. But strip away the surface and each sculpture has its own story. Some are fun, like Kieran Leach's interpretation of a Stone Age football, while others might invoke painful memories. Our staff can talk you through the show if you want to delve a bit deeper.

SEVENSTORE: We must talk about the destination also, how did that come about? & Why did you choose to exhibit there?
Justin:
I know Warmington House well because it was the home of the Spurs Supporters Club in the 1980s. I used to pop in there before the match when I was a kid. It's not your typical gallery because it has more of a domestic feel, with fireplaces and wooden floorboards, but hopefully that means it's less intimidating than a white cube. It's important for us that visitors feel like they belong. The building has a long history with Spurs supporters, so that's a big plus, but the shows aren't just aimed at them. There's work that references other teams like Lana Locke's 'Celery FC', and the themes of the show are universal. I mean, we could have just knocked up a bunch of prints of Glenn Hoddle and made a killing but that's not what we're about.
SEVENSTORE: How important was it for the exhibition to be placed in Tottenham? In a community which may not be as associated with the artworld like Mayfair would be.
Justin:
Yeah, the location's essential because we want to engage the local community and give them a world class art gallery to be proud of. Bringing big name artists like Hank Willis Thomas to N17, rather than Mayfair, might seem like a radical move but it makes perfect sense to us.
SEVENSTORE: Why do you feel it is important for fans of football to experience art in this way? A way they may not have been interested in before, perhaps?
Justin:
As a teenager, I got into contemporary art because I was obsessed with bands and record sleeves. The artworld just wasn't on my radar. I didn't go to galleries or read books on artists, so record cover art was the gateway. And I know football can do the exact same thing for a kid who thinks art isn't meant for them. OOF Gallery is inclusive and open to everyone. There's no snobbery here.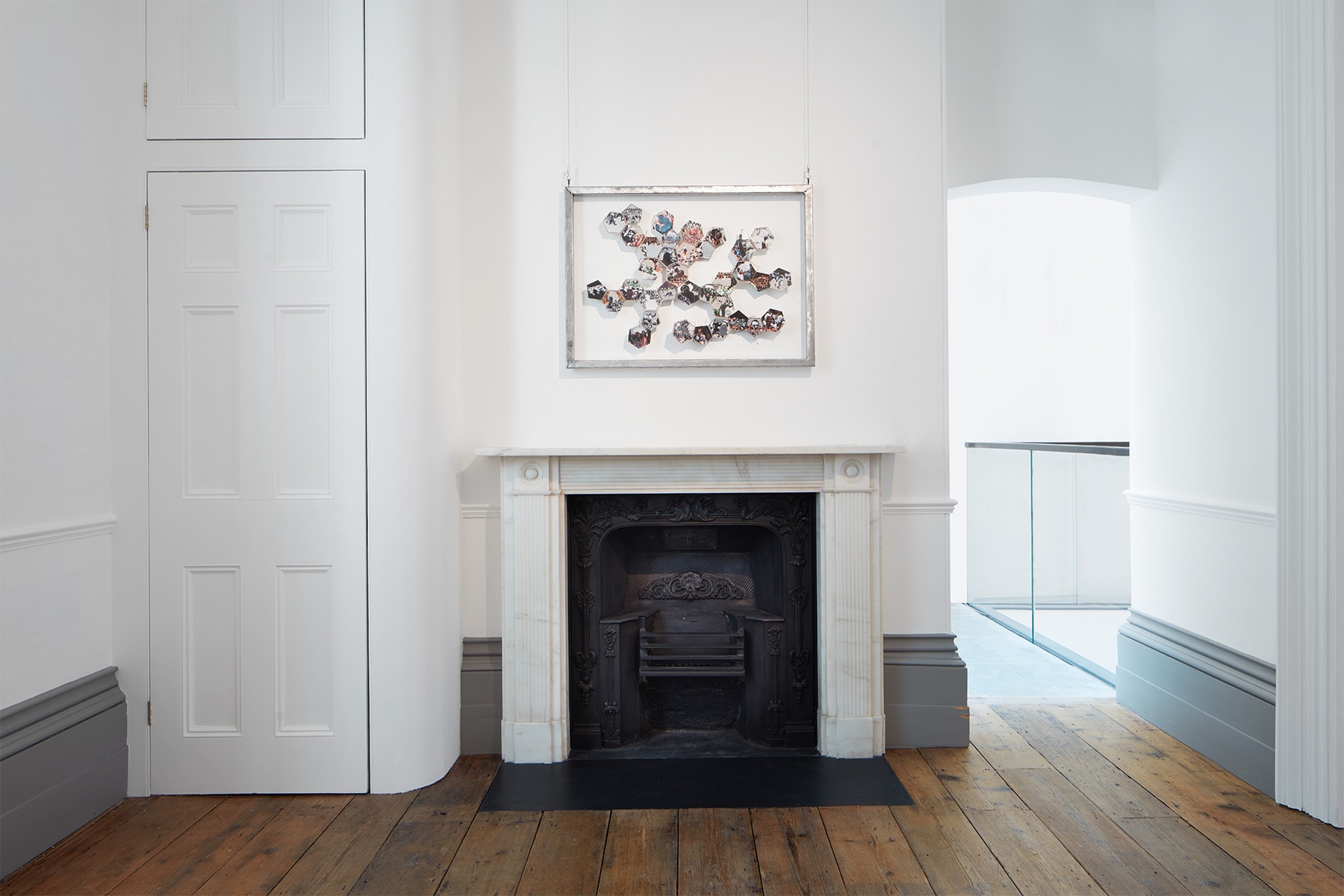 SEVENSTORE: Do you think this is a good way to connect communities, just like football does in society? It is bringing people from all walks of life and interests together, under one roof?
Justin:
Exactly. Football engages a gigantic global audience. It triggers passionate debate and acts as a catalyst for countless millions to come together week in week out. We always say that football is the quintessential communal experience and easily achieves what art always strives to do: it makes people feel.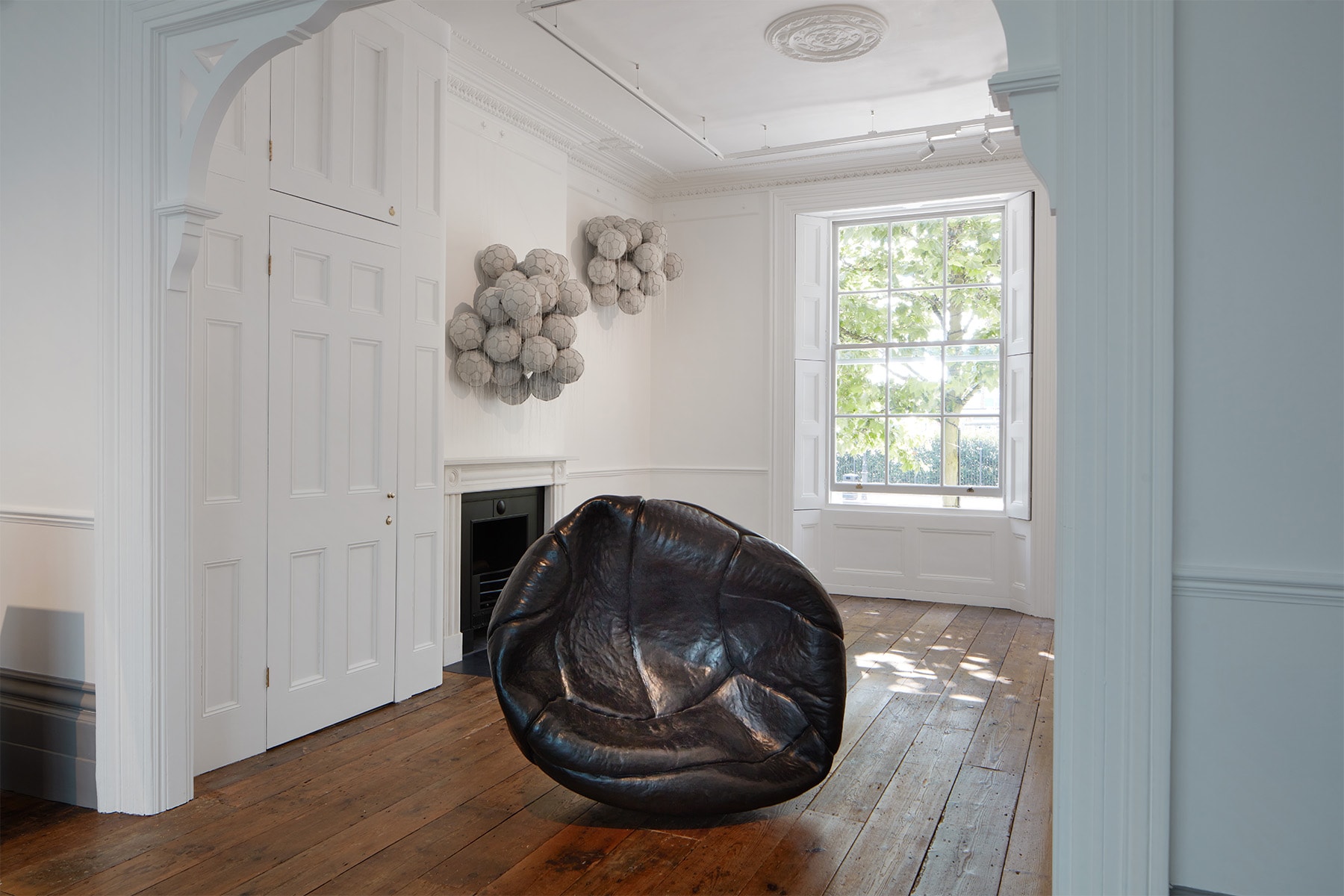 SEVENSTORE: Is there a select piece of work which is your favourite & could you tell us why?
Justin:
That's a tough one because I'm proud of all the work in the show and my favourites change on a daily basis. If I have to pick one out today, I'd say JJ Guest's bone china 'Balls' because of its bold simplicity and also because of what it meant for the artist to exhibit it here. It deals with the struggles of a young man coming to terms with his sexuality and how football culture initially represented a barrier to that.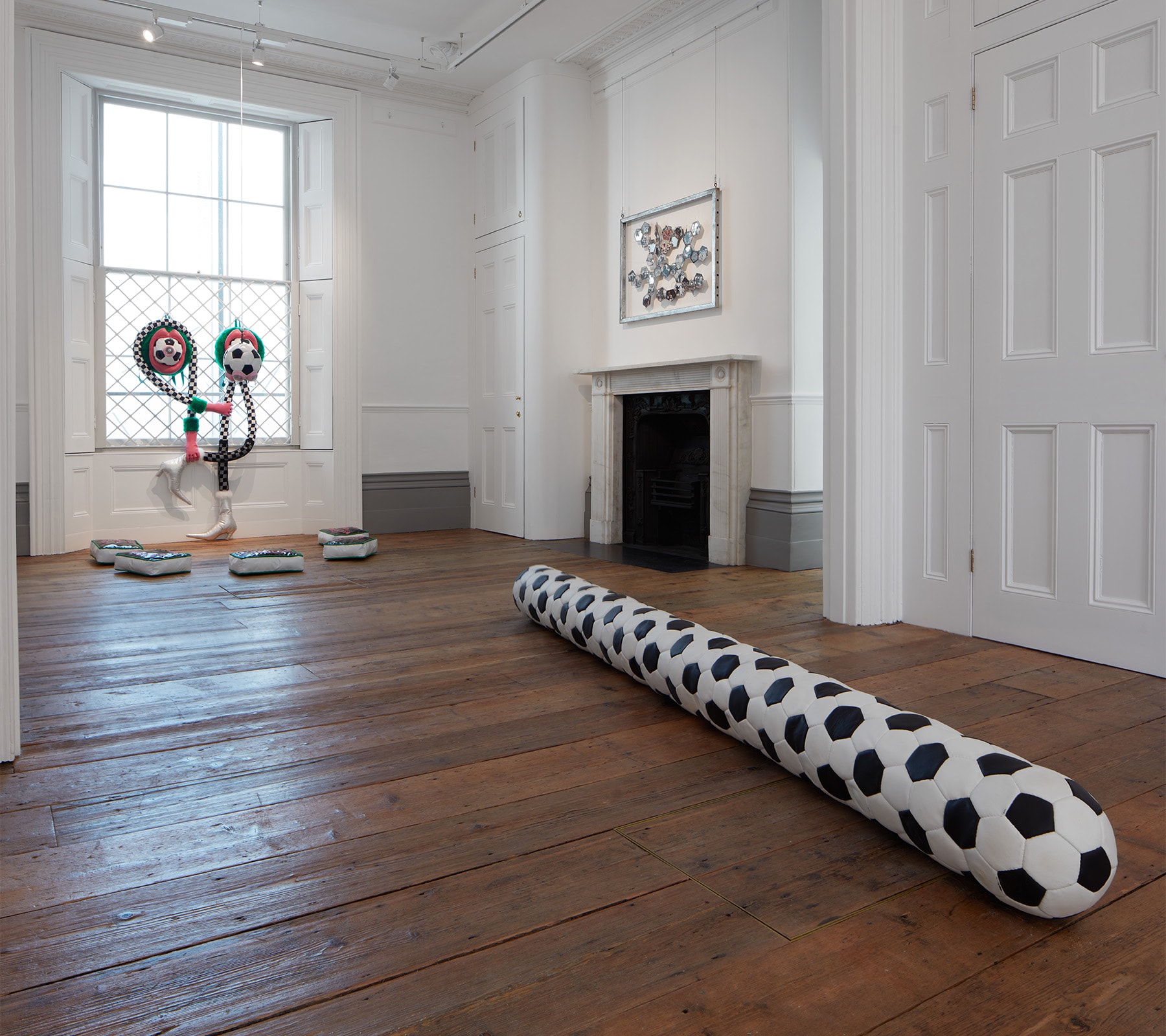 SEVENSTORE: Alongside humorous and thought-provoking presentations of art, it is worth noting some of the work included touches on discrimination in football, which is still unfortunately apparent in today's game. Could you talk a bit about the inclusion of this work? & was this something which was influenced by the events in the Euro 2020 final?
Justin:
Jazz Grant's 'Canary in a Coal Mine' uses imagery of football crowds from the 70s and 80s to talk about hostility towards black footballers. It was originally inspired by the tragic story of Justin Fashanu, but following England's defeat in the World Cup Final and the racist abuse aimed at Marcus Rashford, Jadon Sancho and Bukayo Saka, the work suddenly took on a new layer of relevance. There's also a sculpture by Lindsey Mendick called 'You Make it so Hard to Love You (Tainted Love)' that deals with the same horrific incident. Just like so many people, Lindsey got swept up in the excitement of England's journey to the final despite not really being a dedicated football fan. But reading about the abuse left her feeling disgusted and disconnected with the game. Consequently, her ceramic football sculpture is twisted, slug-infested and ripped apart at the seams.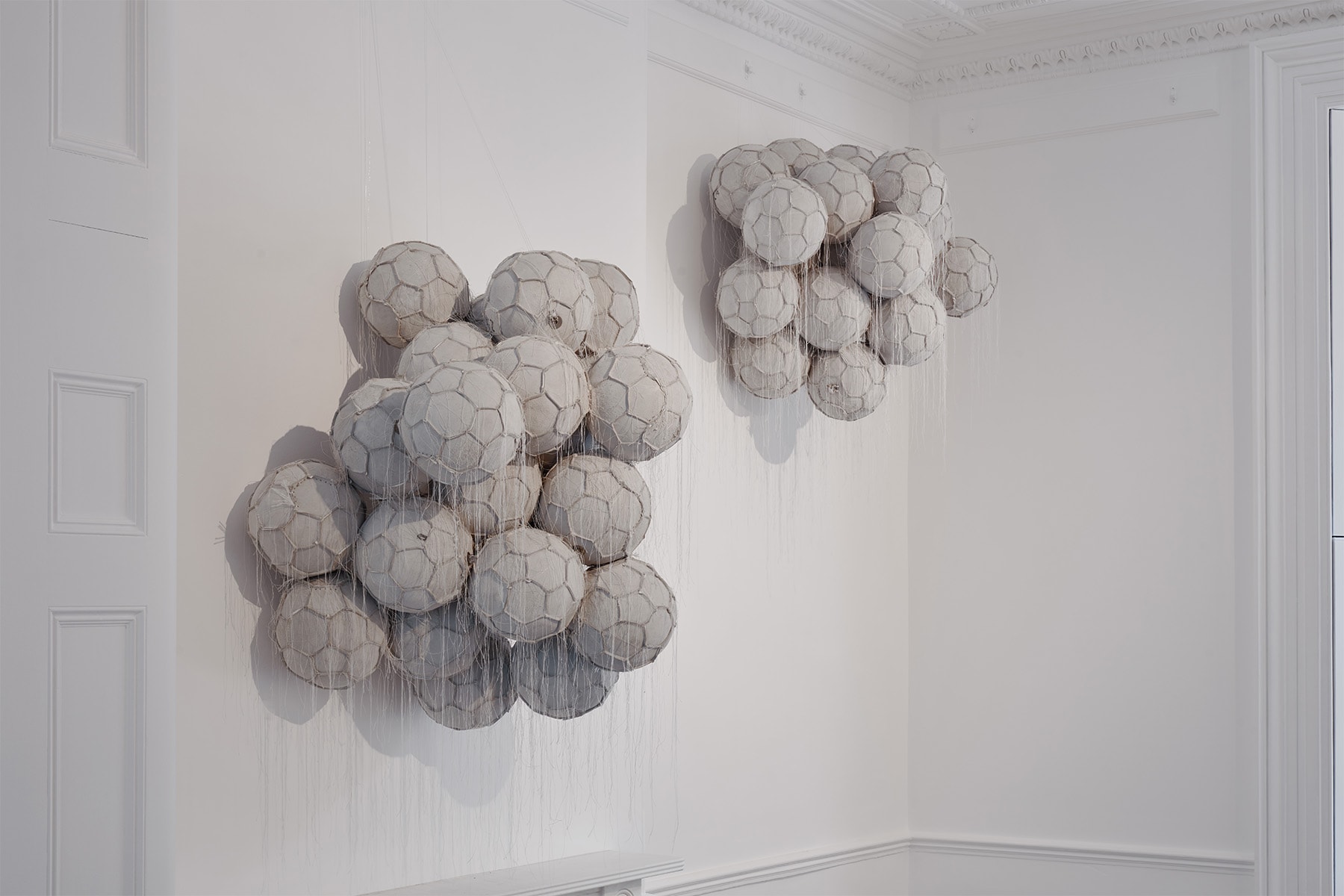 OOF Gallery
Warmington House
744 High Road
London
N17 0AP
Artists include: Nicola Costantino, Paul Deller, Dario Escobar, Rosie Gibbens, JJ Guest, Jazz Grant, Marcus Harvey, Richard Hughes, Abigail Lane, Kieran Leach, Lana Locke, Sarah Lucas, Lindsey Mendick, Laurent Perbos, Hank Willis Thomas, Gavin Turk & Dominic Watson.
All images: Installation view,
BALLS at OOF Gallery
. Photo by
Tom Carter.
Copyright and courtesy OOF Gallery
Special thanks to
Justin Hammond