THE TRAINEE THAT BINDS THE CITY: NIKE AIR MAX 95 (PINK FOAM)
25 years have passed since the Air Max 95 transformed the footwear game. A sneaker (or Trainee as scouser's would call it) unlike any before; one with a story that makes up its remarkable place in time and how it has become a mainstay of sneaker culture to this day.
The sneaker was designed by Sergio Lozano in 1994 with the words of one of
Nike's
most prestigious designers ringing in his ears. 'That's a great design, but what's your story', were the thoughts of Tinker Hatfield, (the man behind Air Jordan and the Nike Air sneaker) Lozano needed a narrative, an inspiration and thought-provoking conversation, not just a great design.
Lozano spent one day picturing the process of the earth being eroded by rain while looking out across the lake at Nike's Beaverton HQ, imagining what a product would look like if it were found underground and was unearthed by erosion. This gave him an interesting angle and ideas began to sprout into sketching's, to team pitches and finally to the factories – the Air Max 95 was born.
From then on, the
Air Max 95
has marched its way through time with a plethora of collaborations, colourways and reissues - cementing itself on the podium. Its importance throughout this time has brought about momentous popularity through the streets of Liverpool - cast your eyes on the ground around any pub, football game or the bustling city centre streets, the Air Max 95 silhouette is ever-present and has become the sneaker that binds the city together as one.
In a love letter to Liverpool, SEVENSTORE celebrate the new Air Max 95
'Pink Foam'
by catching up with
Nike
enthusiasts Rob May, Kieran Molyneux and Tom Ledson in the heart of Liverpool to delve into the fascinating memories of the 95, where Liverpool's love affair with the sneaker came from and how it has shifted through generations to become a thriving signifier of the city.
SEVENSTORE: Firstly, can you introduce yourself and what you do?
Rob:
My name's Rob May and I'm the founder and Creative Director of Laces Out! Trainer Festival and Laces Out! Studio.
Kieran:
My names Kieran Molyneux, I'm a singer-songwriter that goes by the name of Keo and I'm a musician born in Walton, Liverpool. I write and record music whilst probably best known amongst LFC fans for playing numerous shows over the years with Liverpool fan event, BOSS.
Tom:
I'm Tom Ledson, I currently work for creative agency U-Dox in Shoreditch, London. We've created global campaigns for big trainee (you'll never get me calling them sneakers) brands over the last 20 years.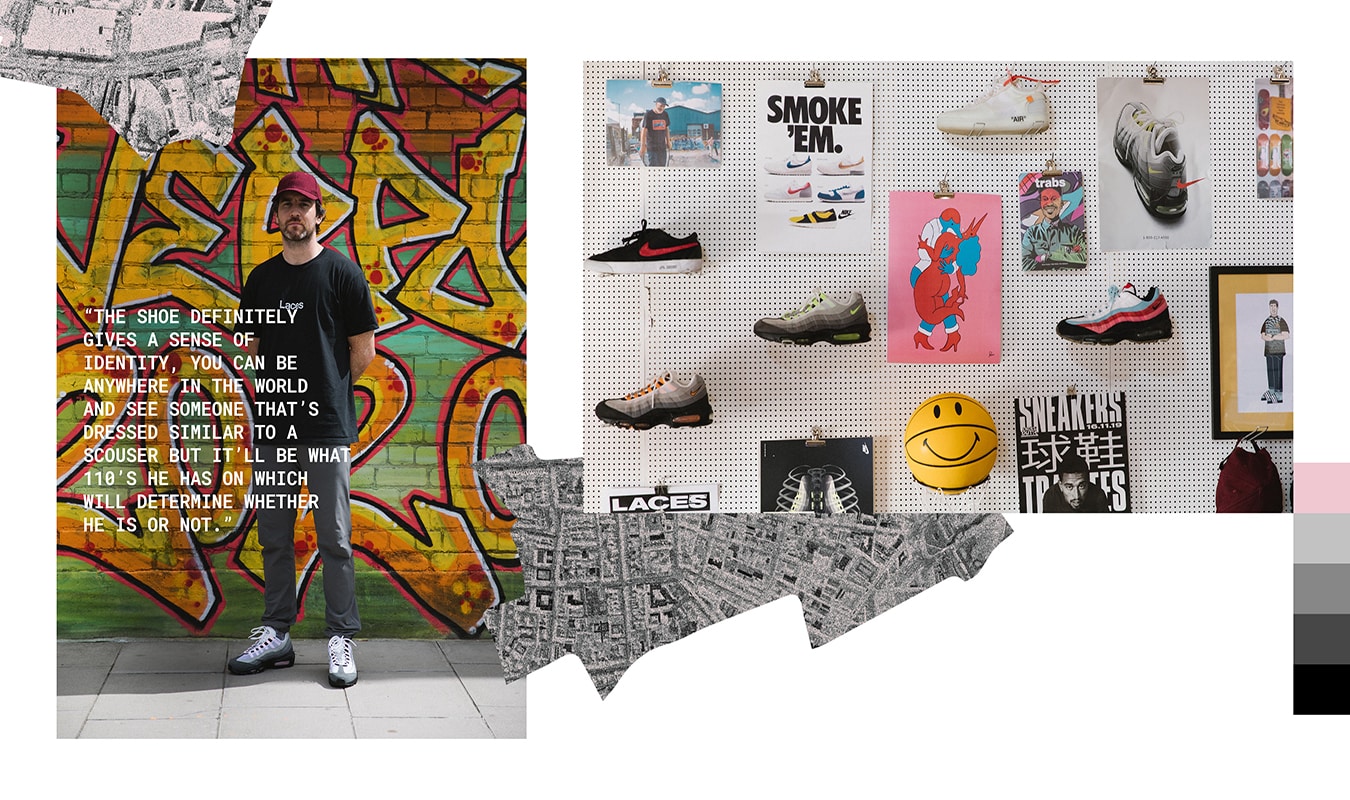 SEVENSTORE: What was your first memory of The Air Max 95 & how long have you been wearing Nike?
Rob:
I've worn Nike from an early age, probably since about age 9/10 when I started to become conscious about fashion and particularly what I was wearing on my feet. The earliest pairs I remember having were Nike Cortez and Air Max Plus. I didn't really get into 110's until mid 2000's. I remember not wanting to jump on the bandwagon because everyone was wearing them at the time, but the Neon's hooked me in around 2005.
Kieran:
I've worn Nikes since I was a kid, I couldn't tell you my first pair of Nikes because I've knocked about in them since before I knew what was what but, I do remember when I first discovered the Air Max 95 and I actually remember not really liking them at first. When I was about 15/16 and really got into trabs, I had this thing for thinner, more minimal shoes, I wasn't really into the chunkiness of the Air Max, despite them being a popular shoe in Liverpool, but they grew on me, in a big way. The more I got into other types of shoes the more I got into the Air Max 95 and a few releases and colourways later I remember getting those Green Neon's for the first time, which are still probably my favourite.
Tom:
My actual first memories of Nike was going to Wade Smith Jnr with my Mum and Nan, which is now the Halifax in Liverpool One, and getting my Christmas tracksuit along with my Sisters and Cousin. All of us would be head to toe in Nike on Christmas Day. Then throughout the early 2000's footy tracksuits (Barcelona, Valencia, Inter and PSG) would be a staple in a young scouser's wardrobe.
I also remember going to Italy v Russia at Anfield in Euro '96 and they had the Nike kit without the swoosh logo. Seeing that as 7-year-old blew my mind - they didn't even make it out the group, but what a kit.
My first memories of 95's / 110's was never being able to afford them as a kid. Then working at JD Sports when I was 17/18, I then really got to see the popularity of the shoe. They were consistently the best seller throughout the years - and this was at the time they were actually priced at £110. There was a wall just dedicated to it and all the different colourways.
SEVENSTORE: Through the decades, Liverpool's history was steeped in the three stripes of adidas, why do you think the 95's solitary silhouette altered the sportswear course of a region?
Rob:
There is probably a few different reasons for that shift from adidas to Nike and why the 110 has dominated for the past two decades, but overall, I'd say it was just a new generation of kids who weren't necessarily influenced by the football casual thing pushing it on. Also, the 95 is a brilliant silhouette, that probably has something to do with it.
Kieran:
That's a question I've had before and I think no one really knows the answer to it but, if I was to have a go at cracking it, I'd say the answer lies within the city more than the shoe. Liverpool has a strong sense of pride and identity and its people like to make things their own. Usually things that aren't designed for them, in the 80's, it was tennis shoes and tracksuits that became the uniform of scouser's, there's been phases of wax jackets, but time has gone on it seems this generation has decided to put something new at the centre of its identity, the "110".
Tom:
I think we just adopted it as our own and once something is our own we just go with it. I know London claims it's their shoe but I've lived in London for 5 years and no way is it more visible or popular than it is in Liverpool.
Certainly, historically the city's preference has been adidas, but in the last 15/20 years the shift has definitely gone to Nike.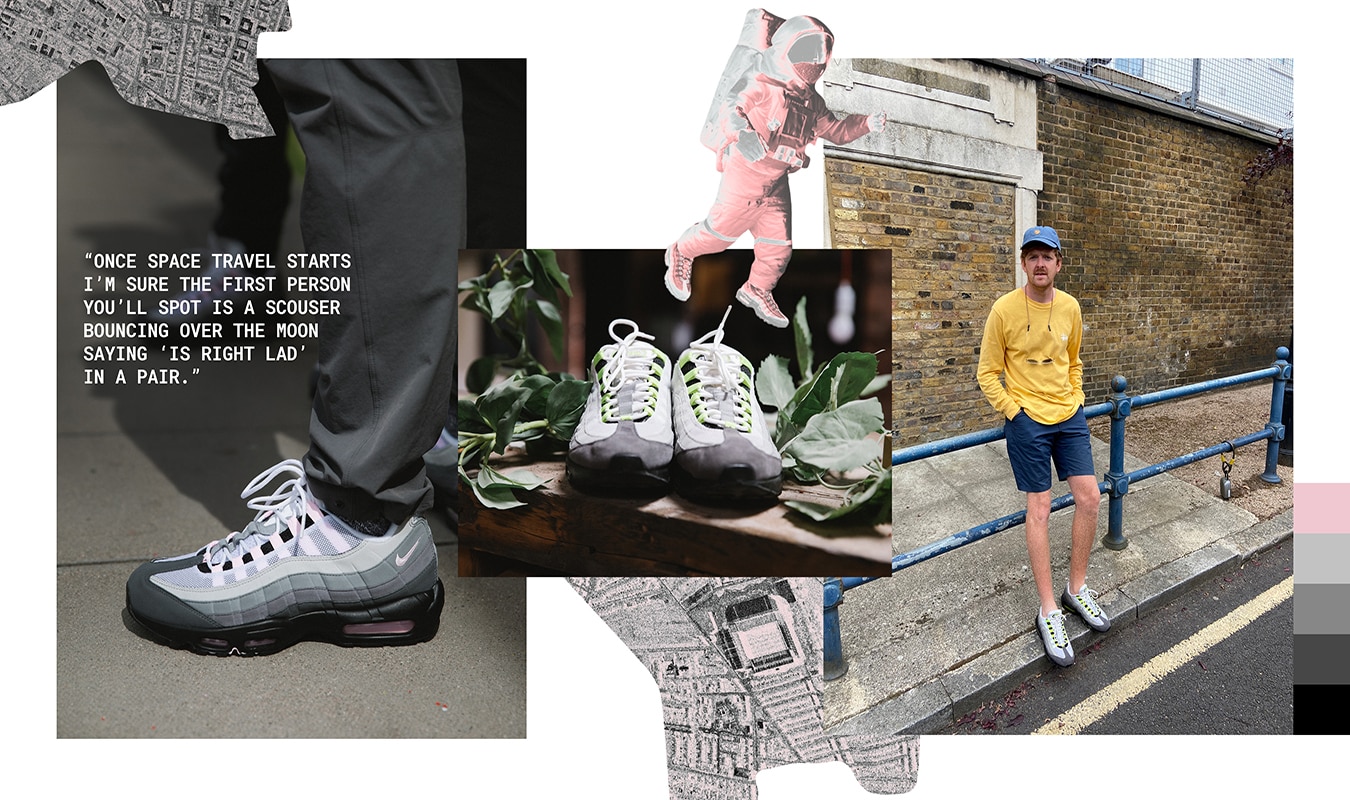 SEVENSTORE: Why is the popularity of the 95 so prominent in the culture of Liverpool?
Rob:
It's part of the city's identity now, anywhere you go in Liverpool you're guaranteed to see a handful of people wearing 110's. It's become almost like a uniform.
Kieran:
I think I just answered that before I knew it was coming...
Tom:
People were wearing 95's well before I even got into trainees. It just became part of the scouse uniform – no matter where you are; Liverpool One, a festival, a euro away, a gig or the Antarctic you will see a scouser in 95's. Once space travel starts I'm sure the first person you'll spot is scouser bouncing over the moon saying 'is right lad' in a pair.
Once you spot a pair of 95's you immediately know they're a scouser (of course, also if they're dressed a certain way). Living down in London for a few years now this is even more noticeable.
I always love seeing lads at festivals who won't even bother with wellies, they'll just wrap carry bags around their 95s.
SEVENSTORE: Where did the love affair for the 95 derive from? the sneaker took the world by storm upon its release and really pushed the boundaries. What do you think initially made people turn their heads to this silhouette?
Rob:
Like I said before it's just a great silhouette and people in this city know a good thing when they see it. When it first came out we hadn't seen anything like it before. It was expensive too, so there was that element of luxury attached to it. Everything from the design, the colourways, to the versatility of the shoe is probably what made it so popular here. It's one you can wear with your trackies to run the shops, or with your jeans to go for a pint.
Kieran:
It was just before my time that they became popular in the city but I can always remember seeing them about from a young age. But, definitely not at the rate in which you do on a street now. The Air Max 95 definitely is an eye-catching shoe and when that shoe first came about nobody had seen anything like it. Those air bubbles must have seemed like something from the future, the fella who designed it based it on the human body, a lacing system inspired by a rib cage but maybe, people just realised they look good with trackies.
Tom:
It's just completely different from any other trainer and silhouette - upon its release and still in today's market. You see other brands always trying to challenge the 95 by bringing out something similar with other silhouettes with a chunky sole and using multiple colours but they never seem to get it quite right.
The best feature for me has always been the colourways and the most popular being the neon colourways. They just stand out so much.
SEVENSTORE: Like any big city in the country, rivalry between sports is huge, there's one-upmanship but this silhouette transcends all of that. Do you think it unifies the city of Liverpool and brings everyone together?
Rob:
I'm not sure if it brings people together but it definitely helps us identify each other from a distance at festivals.
Kieran:
The shoe definitely gives a sense of identity, you can be anywhere in the world and see someone that's dressed similar to a scouser but it'll be what 110's he has on which will determine whether he is or not. It's not the only place this shoe is popular but I do think it's probably the place it's loved most.
Tom:
I would wait to see how the blue half of the city react to seeing Jurgen Klopp bounce down the touchline in a pair of 110's next season once our Nike sponsorship kicks in.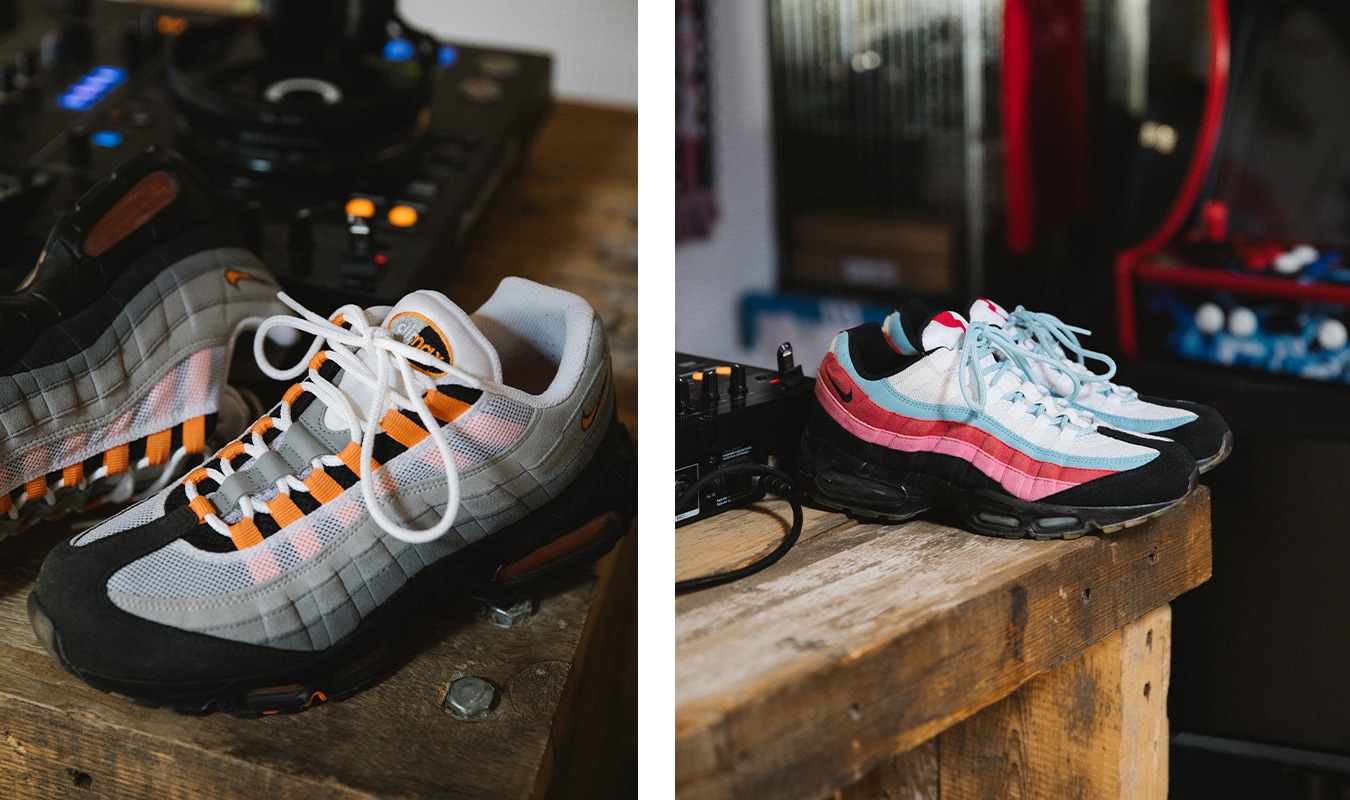 SEVENSTORE: The Air Max 95 is worn by school kids to businessmen in the street why do you think this sneaker in particular is so versatile and worn by so many people from different walks of life?
Rob:
I think because of its huge presence in the city it's just naturally been adopted by a wide variety of people and styles. I've seen 60+ year old fellas wearing them so that's a testament to the shoes impact here.
Kieran:
Because they're good I think. With any shoe there is a possibility there can be an initial hype around it and then eventually you look back and think, we liked those? But some, like the 95 stand the test of time, and get better, fits into a world where trends move faster than ever, they're being worn with pants or with shorts, they genuinely do look better than ever.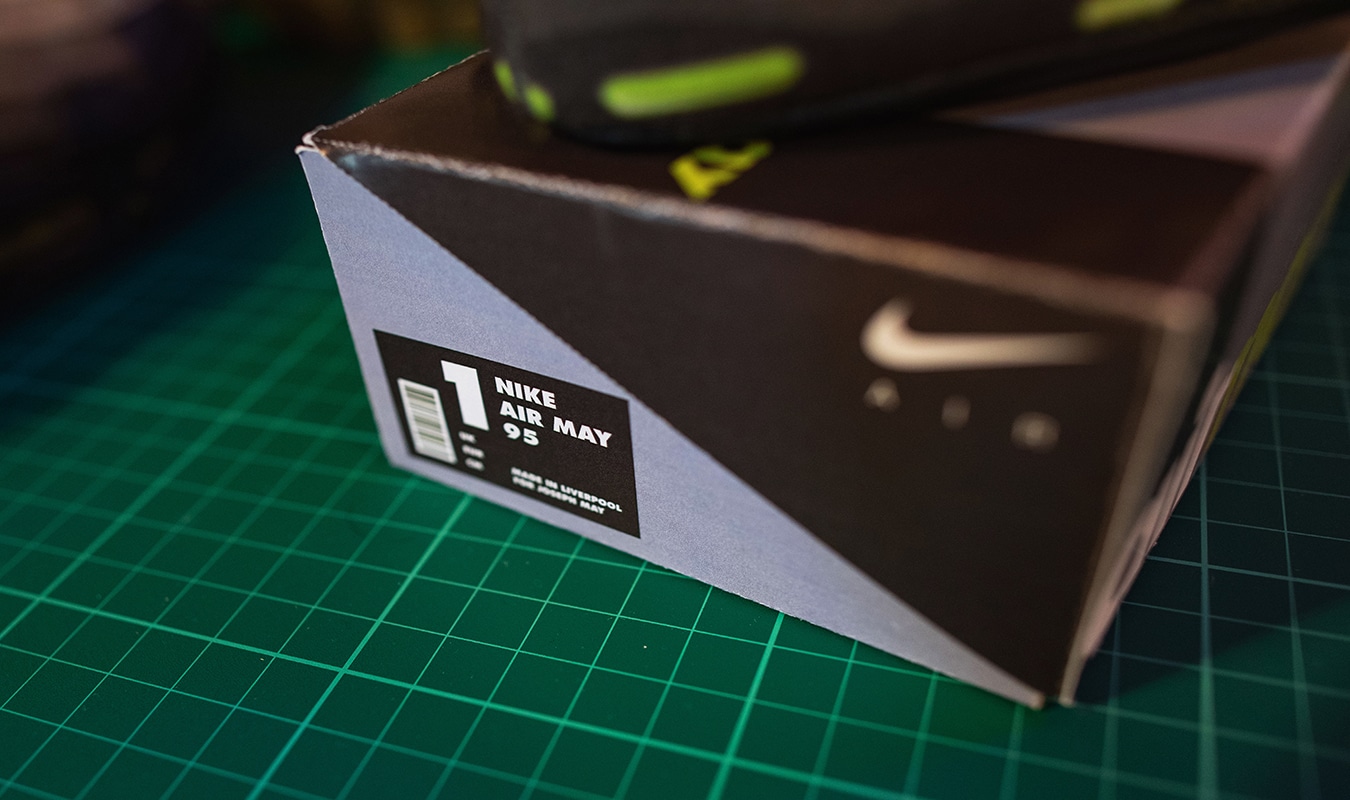 SEVENSTORE: With the 95 or 110 as it's known locally, Liverpool has always abided by its insular trends from casual to technical outerwear, do you think such trends pass through generations to unify together? It seems like the one constant through the decades.
Kieran:
Well, there's definitely a crossover from each generation but there is a time when the trainer heads in this city would have said it would only ever be adidas and never seen this big affiliation with Nike coming. Only time will tell whether the Air Max 95 will move to the next generation, but to be honest, I think this one loves that shoe too much not too.
Tom:
Probably, because it matches up with all those trends and will do with other trends to follow.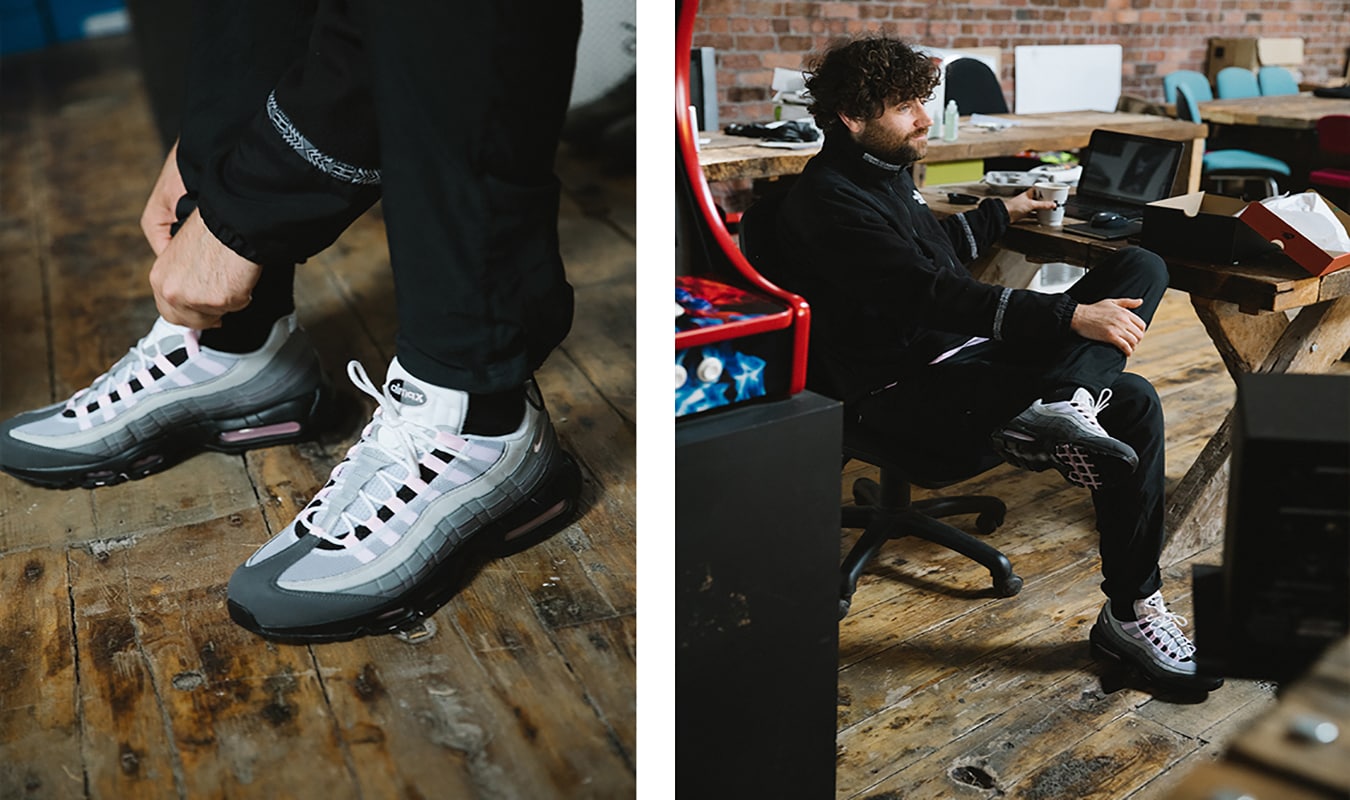 SEVENSTORE: What makes Liverpool's sneaker community different to other cities?
Rob:
I don't think Liverpool is as reliant on global trends as other cities in the UK, we tend to make our own. That being said the scene is thriving and there's a nice mix of everything being sold/resold in the city right now. I've been to many different trainer/sneaker events over the years but none seem to have the variety that we get at Laces Out! Many of them rely solely on the hype market, but Liverpool is definitely not limited to that.
Kieran:
Probably the fact it's in Liverpool. It's a clued-up place and it seems to know what it likes. I can't speak on behalf of other cities sneaker communities but having being involved in Laces Out! over the past few years and seeing people come from all other areas of the country I've seen and heard how respected Liverpool is and that's because it's always been a big part of that scene.
Tom:
Everyone wears them, not just one group and everyone has an opinion on them. My Mum will text me about trainers she has just bought and I'm happy to tell her if they are snide or not.
I think going to Laces Out! shows the diversity of Liverpool's 'Sneaker Community' which makes it stand out from other festivals in the UK. I don't know one person who isn't into their footwear.
For me as well, working in the industry and having 'experts' always recognising and identifying Liverpool as a mad and crazy market to target, and if you don't get it right scouser's will let you know. It'll be interesting to see what Nike do in the coming months with the new Liverpool kit, as I'm sure they'll be some trainer silhouettes that will be getting released alongside it.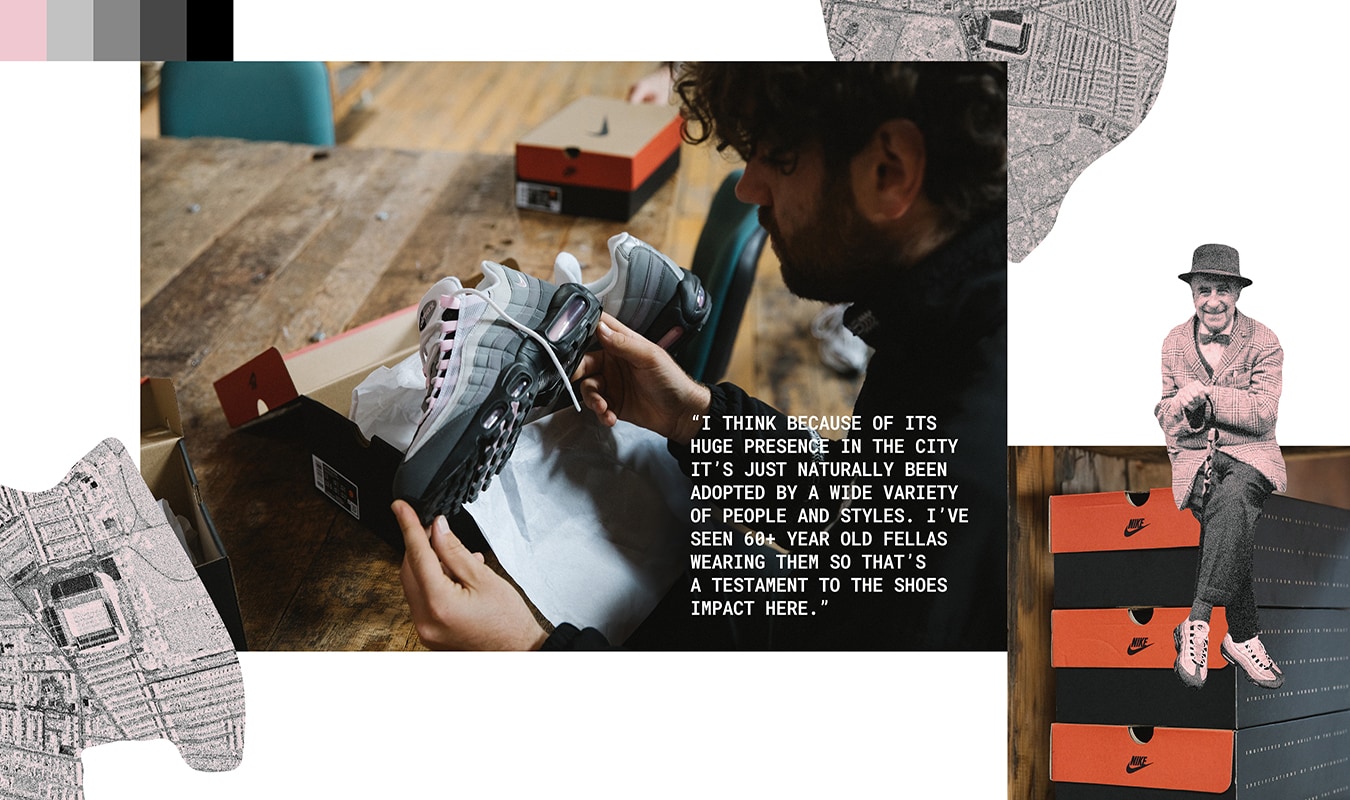 SEVENSTORE: Would you class the 95 a status symbol for the people of Liverpool, a shoe to be shown off and proud of?
Rob:
I wouldn't say they are status symbol anymore, maybe in the early days. But I would say that they're an iconic piece of footwear for the city.
Kieran:
It's definitely part of the city's identity. If you asked a modern day scouser to write a list of 20 things that remind you of Liverpool, the 110 would probably be in that list.
Tom:
It has had its connotations over the years as being a scally or jon head trainee. But after working with some big brands and some high-profile people over the years, who have all recognised it as Liverpool's shoe - it's definitely something that to shout about.
SEVENSTORE: What has been your favourite 95 release past or present? What would you like to see a bring back of?
Rob:
The Neon's will always be classics, but my favourite are the Parra Running Man as I've always been a massive fan of Parra.
Kieran:
Once I got those green Neon's for the first time I've never really looked back in terms of having favourite. They're a shoe I can't help but wear all the time too, so always happy to see a re-release of those and luckily there's one coming up.
Tom:
No doubt it will always be the green Neon which I believe is getting another release this year.
SEVENSTORE: Personally, what does the 95 mean to you?
Rob:
The shoe that defined an era.
Kieran:
The shoe of my time.
Tom:
Liverpool.
The
Nike Air Max 95 'Pink Foam'
will be available through a raffle via
SEVENSTORE Launches
or in-store at our Baltic Triangle store.