NEW IN: RAF SIMONS 'YOUR OWN PRIVATE ANTWERP'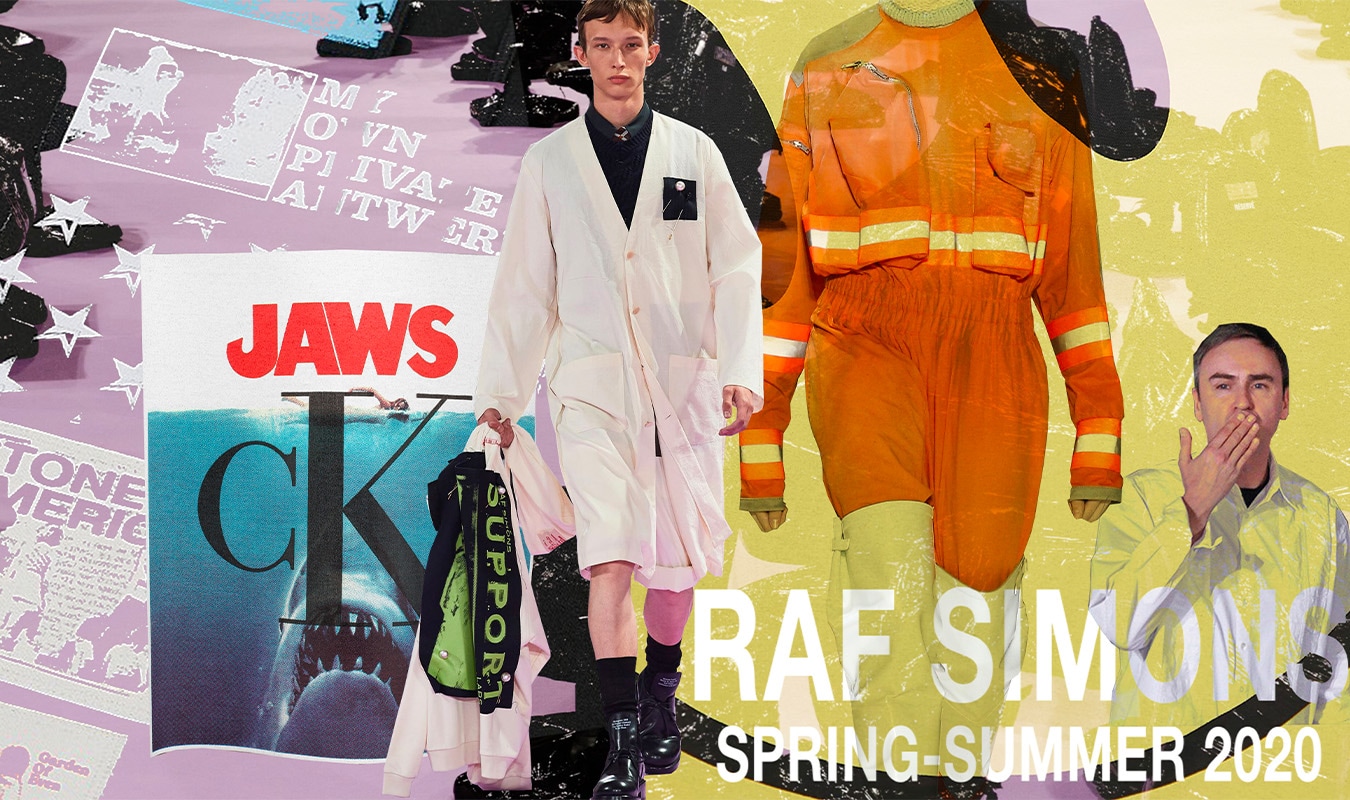 Coming out of a tenure cut short at Calvin Klein, creatively
Raf Simons
is reveling in the freedom of answering to no one but his own standards.
The discontinuation of the critically-lauded Calvin Klein 205w39nyc line highlights, if you needed it, the pace of change in the industry – ironic for a brand deemed to be going 'too far too fast' under Simons stewardship. Ultimately, it's a decision born from balance sheets, but as we all hung on to see Raf's next move, it also spotlights how integral it is to say something artistically, even if it only exists as a small part of the brand's offering.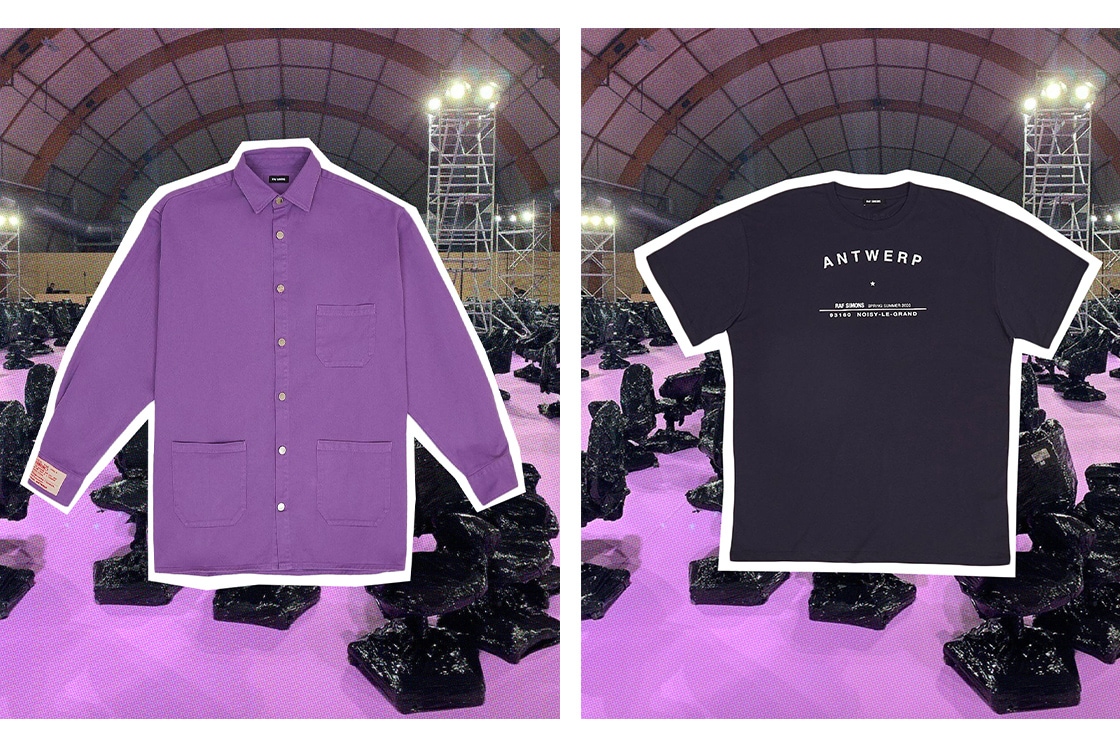 Even with a Kardashian-centric underwear campaign, Simons was deemed to lean too far into his high-fashion sensibilities. The danger for Calvin Klein is that their pre-Raf concerns of stagnating may come back into focus – the art and authenticity of 205w39ncy's notions leave with Simons - as high-fashion expressionism gives way to the juggernaut of commerciality.
Fireman Jackets, Jaws and (rubber) cowboy boots might be etched on the walls of the Calvin Klein 205w39nyc mausoleum, but the ideals live on in Stoned America, Simon's eponymous label's first full collection since his American exit, albeit through a lens levelling more cynicism at the Free World. Seated on office Chairs wrapped in black plastic, attendees saw Simons' interpretation of youth for SS20 kick off with the repeated mantra 'corporate America, consumer America, fascist America' – so if you didn't connect the dots with the looks, the soundtrack did it for you.
Recurring motifs across the collection nod to Raf's own formative years growing up amidst Antwerp's music scene, and soften the corporate greed-heavy opening, serving as a reflection on two different worlds and the age-old idea of the rebellion of youth. Where we saw Simons draw from American pop culture and offer Americana-tinged takes on mid 90's minimalism at Calvin Klein, Stoned America uses the freedom and euphoria of rave culture as a salve for 2 years in New York.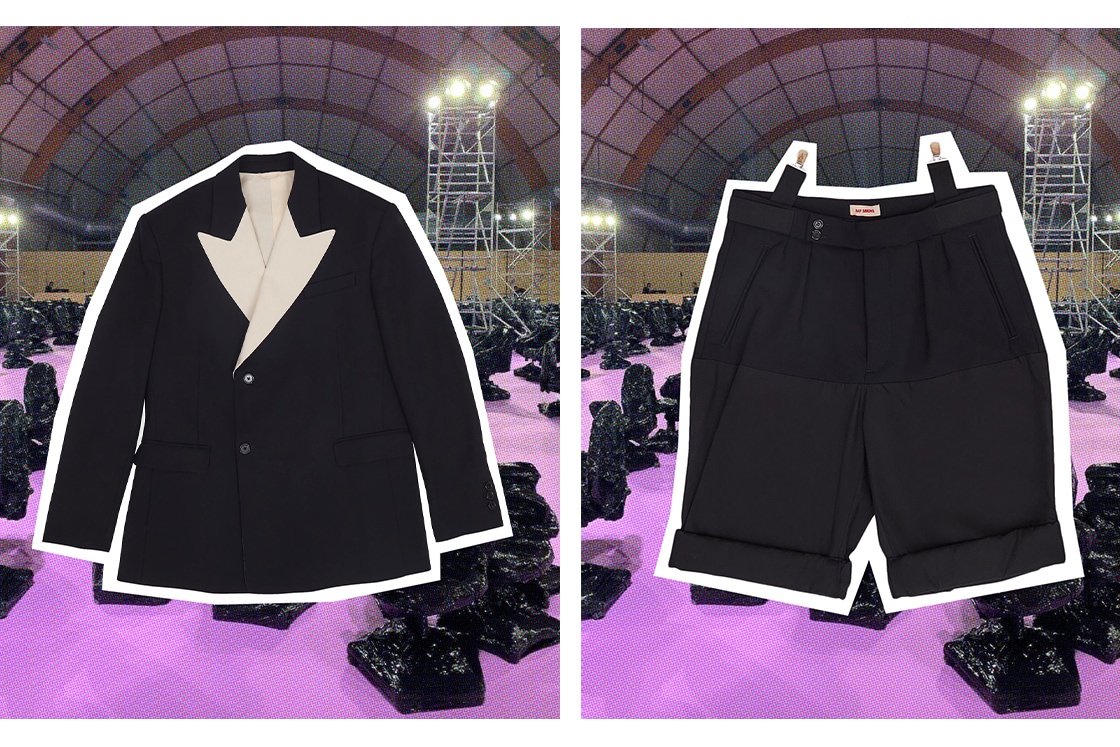 'How to text your teen', a jibe at cultural disconnects, and 'my own personal Antwerp', a romantic trans-Atlantic return, are patched onto hoodies shirting and accessories – one liners that hit heavier than monster sharks when you consider their backstory. Simons' reanimates youth with smiley faces printed huge across t-shirts, knitted across signature oversized, cropped sweaters, and cut out of leather boots.
In lab coats and tailored shorts Simons evokes Mary Shelley, piecing together the best of classic menswear with the freedom of subculture - and shocking it to life with scientific precision. Instead of cancelling each other out, the clinical and the emotional are two distinct threads holding the collection together, converging narratives which set the scene for Raf's next venture.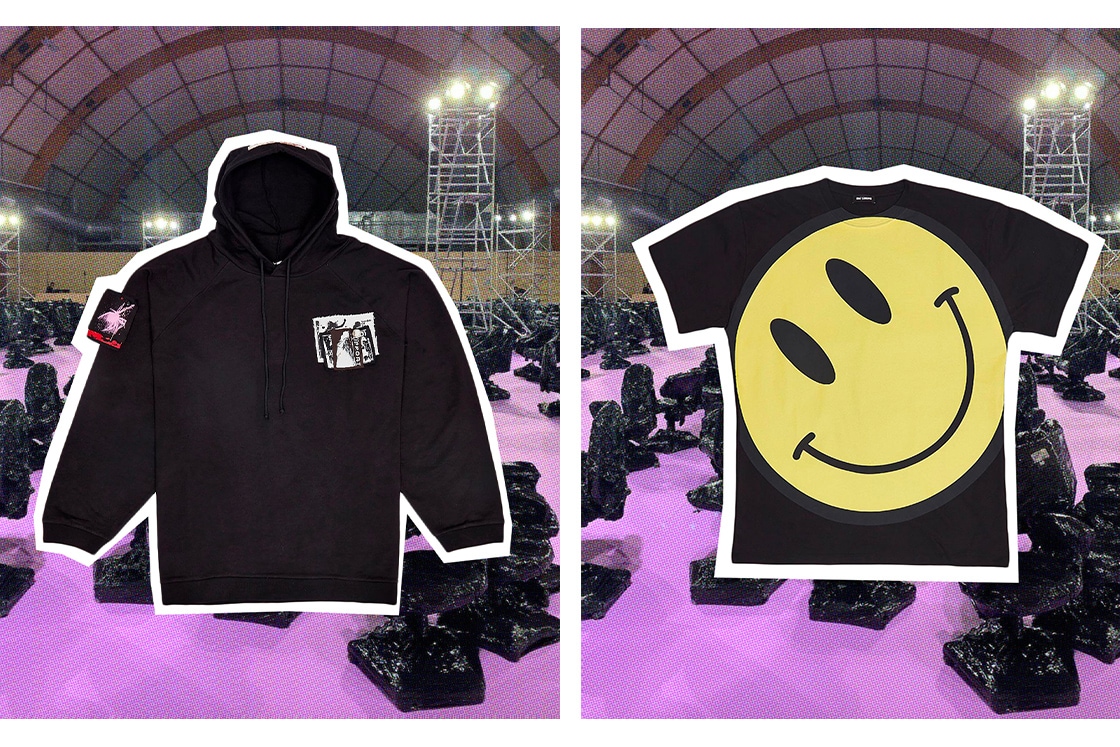 Who was to know back in June the lab coats and drug references would prove to be eerily prophetic – but the principles of Simons homecoming collection are worth standing by now more than ever. Romanticize the past, appreciate your home, and know that better times are ahead: parks, pubs, and Prada.
The latest collection of Raf Simons is available
online now.