NEW IN: NEEDLES NEPENTHES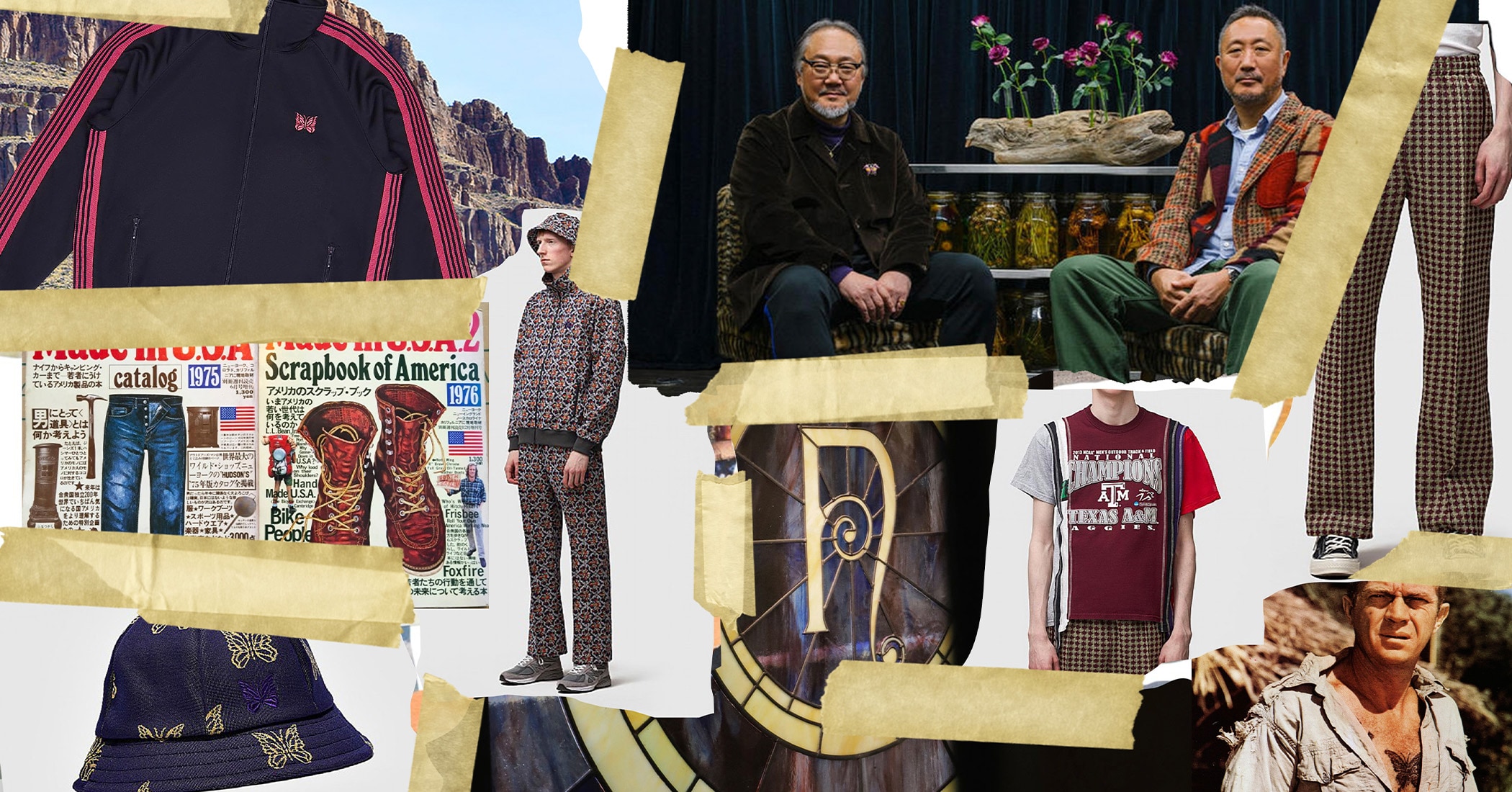 Needles
has become a pioneering phenomenon of the 21
st
century. A brand built on re-defining stereotypes with permanent spirit and standards has attracted a global audience into the world of Keizo Shimizu and fashion company Nepenthes.
Since his early teens, Keizo Shimizu – head of Nepenthes and
Needles
has shown a profound affinity to clothing. This came through early shopping trips with his parents that ultimately ushered him towards the fashion world, but it was sharing a room with his brother that started his interest in American fashion. When a copy of Men's Club magazine was left on his brother's desk, Shimizo was attracted to an article about 'Ivy Style'. Laden with photos of Ivy league students, he was transfixed labelling them as "extremely cool". There was no internet at this time, so the Men's Club Magazine was Shimizu's only access to information on men's fashion and it became a bible for him, until he moved to Tokyo at the age of 19.
Shimizu's fascination started to grow, as well as his hunger for the Men's Club, he became interested in movie magazines his father bought and subconsciously connected on screen fashion and style with what he was reading at the time. It was when Shimizu became familiar with a book entitled "Made in U.S.A catalogue", he was opened up to a whole new world. Levi's Jeans made up the cover with thousands of other garments, work boots, sporting equipment and furniture, all of which hailed from America. This was the catalyst in developing his love for all things American and a starting point to begin searching for American labels in his native Japan.
After enrolling at Bunka Fashion College and working part-time at his favourite brand, Van – Shimizu had the slightest of foots in the door. The number of shops in Japan importing goods was increasing, which was good news for Shimizu. He began by buying a selection of Margaret Howell, leather items from Armani and even some Comme Des Garcons. But it was the traditional U.S. casual style that suited him most and an area that he was so fascinated by.
Through friends and experiences, Shimizu became the manager of Redwood – a retailer that catered for American workwear and work boots which soon started stocking big American names such as Champion Reverse Weave and Reebok, attracting interest from the people in the fashion industry such as Japanese designer Yohji Yamamoto. Redwood was the place when Shimizu met Daiki Suzuki, (Founder and designer for Engineered Garments) after working together for a number of years, they shared a similar sense of passion and taste with American and Japanese design and established Nepenthes in 1988.
Nepenthes started out with a focus on Made in the USA products - brands such as New Balance and Ralph Lauren were frequent in the early days. Shimizu would take regular trips to America, somewhat scouting missions for new product and inspiration. It was a treasure hunt for deadstock denim, military pants and traditional American fabrics. But the 90's arrived and this changed, the US started to shift their production overseas and highly-sought after items were even more difficult to come across. This posed a problem for Shimizu, but a one that could easily be resolved.
Needles was born to fill the void. A brand determined to bring the American style to the Japanese people, Shimizu took not only his love for products he had found searching the US, but fused it with items, designs and fabrics he wanted to find. It was an inventive medley of Ivy league Americana and traditional Japanese motifs married into one brand.
As Shimizu started Needles in Japan, Suzuki moved to the U.S to start Engineered Garments and they have both operated under the Nepenthes umbrella ever since. Where Engineered Garments is a built on straight forward workwear, Needles offers something completely different. Sighted on influences from film, actors, musicians and artists, Needles launched with one significant piece - a loose-fitting suit jacket. But not just any jacket, it was mirrored from a jacket that American Jazz star Miles Davis wore during the 60's. A thought that Shimizu seemed to have on his mind for a while, but now was the time he could put it in place.
Needles has not only transcended with Japanese culture, but also worldwide. Their distinctive sensibility has been popular with musicians, almost taking full circle from when Shimizu was inspired by Miles Davis' suit jacket. But in modern music this has fell to ASAP Rocky, who has been seen to uphold a huge collection of Needles. From their rebuilt collection to the best-selling track pants – it's always a bonus to have one of fashion most influential on your side. In 2019, the Japanese brand collaborated with ASAP Rocky with a limited range of tracksuits; a casual, yet premium element linked to sportswear, that makes it so popular with hip-hop musicians.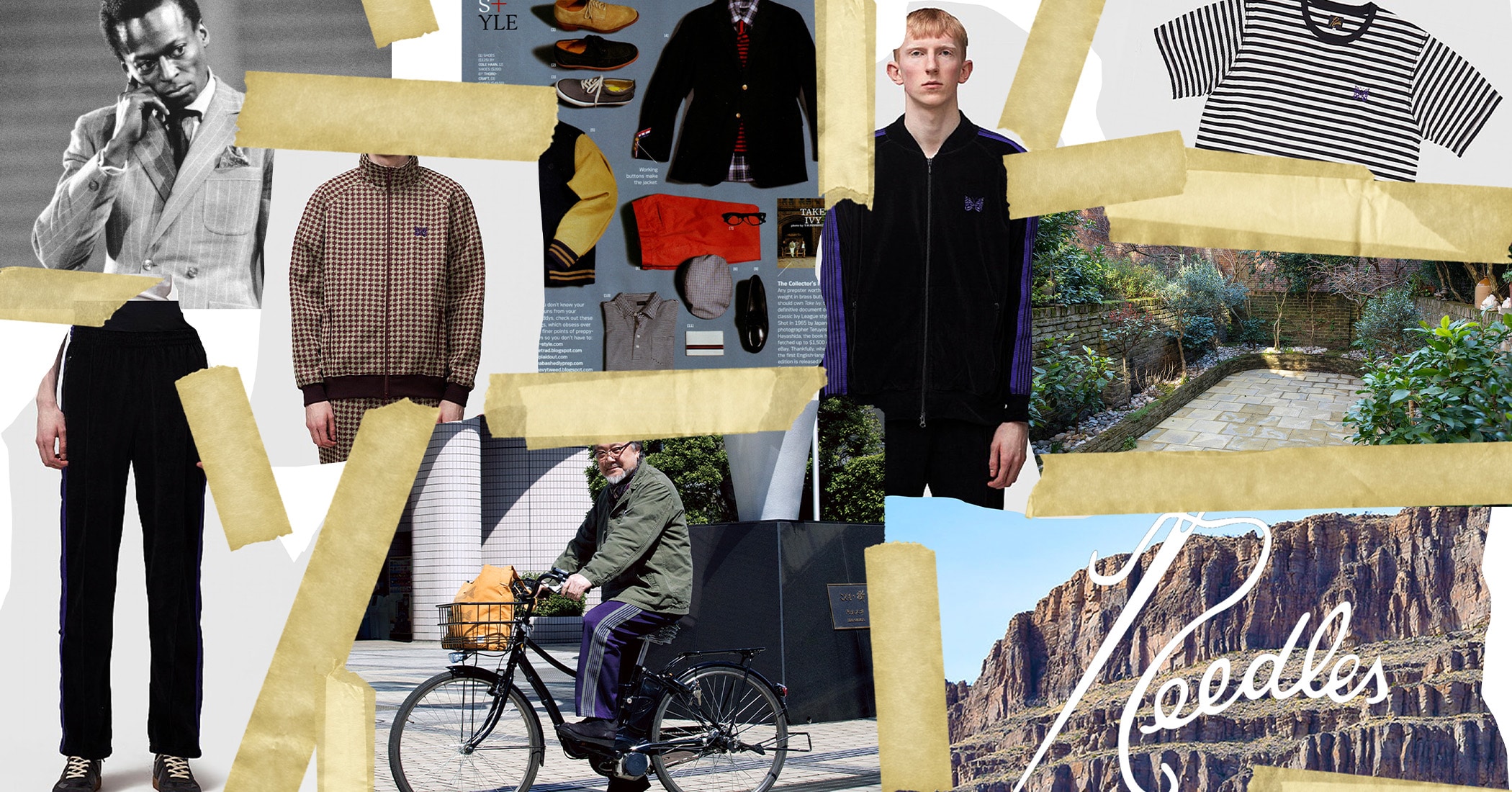 Although Needles is fundamentally simple, the arrangement of patterns, fabrication and ideas present a greater outcome. Through the sportswear side and
Rebuild by Needles
, Shimizu has built a brand on perfecting his tricky combination of arts and vintage garments, fusing them into progressive cuts that seem to resonate with a range of consumers across the globe.
The latest collection of Needles is available
online now.