THE BEST FROM LONDON FASHION WEEK: MENS 2020
The January blues is well and truly in full form, but London Fashion Week: Men's arrived in the British capital to kick of this year's fashion calendar with a showcase of autumn/winter 2020 collections from an eclectic group of established and emerging designers.
Paria Farzaneh
London based designer Paria Farzaneh brought her signature patterns to an Iranian wedding on the first day of London Fashion Week: Men's. A collection adorned with sustainable printing made in Isfahan, Iran. Natural dyes using Turmeric and Saffron – washed in the river and dried in the Iranian sun built the base for a forward-thinking traditional print.
Sitting alongside a number of GORE-TEX offerings, Farzaneh continued to push into a realm of sustainability with the use of Thermore insulation from recycled plastic bottles and fish netting made from recycled plastic yarns forming military and utilitarian-inspired items. A collection presented with functionality at the forefront, accompanying show notes explained that "in a fast-paced environment, we need to be prepared for environmental, social, and community factors that we face on a daily basis. While unaware of what we are preparing for, or what tomorrow brings, a sense of confidence, practicality and awareness, ready for our next expedition."
Images by Photographer
Christinia Fragkou
Bethany Williams
Winner of the British Emerging Talent Menswear at the Fashion Awards 2019, Bethany Williams brought her 'No Recourse to Public Funds' Autumn/Winter 2020 show to Brick Lane; an area not too far from Newham, a place where the largest number of women and children are in temporary accommodation in London. A signifier for Bethany Williams, a problem in which not only informs her work, but a theme which she can channel money made from the clothes back into.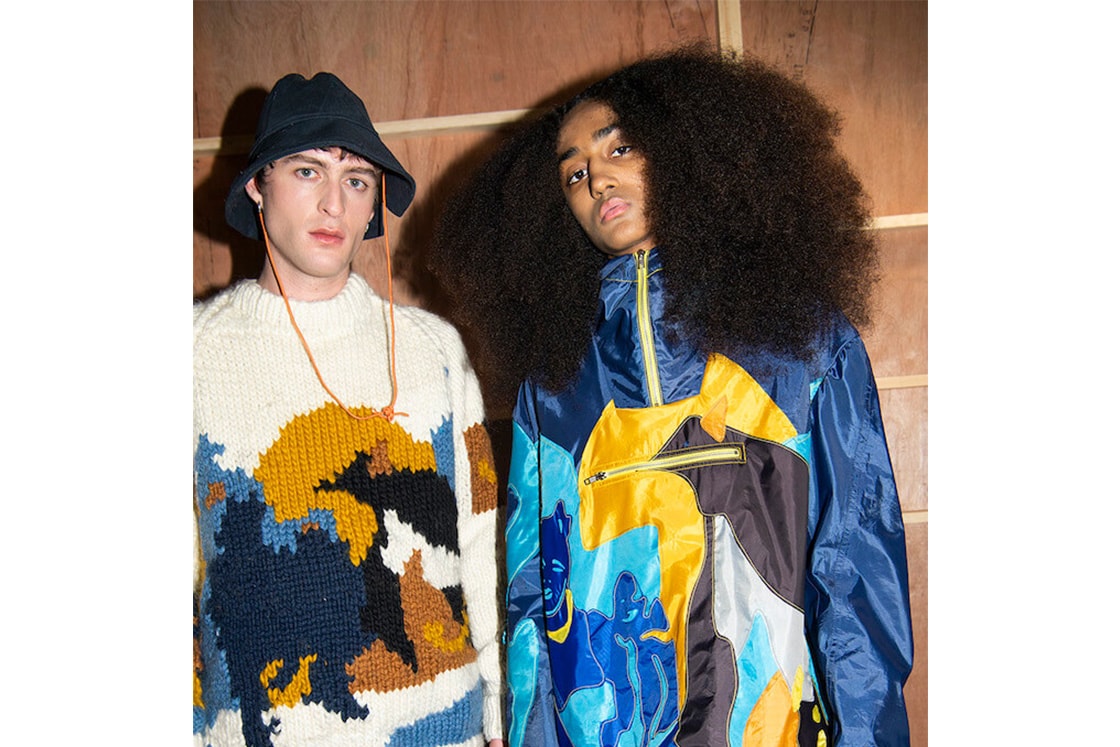 Fashion has the ability to amplify ideas onto the bigger stage and Williams does so. Recycled materials, craft techniques and garment construction from children's clothing shape the collection of wide-legged trousers and shrunken tops. It's a collection of cheerful colours hoping to create a visible change within society. A creation into a mindful approach taking consideration into sustainability and social impact.
Images by Photographer
Jason Lloyd-Evans
Nicholas Daley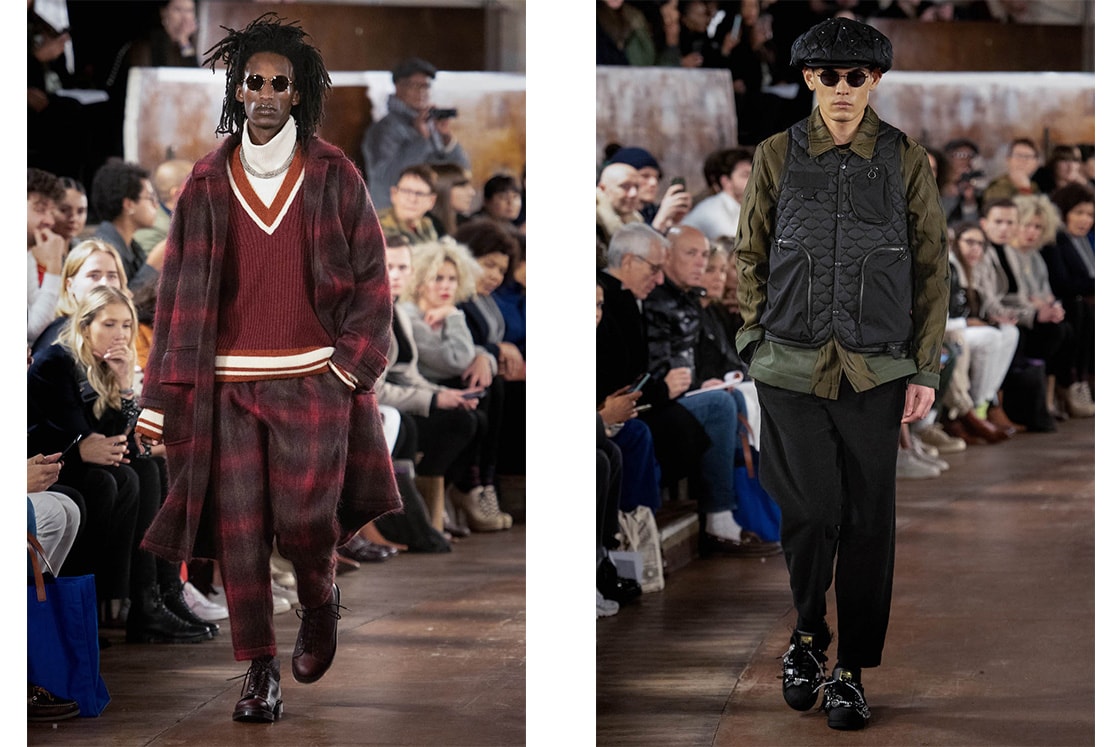 Informed by the world of experimental jazz and psychedelic rock gives Nicholas Daley's AW20 collection a soundtrack. A love of Jimi Hendrix and Prince play on the sexuality of music embodied with clothing that inform his newest collection.
Daley likes his shows to be about community, friends and family. His musician girlfriend came up with the title for the new collection, 'The Abstract Truth'. An insight of an experimental nature, takes his work forward with a team of Japanese textile specialists to create new fabrics, he places great significance on craftmanship, retaining all production in the UK.
Special utility cuts worked with heritage checks, paying homage to his Scottish routes and an emphasis on accessories come in the form of crossbody bags and oversize baker boy hats. It is also worth noting his partnerships with adidas and Fred Perry made an appearance, amplifying the designer to the next stage.
Images by
10 Magazine
Ahluwalia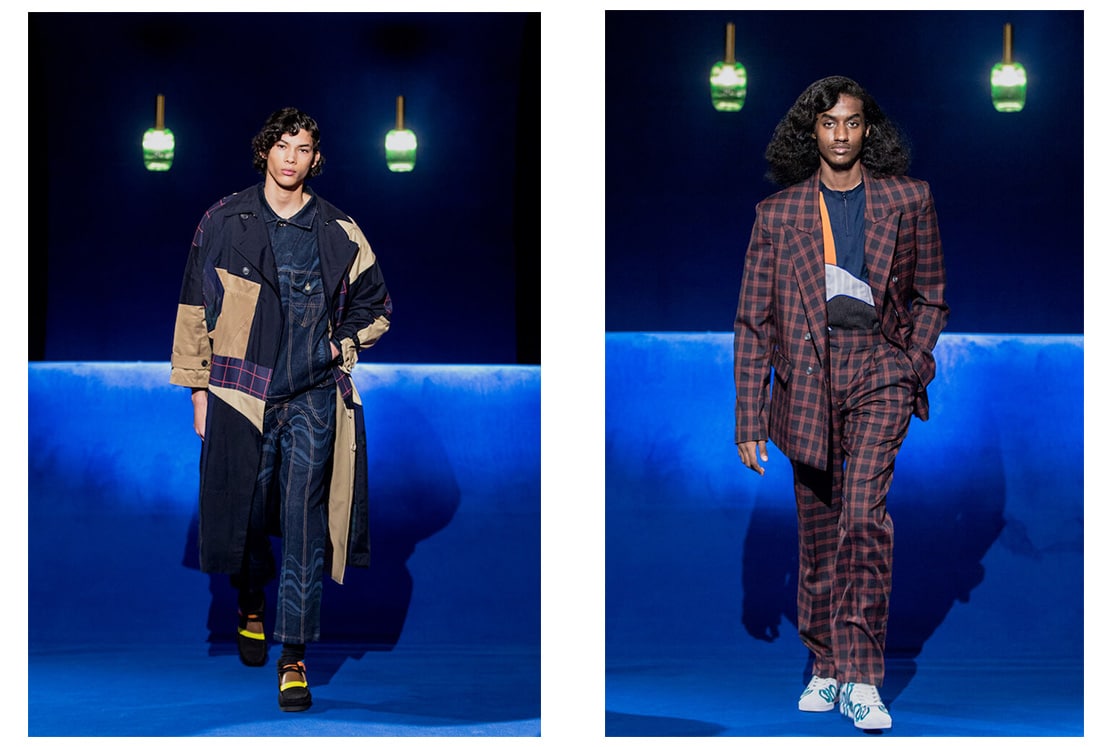 Priya Ahluwalia made 1965 a significant year behind her new Autumn/Winter 2020 collection. A focus on countries close to her family's heritage – India, Nigeria, Caribbean and also England resonate with the expression of materials and dreamlike patterns used by Ahluwalia.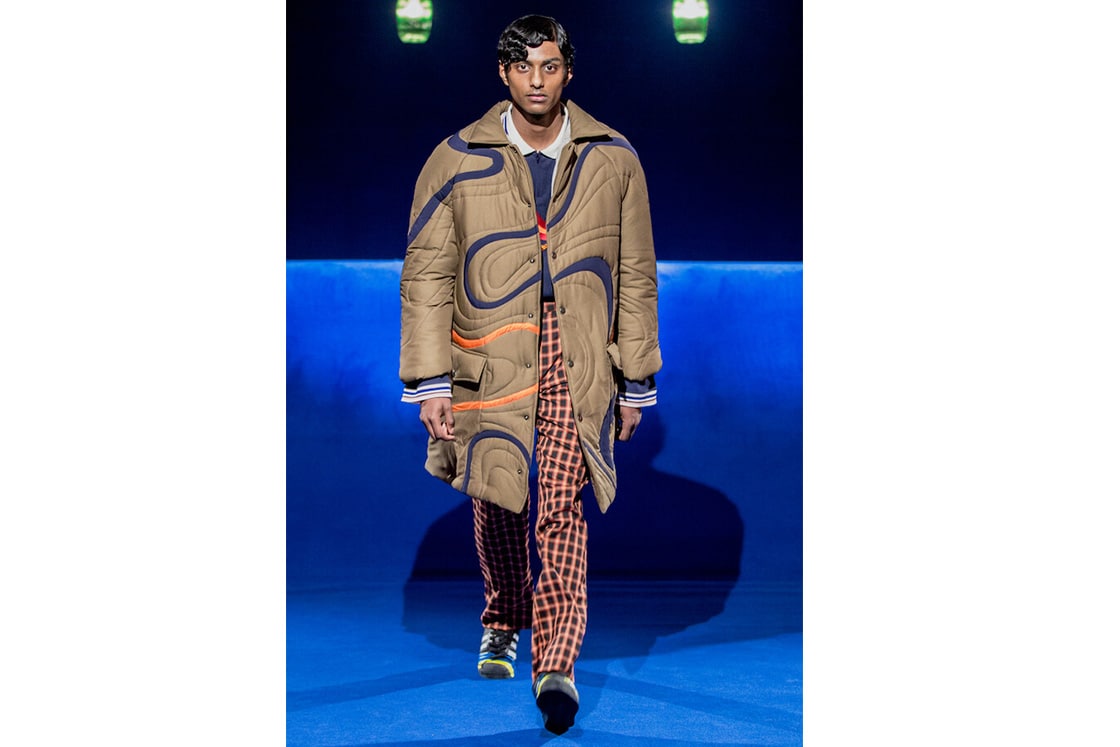 The frameworks of Barbara Brown – a British print designer best known for her work during the 60's and 70's make perfect inspiration in this collection. True to her design ethos, Ahluwalia fuses together sportswear designs with formal tailoring made from sourced deadstock clothing. A dreamlike world made from what materials are available to her at the time.
Images by Photographer
Dominika Scheibinger
Wales Bonner
Wales Bonner brought the fundamentals of her brand to London Fashion Week: Men's showcasing an inherent insight around black cultural histories. John Goto's photographic exposure of Lewisham Youth Centre in 1970 London, as well as her family photo album directly informed the collection. This is the first time she has used her own experiences as a primary source for inspiration.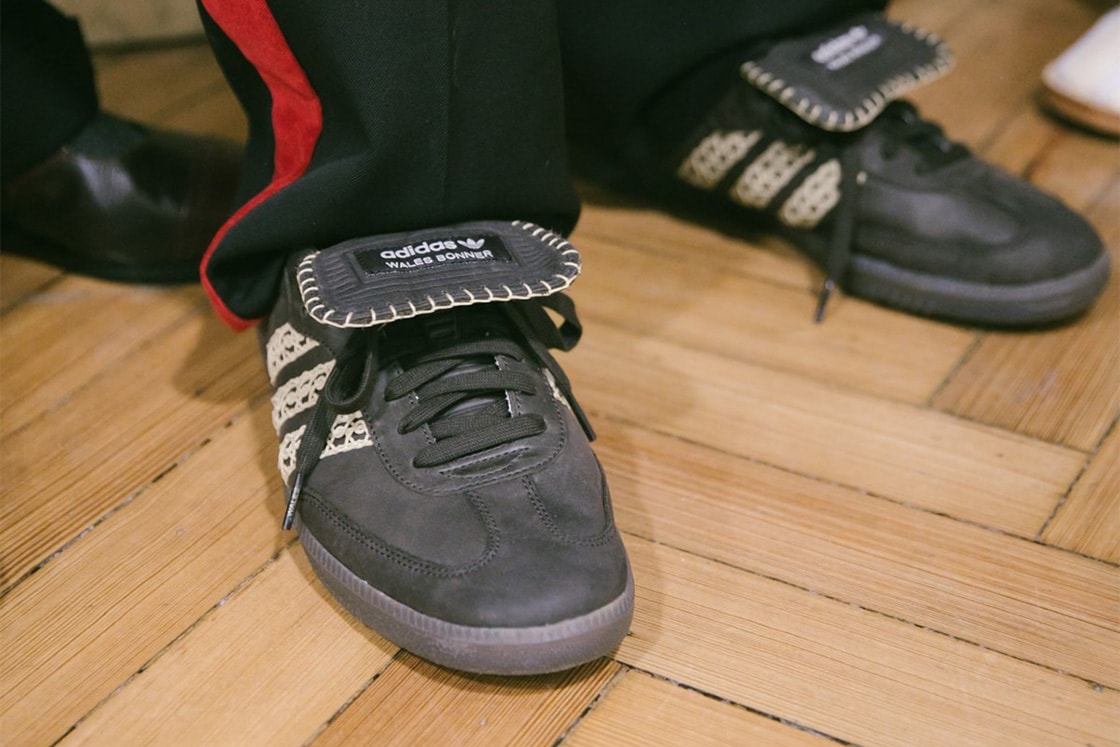 Wales Bonner's interracial upbringing connects her to Lewisham in the 70's. A playful aesthetic and defiant sense of style came from the Black Afro-Caribbean youth. A nod to 60's Savile row tailoring fitted into archival adidas sneakers takes a Jamaican style woven into English-smartness. Preppy combos of blazers and pleated skirts makes up a strong representation of women in this collection and certifies Wales Bonner as a cultural leader for emerging designers.
Images by Photographer
Christinia Fragkou
Martine Rose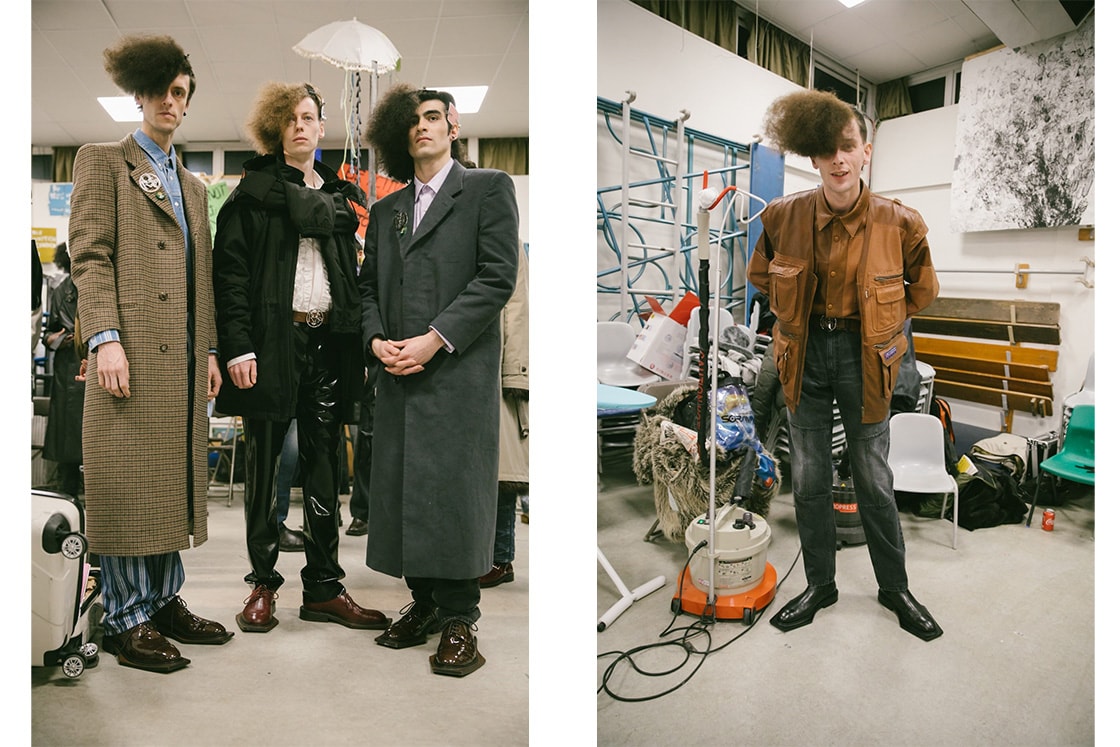 Set in her daughter's primary school, Martine Rose brought latex tailoring to her Autumn/Winter 2020 showcase. Nestled in the heart of her inspiration was the setting, alongside Croydon, Tottenham and Clapham Junction – all playing a small part in the background of Rose. While she adopted reference to place, it was also her previous collections made up with viscose shirting and jacquard denim that were talking points. 'Expect Perfection', played on the funny side of old things already used by Rose in previous collections.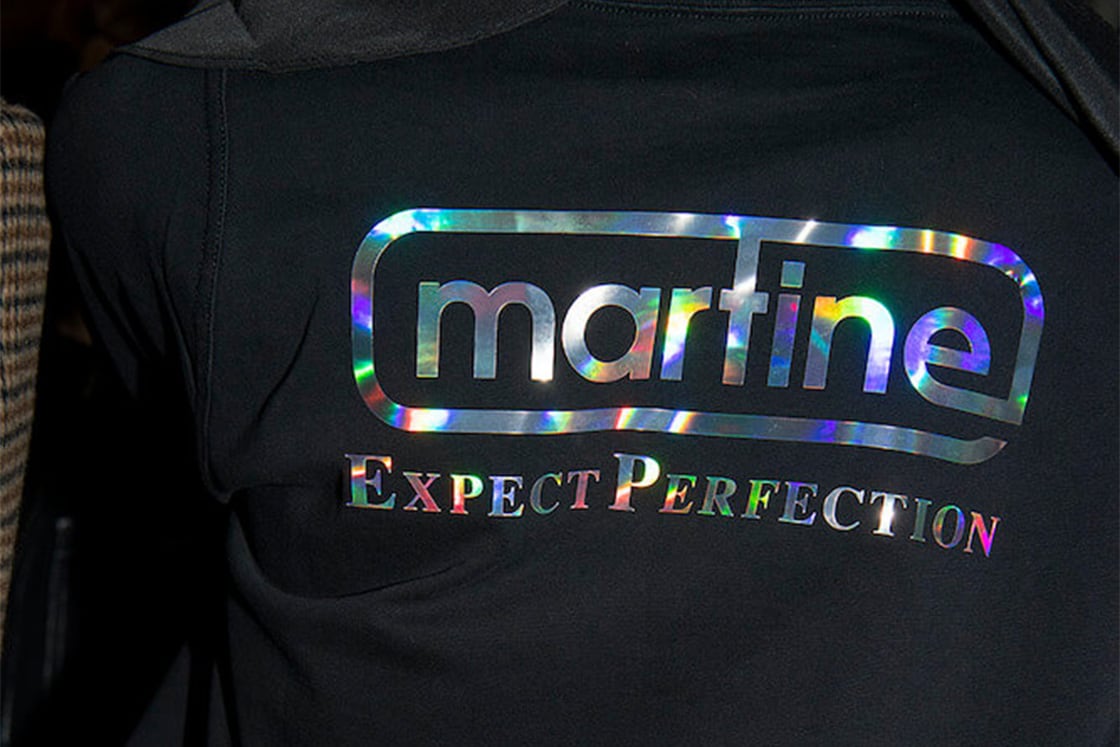 Her reinvention of formalwear shines through new techniques and materials, one highlight being latex tailoring, a contrast to previous workings but a step into an interesting direction. It's second-mature to Rose to keep changing the game and is at the forefront of driving ideas forward into new realms.
Images by
Jason Lloyd-Evans
and
Christinia Fragkou