KAMIKIRI: WHERE EAST MEETS NORTH WEST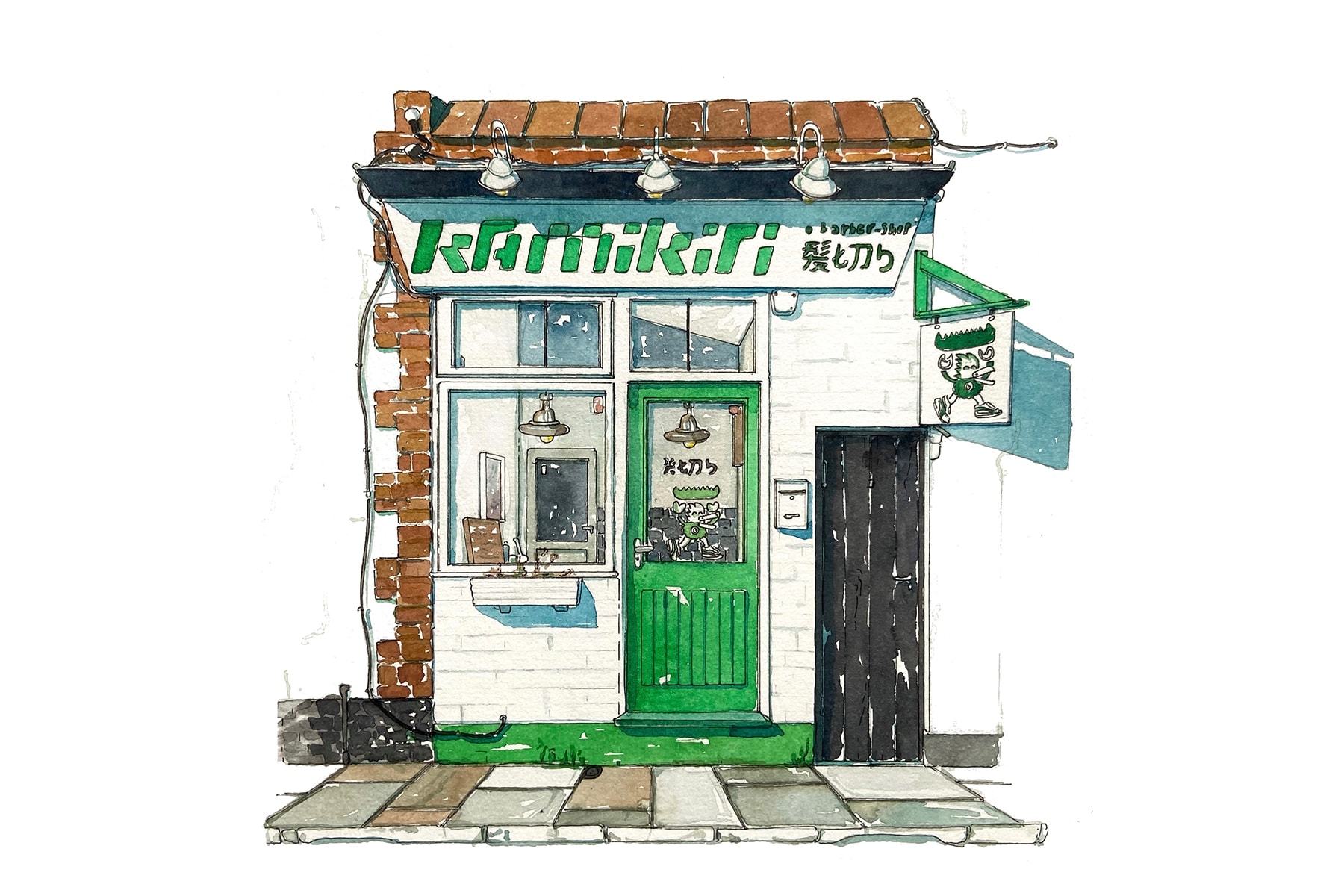 Japan is a nation of balance: where a legacy of fierceness stands, so does one of humility. As such, the
Nike Air Max 95
holds many similarities. An undeniable reputation, alongside a quiet confidence – a famed silhouette that has stood the test of time, relying on heritage, as opposed to clout. Although seemingly stark differences between the two, for Liverpool barber James Ahmed, they hold a special affinity in both his heart, and his shop.
Before we met James, we killed time in a local family run café down the road, packed with locals and a palpable Scouse community spirit in Liverpool's leafy suburb of Aigburth Vale. Standing proud on the adjacent residential street, Kamikiri Barbers is reminiscent of Tokyo's unassuming back alleys, sandwiched between houses and crowned with its notable citric green accents. Kamikiri was birthed after some "forced reflection" during COVID, where, despite eighteen years in the trade, Ahmed "started thinking it was time to open up a shop" in December last year.
In between hourly appointments, the various talismans that pepper his shop are hard to ignore - books on manga and anime figurines all extend his love for the culture, fuelled by a "subconscious or conscious influence from Japan as a kid... Computer games – SEGA, Nintendo – all that stuff." Despite the shop's Eastern inspiration, James' intentions behind Kamikiri are clear: "I wanted to have something that was mine," he explains, "but I didn't want the shop to seem like a gimmick, where it's all Japan." This rings true; The shop is refreshingly minimal, a suntrap that marries a respect for the culture alongside his own passions, such as photographs of him and his niece and Japanese art books – the personal and professional work in close symbiosis.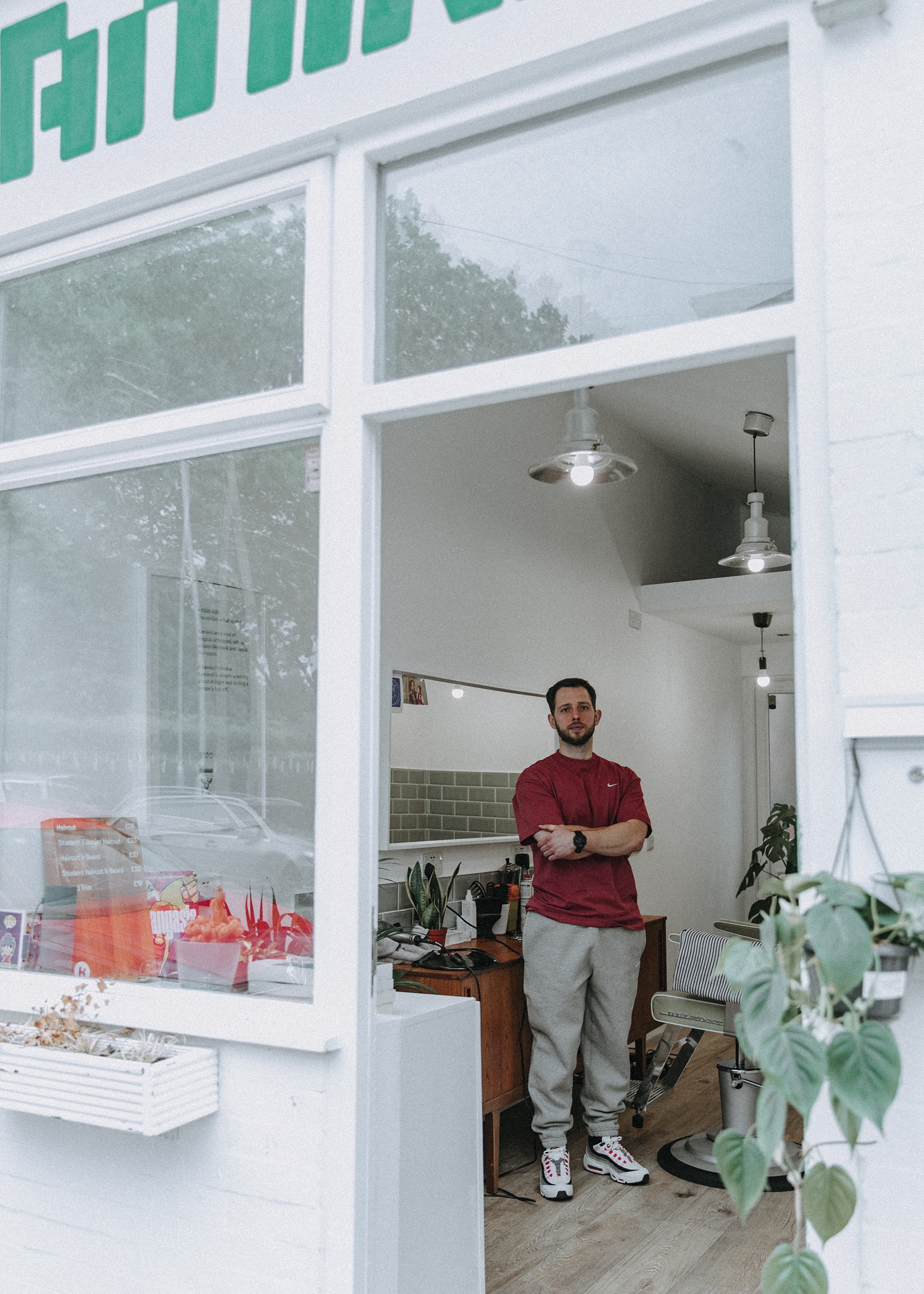 The shop is small – just big enough for our team – but despite Kamikiri's size, in true Scouse sentiment, the humour is rich and the welcome, even more so. In parallel with his shop, James' presence is one of understated ease, where good chat is guaranteed alongside a clean cut. His decision to set up shop outside the City Centre was a conscious one – "I'd always liked the space... I grew up round here and liked how it was smackbang in the middle of the houses" he explains, encouraged by Aigburth Vale's greenery to aid his passion for running outside of work hours.
Kamikiri lends its name to 'yokai' – generational tales from Japanese folklore – where small creatures with blade-like claws snip locks from those in an unaware slumber. Replace claws with electric clippers, and behold: Kamikiri Barbers. Building the shop to fruition was a natural journey for Ahmed, first sparked by his hairdresser aunt. "After leaving school, I thought, I'm not that academic... but I'm good with my hands," he tells us, "So, I thought I'd give it a go." What started with a somewhat "disappointing" hairdressing qualification eventually became "a baptism of fire," later evolving into a love for barbering that took James from full time retail, to a tactile trade. Although a formal training in both, we joke a full balayage and highlights isn't on the cards anytime soon. After first hearing of Kamikiri on his Twitter newsfeed, the name stuck, and James' brainchild was born.
With a history dating back to Japan's Edo Period, it was important for James to modernise Kamikiri and "bring it into the 21
st
Century," where his distinct logo reps Nikes, a barber's comb and traditional claw-like hands. His Sonic the Hedgehog inspired motif – "you see the hair and the spikes at the back?" – was initially drafted by his friend and local graphic designer
Mike Walsh.
"Mike first put him in a pair of 97s, which I thought was kinda funny..." he says, with later designs paying homage to the proclaimed sneaker of the city, the
Nike Air Max 95
. Like a Samurai's armour, sneakers are rooted in protection, status and heritage, with the Air Max 95 especially, garnering a cult following in Liverpool above any other UK city. Hailed locally as 110s – the sneaker's original cost – a distinct community of loyal North-Westerners have elevated Sergio Lozano's anatomy inspired design to one engrained in the Scouse psyche, with the newest iteration marrying East Asia with streetwear irreverence. Building a formidable skeleton of Japanese imagery, the new model features a spine of monochrome gradient overlays harnessed with mesh ribs. Contrast laces and a padded collar are accentuated with a blood red swoosh signature, cushioned by an
Air Max
heel unit.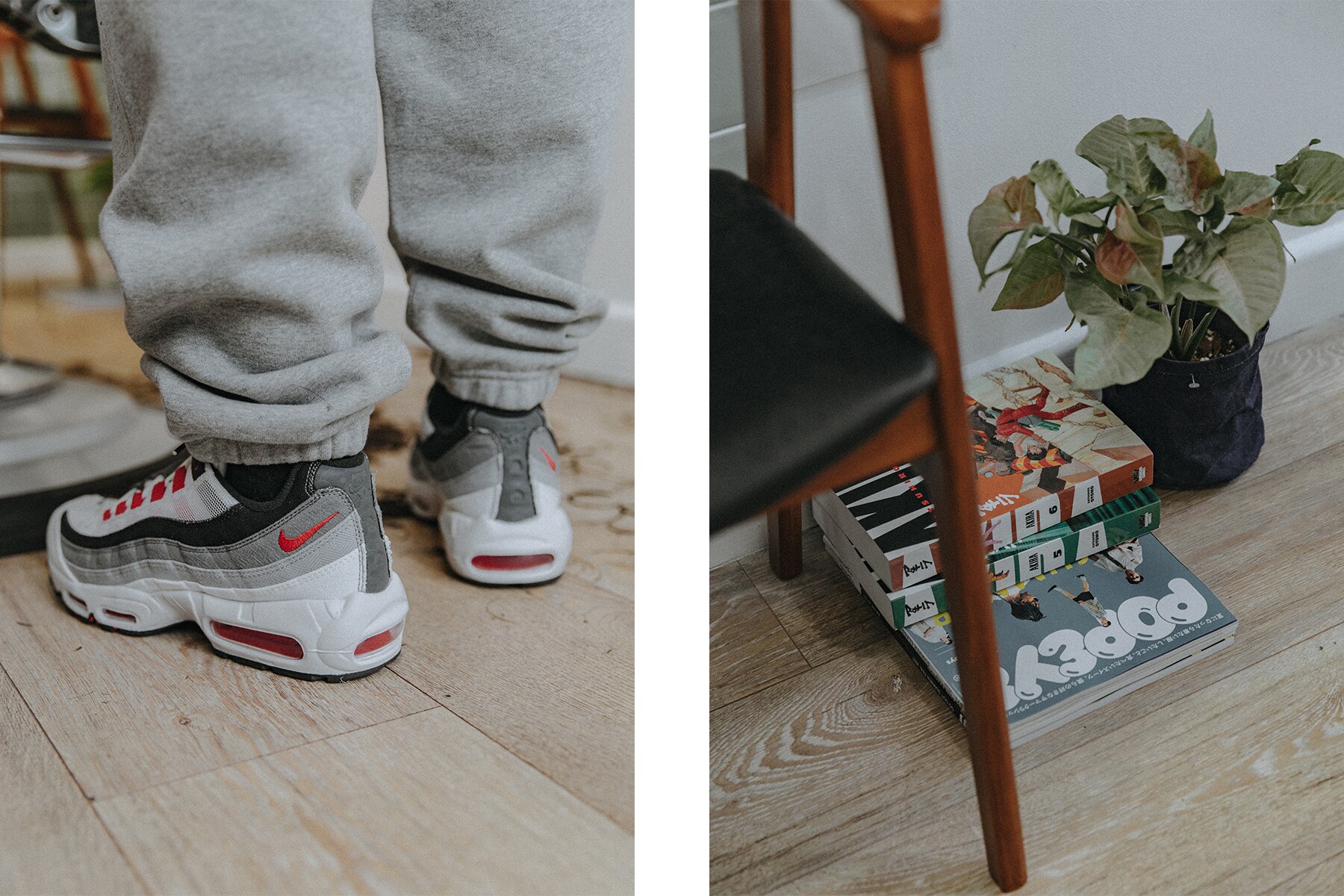 According to James, Liverpool is a city brimming with distinction, where the subcultures of the Mersey favour "a proud uniform with few variations," with the Air Max 95 at the crux of Liverpool's sartorial trademark. He notes that four decades of rapid regeneration have birthed a wave of "solidarity and Scouse pride" amongst locals, where "misconceptions of the city" can overlook a hub of culture, history and craft.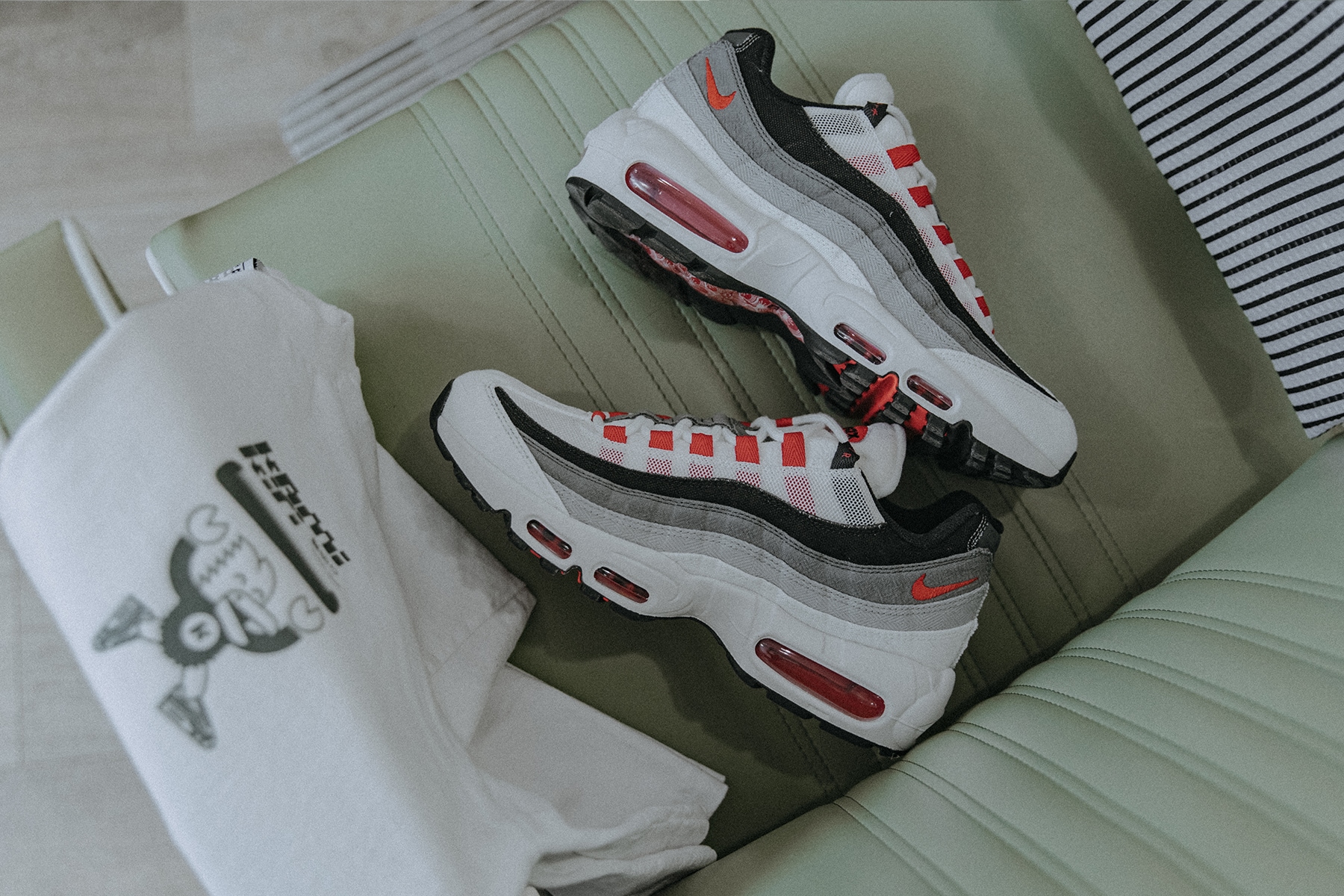 As our chat wraps up, conversation eventually turns to the future of the shop, with the Scouse humility omnipresent in James' answer: "I just want to do something where I can earn the money I need, with the social aspect of it" he says. Barbering is Ahmed's bread and butter with no desire "to turn it into this big business." One thing is for certain, though, for James, where there is community, there is passion, with the latter also ringing true for Liverpool's signature sneaker.
The
Nike
Air Max 95 QS
'Japan'
Sneaker is available in-store and
online now.
Special thanks to
James Ahmed
/
Kamikiri
Illustration by
une Arthur Ortega