SEVENSTORE have taken this time to showcase the dedicated workings of the LJMU students with the @HOME WITH LJMU SERIES.
In this uncertain period, they've had to stay at home, produce hand-ins, zoom call tutors and not have that true university experience. Here is an insight into their creativity, expression and productivity, as well as another chance to stage great offerings that may have not been possible otherwise. In addition to this SEVENSTORE will be hosting an end of year virtual show in June to showcase even more work from the university.
The first edition features work from student, Abigail Fairclough.
PAT
Pat is a 78-year-old part-retired social assistant. We spoke to her about style at 70 and how she feels about trends.
I love going on holidays and spending time with my family, especially my grandchildren. Pat adds that she goes shopping a lot for clothes, I have so many shoes, my husband tells me off and I have three wardrobes full of shoes and bags, I have an obsession but at least I have a pair for every occasion.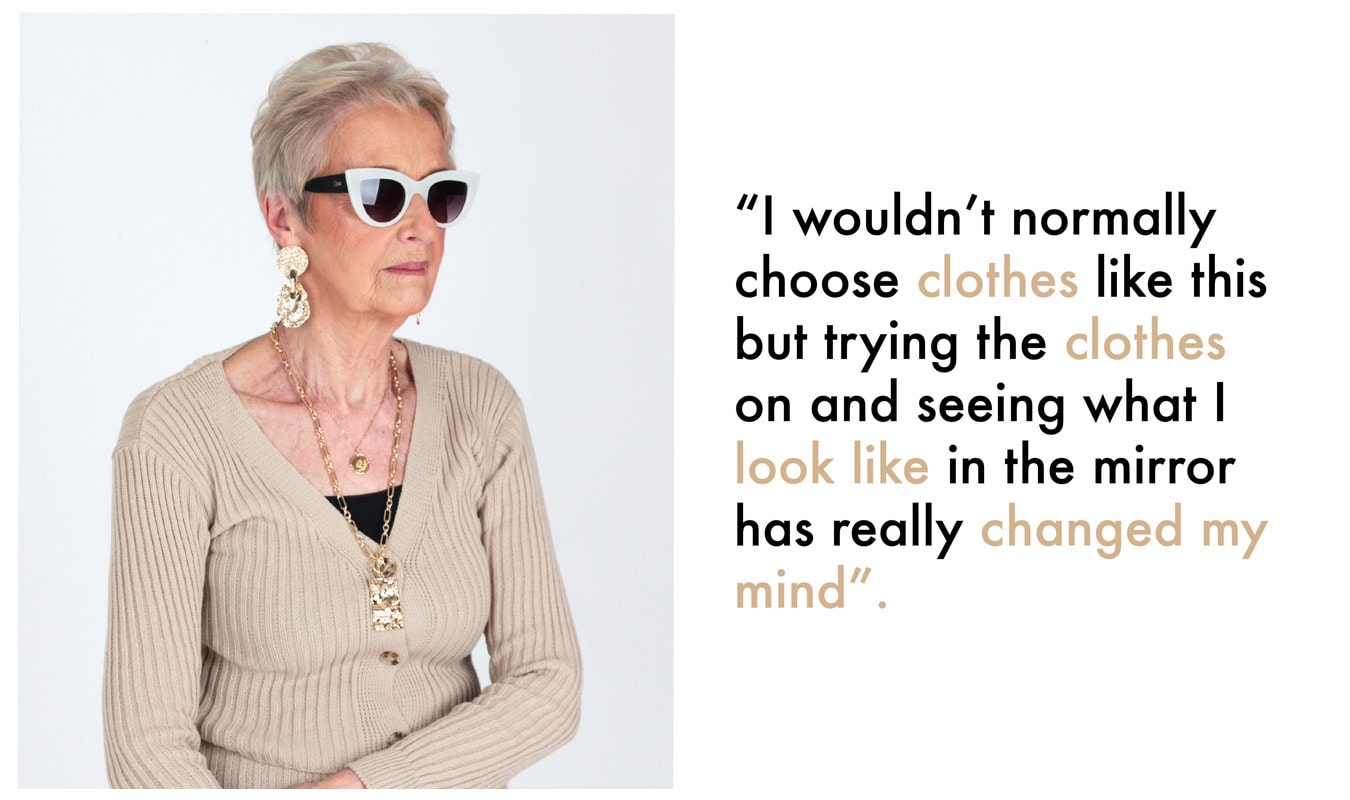 Shops aim their clothing trends towards 18-35-year olds, so they don't tend to cater their trends towards women like Pat, normally my clothes are quite basic for everyday life; I wear trousers and a patterned top with heeled boots. I don't think of myself as fashionable, my daughter helps me a lot as she has a good eye for fashion. Due to trends being skewed towards younger women it is probably easier shopping for trends when she goes with her daughter. Just because you are over 70 doesn't mean you can't shop in 'on trend' stores, Pat agrees, my favourite shops are Zara and H&M, I love the styles they have to offer especially in the summer, they have so many beautiful things.
The majority of people aged 70+ do not want to feel old or dress old, as long as you are young at heart, you can shop anywhere!
Pat adds, I live in North Wales and I dress for everyday life to match the area I live in; I feel as though if you dress un-usually or stylish in my village you get judged at my age. When I go to London, I feel as though I can express my style more as you don't get judged, I can wear more stylish clothes and feel glamourous.
Later, I asked Pat what she thought of clothes we used in the photoshoot, I wouldn't normally choose clothes like this but trying the clothes on and seeing what I look like in the mirror has really changed my mind.
Stepping out of our comfort zones is hard, Pat smiles, I do like clothes in this style on the hanger but normally wouldn't pick it up, now I'm not sure why! I guess I'm scared to stand out, but the way we have styled it today makes it right for my age so I wouldn't feel out of place to wear these outfits.
To bring Pat out of her style shell, we opted for textures like leather with heavily accessorized looks. When I asked her about the details of the clothes Pat commented, I love the colours, they are something that I would wear. In the future I will try these clothes on style them for my age, I feel beautiful and comfortable. I would absolutely wear these clothes again.
I then asked Pat if she what she took from this experience; When shopping I will try on everything I like even if it is a little bit out of my comfort zone because I know I can style it to my taste, follow the trends, feel stylish and not look too old!