FRED PERRY X RAF SIMONS SUBCULTURE LIVE REVIEW
The unusual return of the sun filled Norfolk Street with a warm ambience on the afternoon of Thursday the fifteenth in August. A few people swilled in and out of SEVENSTORE to do a spot of sunny day shopping. As we passed the shop, the small ringlets from the new Fred Perry x Raf Simons collection could be seen glistening in the window. There was a calmness surrounding the store but it stood ready to invite the buzzing atmosphere and loud noise of the evening's festivities.
By 7pm, Fred Perry Subculture had kicked off. An event celebrating local talent through live music, and in this instance celebrating a new collection too. The store filled up swiftly with people flooding through the magenta and green structure. Making our way up the stairs, there was a shared feeling of attention being drawn to the installations dotted around the store. Archival Fred Perry pieces were exhibited on the top floor like a museum of fashion artefacts. Leading to the new collection of hoodies, polos and long sleeve sweatshirts, within the transformed activation box.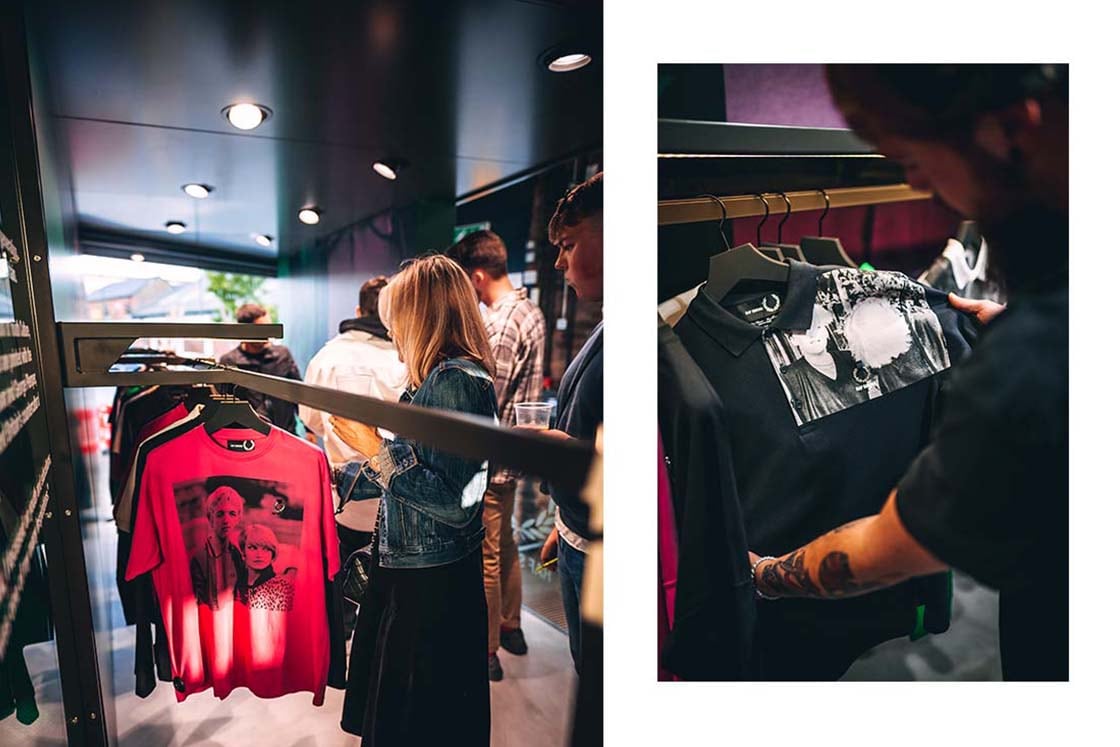 The crowd was evidently aligned with the indie rock scene in Liverpool. Young friends who lived locally and some older attendees who had seemingly been fans of Fred Perry for a long time. Sporting an array of Fred Perry, some boys wore mod and slicked back hairstyles, while the girls were in flared trousers. But one thing they all had in common was the mutual excitement of seeing Trudy and the Romance; a real Thursday night treat. Collecting their locally brewed drinks from Love Lane Brewery, everyone made their way downstairs as the band took to their designated stage for the night.
The trills coming from the 3 guitar players diffused through the store. Trudy and the Romance played a selection of hits from their new, debut album, Sandman. Light and cheerful live indie music- a new but refreshingly different style to electronic music usually heard at SEVENSTORE. Heads bopped to the drums. One young boy sat in front of the crowd, besotted by the band and their mesmerizing music. The 6-piece band, which was down to 5 on the night, still came through with a smashing performance despite the absence of their keyboard player.
The night was a success. Fred Perry Subculture had, yet again, brought together a community of likeminded people in Britain's Merseyside. Encouraging today's subcultures to interact and celebrate their interests. A similar spirit which resonates with the stories behind the images from the collection.
Shop the
Fred Perry X Raf Simons collection
online and in-store.