COMME DES GARÇONS PLAY: THROUGH THE EYES OF REI KAWAKUBO
Since her debut in Paris in 1981, Rei Kawakubo has been heralded for straying from the norm, challenging inner perceptions of fashion and flipping them on their head. This high-concept observation and implementation of Kawakubo's vision has set the base to the thriving
Comme des Garçons
empire we know and love today.
With an underpinned highbrow, architectural approach to radical design,
Comme des Garçons'
take on fashion is distinct and unobvious. The ever-growing
Comme des Garçons
fashion house is a playground for a multitude of diffusion lines that have streamed the marketplace since its inception - ultimately catering to the tastes of a broader consumer base and spreading their wings worldwide. Comme des Garçons SHIRT, Homme, BLACK and the favourable PLAY line amongst others, stand under this empire. All of which possess their own unique identity and philosophy.
PLAY stands in its own merit, away from the high-fashion stage that dominates Rei Kawakubo's universe. Launching in 2002, the label was initially described as "a sign, a symbol, a feeling", and as it became more apparent, this referred to the brand's highly-recognisable heart-shaped logo. The PLAY project takes elements of essential wardrobe garments; t-shirts, cardigans and hoodies, with minimal styling and fabrication, before adding a sense of substance and distinction with heart-shaped designs. As the years have passed, the logo has been interpreted in various iterations; big and small, front and back, green and black, as well as making it onto the admired canvas walls of
Converse's
Chuck Taylor 70 silhouette.
Comme des Garçons PLAY is defined by heart-shaped significance. Year-on-year the brand encapsulates elements of Kawakubo's universe and brings them to the mainstream fashion domain. SEVENSTORE joined forces with
Rachel Noble
– a digital artist and designer – to reimagine the PLAY world with a display of identifiable infusions of the heart-shaped design, bringing this stand-out logo to life.
Where did the heart-shaped logo derive from? The answer is Filip Pagowski. Born in Poland, Filip Pagowski is a graphic artist known for often treading the lines of the unusual. His ascendency came from working on low budget videos, illustrations, animations and window displays for different publications in and around New York. He deviated into the world of fashion with his work for The New Yorker Magazine in the 1990s and first started working for Comme des Garçons in 1992 as a model in some of their Men's Paris Fashion Week shows. Rei Kawakubo was not aware at the time that Pagowski had worked for the brand before 1999 when they came together for an artistic collaboration. His abnormal take on art aligned with the perspectives and approach set out by Kawakubo's Comme des Garçons, shining through similarities between differentiation and new interpretations.
Pagowski never consciously created art for specific garments or collections, the association between the two came later. Kawakubo would select from numerous workings what would be the image for certain collections, brochures and posters. His heart-shaped logo was never intended for the label, it was picked up after Kawakubo needed an image which was identifiable, simple and would become the representation of a brand. Not connected to anything, Pagowski then got an idea of a red heart with a set of eyes. Little did he imagine at the time it would go onto become what it is today.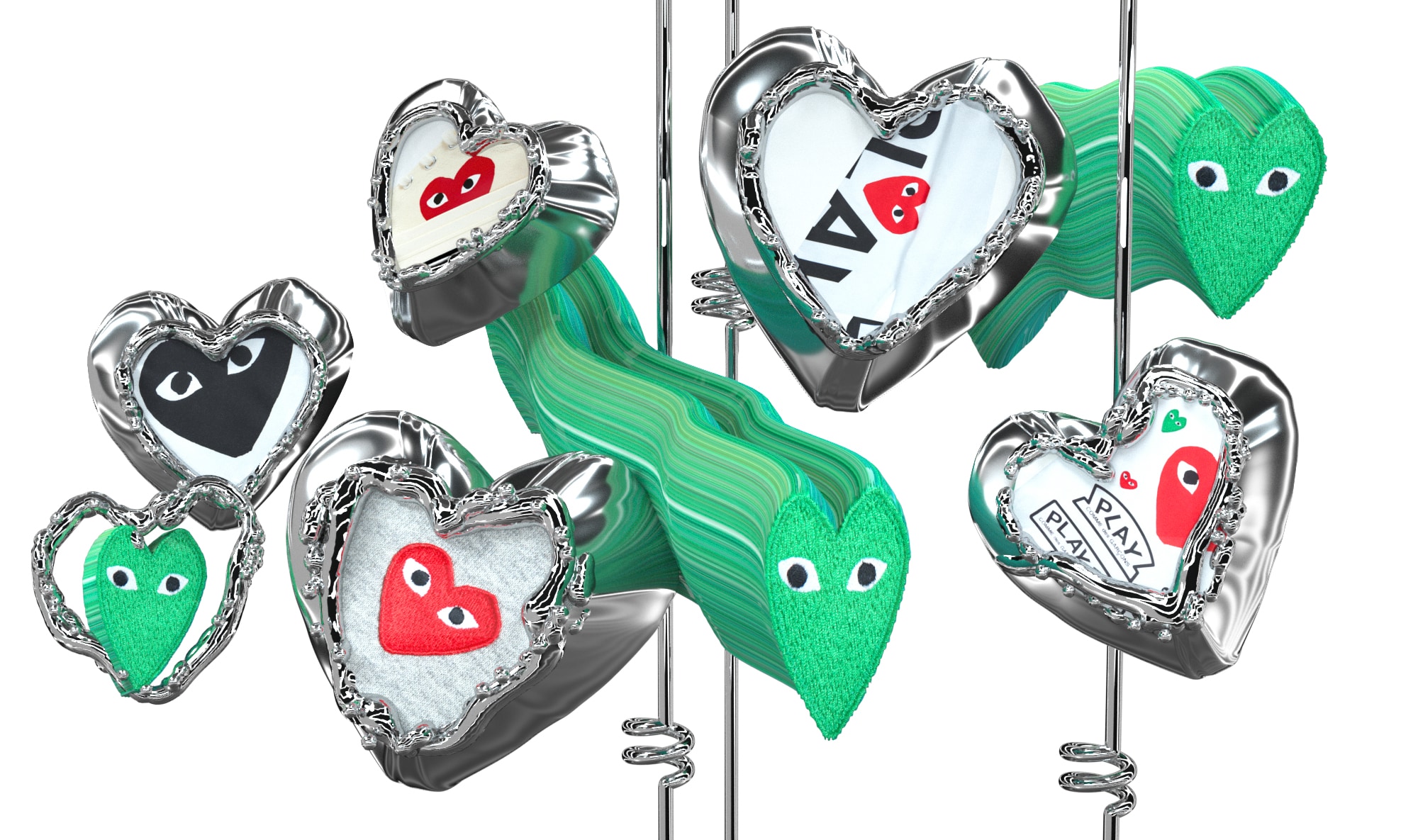 Kawakubo's touch on the world of visual artistry is a territory that she has explored numerous times throughout the Comme des Garçons lifespan. Filip Pagowski is just one individual in a continuous flow of collaborations with artists and curations set up by the fashion house.
Comme des Garçons SHIRT
enlisted graffiti artist Futura for their Autumn/ Winter 20 collection last year, with each piece covered in colourful graffiti synonymous with the artist's aesthetic. As well as Futura,
Comme des Garçons
have worked with Chinese artist Yu Minjun, New York City-based artist Adam Lucas and are rumoured to be working with American artist and designer KAWS on their upcoming Autumn/ Winter 21 collection. Kawakubo's realm has always played on connections and possibilities from one facet to another, and art is a prominent mainstay within this revolutionary fixture.
Art serves as an identification for most brands. The heart-shaped logo being as distinctive as it is, is almost the selling point to the collection. Each and every piece adorned with such branding takes it away from the rest, drawing an individual's eyes to these bold iterations of the heart logo. The significance of branding always attempts to take centre stage, where a relatively simple object can lead to a number of interesting variations, from the most basic to the most luxurious.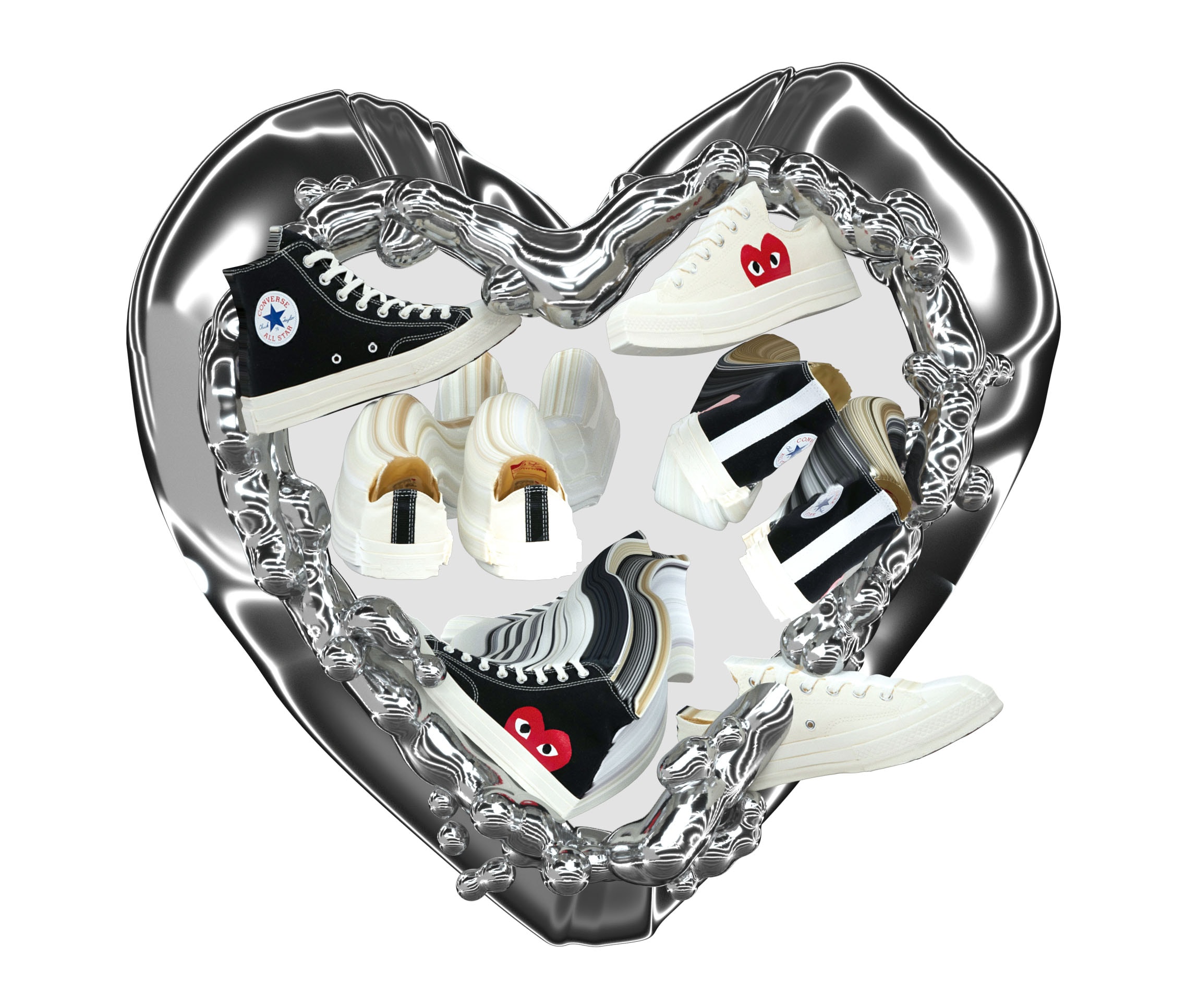 The use of the heart-shaped logo brought to mind other definitive, favourable logos that are synonymous with brands of today. Gucci's monogram double G logo, Louis Vuitton's 'LV' branding, Nike's signature swoosh - they are all instantly recognisable and give each brand that sound out significance across the globe. One of the most recognisable symbols, in pop and cultures of the modern era is the smiley face. Obvious to some as being a representation of happiness, it has also taken on other forms of expression throughout time, dipping into ideas, brands, artists, musical movements and television programmes. From Nirvana symbolisation to Talking Heads' Psycho Killer, the smiley face continues to wove itself into culture, never seemingly going out of date. In the realm of fashion, Kapital, Supreme and
Undercover
have all used the smiley face in different incarnations to propel a specific collection or idea. It has become remembered in time as instantly recognisable and allows brands, artists and ideas to be easily referenced and called-out.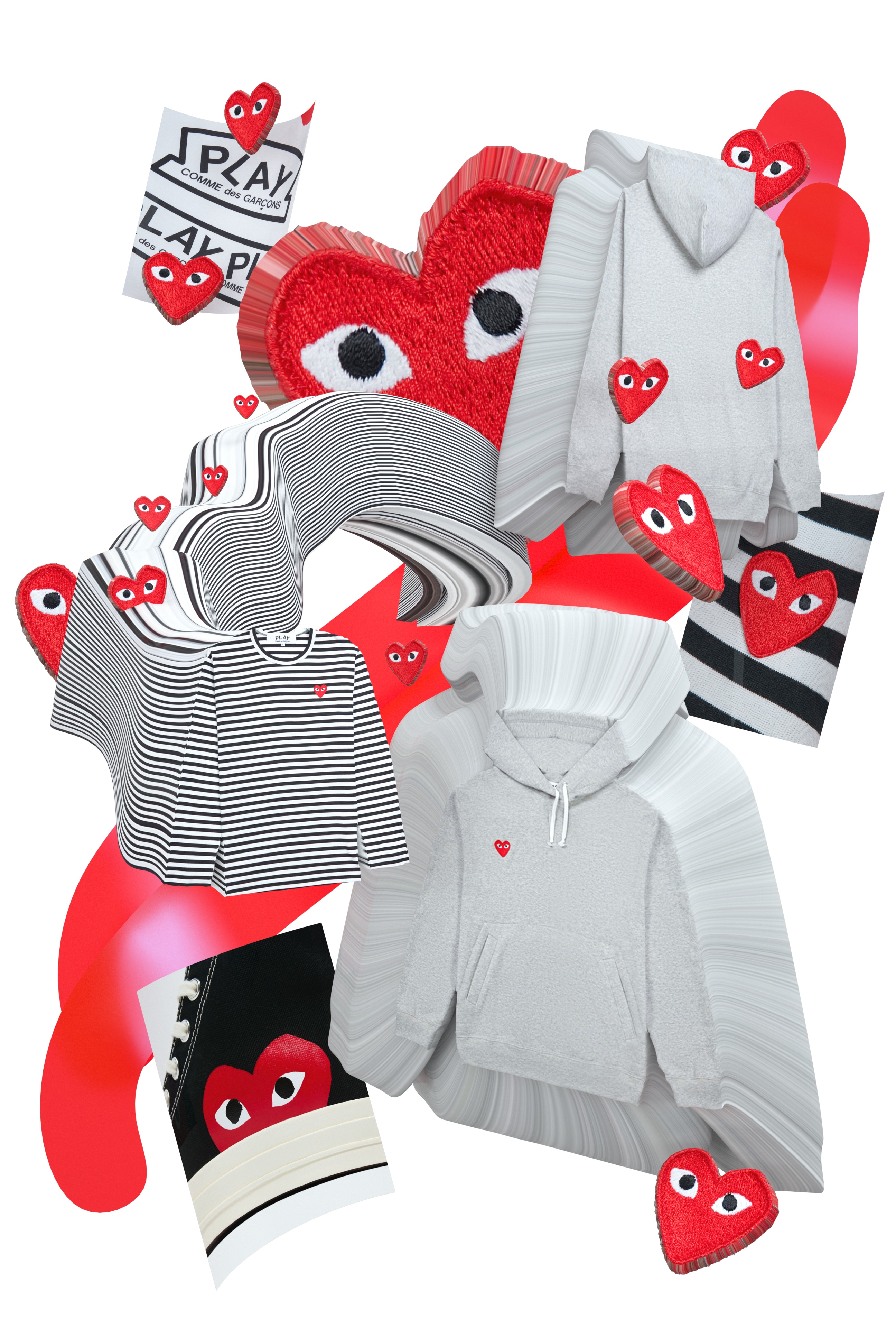 Shop the latest collection of Comme des Garçons PLAY in-store and
online now.
Artwork & Design:
Rachel Noble