COMME DES GARCONS SHIRT X FUTURA: TO SOME, FASHION AND ART MAY SEEM LIKE THEY'RE A WORLD APART
Comme des Garçons SHIRT
and Futura. An iconic fashion house with numerous sub-lines and offshoots collaborating with a New York-raised graffiti-artist-by-trade. I mean, let's be honest, these two seem a million miles apart at face value but the closer you look the more they have in common. If you consider the history of both parties, which is something we'll touch on in detail, then it begins to unravel and the paradox becomes clearer.
With the fashion calendar always operating ahead of itself, this collaboration was inaugurally teased back in January during Comme des Garçons' Autumn/Winter '20 show. The collection acted as a further reinterpretation of modern men's tailoring with a plethora of button-up shirts clad in patchwork and others sporting lattice designs and buckle detailing. As an operating branch of
Comme des Garçons'
mainline brand, SHIRT is centred around the idea of developing building blocks for your wardrobe, such as button-up shirts, tees and bottoms. The show acted as a springboard to unveil collaborative projects with the likes of ASICS and, as the title suggests, New York-raised graffiti artist, Futura, born Leonard Hilton McGurr.
With the
Comme des Garçons SHIRT
and Futura collaboration in mind, art and fashion are two fields that are intrinsically linked, they play into the hands of one another. Clothing brands have been tapping into the art world for a minute now and artist collaborations are no stranger, especially to Comme des Garçons SHIRT who, in 2018, tapped into the work of the late, great, Jean-Michael Basquiat. The crossover between these two worlds far and deep which is something we will explore as we go further.
Comme des Garçons is a Japanese fashion label started by Rei Kawakubo in 1969 who is not formally trained in design but, instead, studied fine art and literature at Keio University. She later went on to work in the advertising department of a textiles company and, in 1967, began freelancing for magazines as a stylist. Two years later, she began designing and making her own clothes under her eponymous label, Comme des Garçons, French for 'like the boys. The label was officially established in 1973 and Kawakubo began operating commercially under the Comme des Garçons brand from that point onwards. There are countless sublines under the brand including Homme Plus, Play,
SHIRT
and BLACK, as well a host of others by different designers. The industry perception of the brand was like a bit of an outsider; they specialised in anti-fashion, austere and sometimes deconstructed garments that were often black, grey or white which led to the Japanese press calling Rei and her followers 'The Crows'. These pieces strive to challenge the form of a traditional garment and question the preconceived ideas of gender and the male and female body, often blurring the lines between the two.
Comme des Garçons are well-renowned for their carefully curated collaborations that extract DNA from both parties. Some of the most notable are with the likes of Nike, Converse and Supreme, as well as a slew of others under their belt, from mainstream brands to smaller labels. One of the more poignant collaborations that speaks to the topic in question is with one of the world's most famous calligraphy artists, Pokras Lampas. He fused together the ancient art of calligraphy with street graffiti and coined the term 'Calligraffiti'. These commissions celebrated the 15th anniversary of Dover Street Market and could be found in some of the following international locations: New York, Beijing and Tokyo.
There may be some people who only recognise Futura as a graphic font but, lo and behold, it's the pseudonym used by graffiti artist Leonard Hilton McGurr. McGurr, who we will refer to as Futura from here on, began painting on New York's subway system in the 1970s and would go on to become a pioneering figure of an underground movement. Futura became synonymous with abstract street art in the 1980s while other graffiti artists were focused on lettering. Despite his popularity, the scene was still relatively underground and Futura was unable to sustain himself on this alone and was later given a break and asked to produce artwork for several releases on Mo'Wax Records. Arguably, this gave Futura the notoriety he needed to continue perfecting his craft and transcribing his art to a broader audience. As a graffiti artist by trade, his work transcends beyond that to album covers for the likes of The Clash, canvas, clothing and footwear, as well as a host of other creative mediums. Through working with the minds behind A Bathing Ape, UNDERCOVER and Supreme, Futura has been operating in the same circles with those associated with Comme des Garçons SHIRT. He's no stranger to having his work featured across unconventional platforms, especially for an artist, but his work with the likes of Medicom and Nike has eventually led to this stepping stone.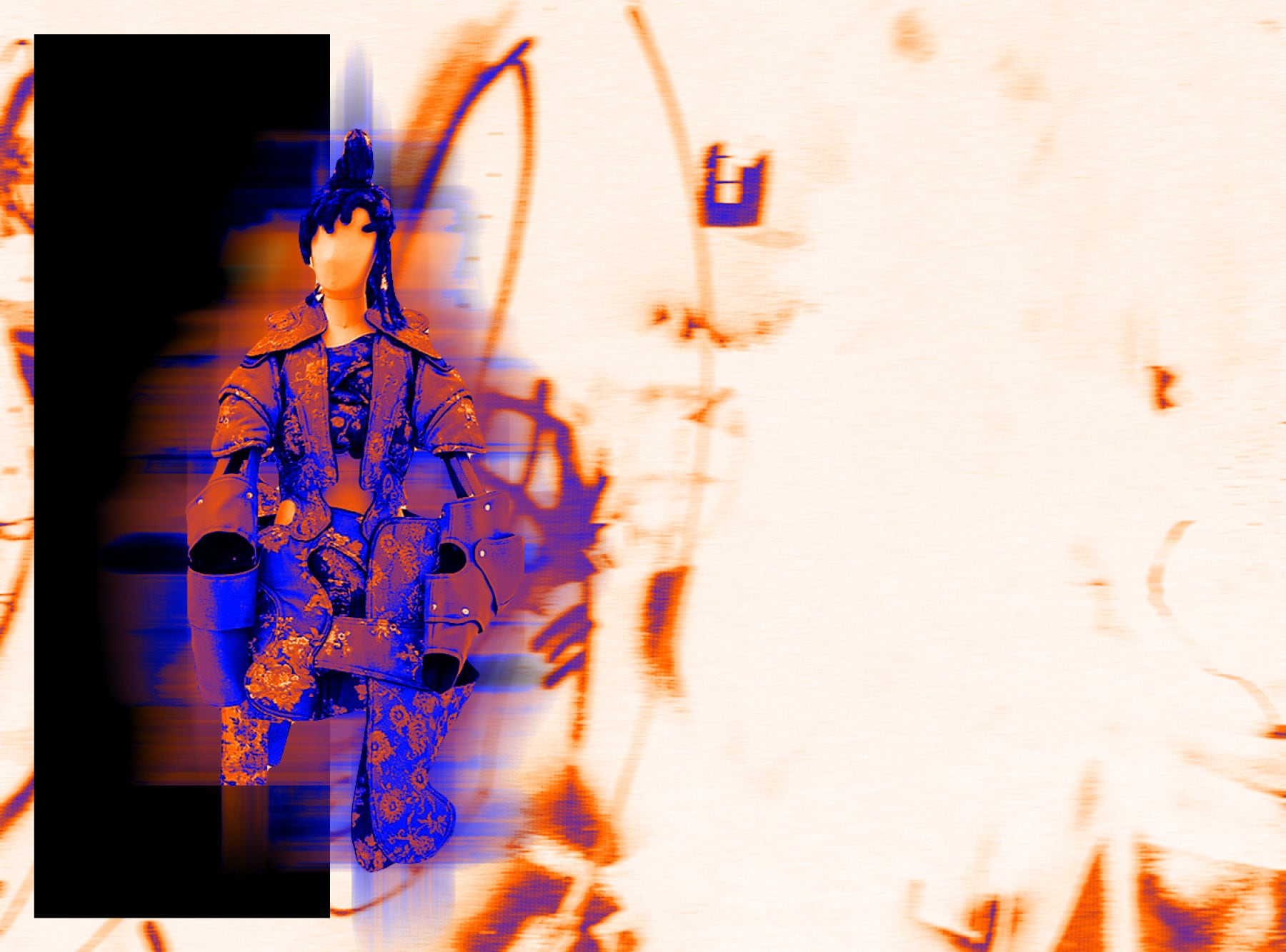 To some, fashion and art may seem like they're a world apart but they are closer than you realise. The two fields are deeply intertwined and closely linked with one, but one thing they do explicitly share is self-expression; they are both creative outlets for those who partake in them. There is a considerable amount of overlap between the two, from collaborations with modern artists to re-appropriations of classic artwork, and the craftsmanship practised by those who produce our clothing often goes unappreciated; the artisans behind traditional dyeing methods, leather tanneries and intricate seamstresses. With all things considered, this is no new trend. The origins of this partnership - fashion and art, that is - can be traced back to the late 1930s when two very prominent figures at the time, Elsa Schiaparelli collaborated with Salvador Dali to design the Lobster dress. If you consider the individual processes behind art - a painting, for example - and fashion - let's say, designing a dress - the complexities are the same, therefore they warrant an alike level of respect. Although, some find this link harder to swallow and see the connection as tenuous. There is a level of snobbery among some who believe an art form does not extend beyond a painting, sculpture of mural, for example. After all, fashion is a human expression that still stirs emotion, whether good or bad. You don't have to look far beyond much of Alexander McQueen's work, before his late passing, to appreciate this.
This is a collection that has been designed to stand the test of time. These two unique powerhouses from different walks of life and respective fields have come together with a mutual respect for each other's work and, in turn, created a capsule collection for the ages.
With the aforementioned in mind, Futura leaves his imprint on the collaboration through original artwork of his handpicked by Rei Kawakubo of Comme des Garçons. The partnership spawned from an initial meeting Futura had with Rei and Adrian Joffe at Dover Street Market last year to discuss a small collaboration for Comme's 'Black Market'. From there, Futura selected a couple of original pieces from his archive and handed over the creative reins to Rei and Joffe.
This season's collaboration with Futura is a further extension of Comme des Garçons relationship with art, despite it being abstract of sorts. Forget the traditional notions and conceptions of art, such as paintings and sculptures, and look to the performance-art experience of Kawakubo's runway shows. The synergy between the two seems so clear and almost inseparable. From the atmosphere and the set design to the styling and clothing itself, it all communicates a message and invokes emotion, much as art does. In 2017, Andrew Bolton conducted an art exhibition showcasing 150 Rei Kawakubo and Comme ensembles, housed in the Metropolitan Museum of Art. The result was a testament to Kawakubo's career and the enormous, yet often subtle, influence she has had on fashion. In this instance, the lines between art and fashion blur as the garments are displayed in a similar, museum-like environment. It's not just fashion crowds who flocked to Comme des Garçons: Art of the In-Between, it's appreciators of all-kinds.
The capsule collection consists of 12 pieces with Futura's work decorating all of them, including a coach jacket, bags, graphic t-shirts and button-down shirts. The original artwork was reinterpreted by Kawakubo and her team but still retains everything that is unique about Futura's graffiti-esque style. In true
Comme des Garçons SHIRT
form, the collaboration does not compromise on quality in any way or shape. The prints on each piece are of the utmost quality and are Made in France by skilled craftsmen.
Taking the aforementioned into account, this is a wholesome embodiment of modern-day collaboration whereby two parties come together and combine their distinctive skill sets to produce something wholly unique. In this case, what brings these two in conjunction with each other is an underlying rebellion and deviance, Comme des Garçons and Futura are both rooted in these. But, by handing over creative control to a graffiti-artist-by-trade leads to collaborations that will remain culturally significant for years to come.
The Comme des Garçons SHIRT Futura collection is available in-store and
online now.