NIKE AIR MAX 90: REVISIONS OF A CLASSIC
This year
Nike
celebrate the 30
th
anniversary of their inaugural Air Max 90 sneaker. A shoe with so much history, innovation and ground-breaking collaborations, it is one that has been imperative to driving Nike forward and pushing boundaries even to this day.
The idea that makes this sneaker so important is its history and incarnation. An idea which came from architect and designer – Tinker Hatfield, who quite simply changed the game, not only for Nike but their competitors too. His futuristic idea to make the air unit of the silhouette visible to the eye, something which Nike had not done before, was a revolutionary breakthrough for the brand, and as step into unchartered territory.
After two previous releases failed to catch the attention of their audience, Hatfield finally stuck gold with his third attempt – the Air Max III. Adorned in an "Infrared" colourway, the 90 featured a Duromesh upper introduced for performance and motion. The success of this shoe was dominant in the early 90's, so much so, Nike decided to change the name to its year of birth – the Air Max 90.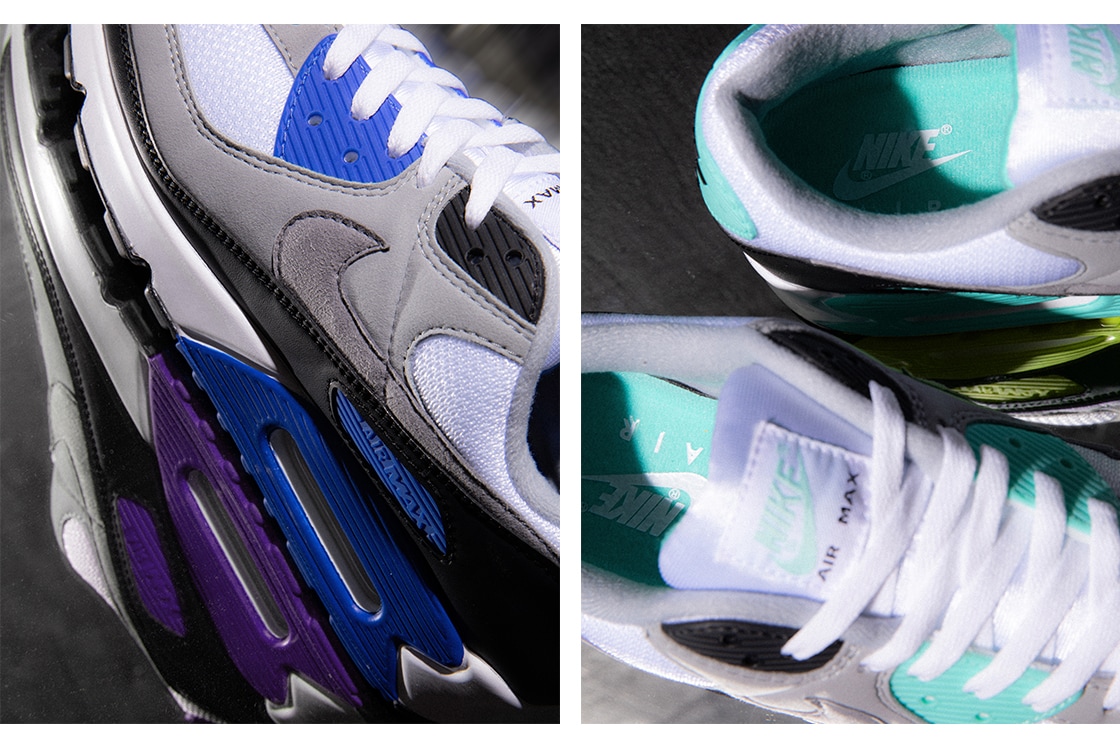 Throughout the years that followed many iterations of the Air Max surfaced, the Air Max BW in 1991 along with the Air Max 180. But it wasn't until 2005 when the Air Max 90 OG received its first retro release. Following suit, originals were released in 2008, 2010 and 2015 with small colour changes and air unit revisions, but all in-keeping with the classic 90 aesthetic.
Trends became more apparent in these years, endorsements for athletes and collaborations pushed Nike's advancement and success into new realms. Collaborations are more popular than ever in today's world, and Nike in particular have continued to partner up with a wide range brands, musicians and designers. Dizzee Rascal's Tongue 'N' Cheek iteration of the Air Max 90 in 2009 came with a cultural presence, a collaboration integral in connecting people together from different cultures and creative spheres; music being one of them. Whether it be grime, garage or the rise of dance and rave culture, the air max was adapted between these styles and people made it their own. A true example of versatility and appeal to a multi-cultural audience.
To celebrate the Air Max 90, Nike will release a collection of colourways dedicated in to the original, complete with the visible air unit and in an array of colourways.
Available in-store and
online
from 31 JAN 20.